When Katie Couric asked, "Allison, can you explain what the Internet is?" Super Bowl Nation cracked up at the BMW Today Show flashback ad. For those of us who were working 20 years ago when Katie asked that question, the laugh was even louder (quickly followed by a cough and temporary loss of balance). We remember The Brady Bunch TV series, also featured in a Snickers ad on Super Bowl Sunday, and The Sound of Music before Lady Gaga was born. I remember explaining fax machines to people. At Questline it's been more than 20 years. We're feeling nostalgic about that today. Or at least I am. If you're feeling nostalgic today, too, come on along for the ride in my time machine.
20+ Years Ago…
It was 1991 and the company was given the then-cutting-edge name "Tech Resources, Inc.," featuring a snappy green Star Wars Death Star logo. In our early years, we were co-owned by Battelle Institute, a large, non-profit R&D firm in Columbus that invented Xerox technology and ran large, federal laboratories including Sandia and Pacific Northwest Labs, as well as by Dominion Resources, a holding company for Dominion Power.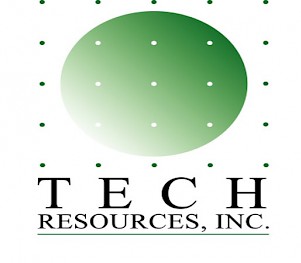 We were primarily a consulting company that focused on energy utilities by helping their large industrial and commercial customers use energy more wisely to improve productivity and reduce environmental impact. We were a company of engineers and researchers who shared the goal of helping our energy utility clients better serve and support their commercial and industrial customers.

Our first offering was a hotline phone service called Questline, which helped energy utility clients' commercial and industrial account managers. About 40 calls/week came in for this one-on-one phone support, which included library research and faxed written responses to energy utilities' account teams. I was an intern at the company, traveling daily to The Ohio State University's Business and Engineering library to do Ask An Expert research. Bob Hines led the company's Economic Development consulting efforts for our energy utilities clients. We were having fun and doing good work.

About 15 Years Ago…
To promote Questline, we began using technology to communicate: the fax machine. The newsletters were faxed to all of our energy utility clients and featured all of the energy, technical, environmental and/or industrial-related questions we'd answered most recently. No one had done this before. Our approach was to share, via hand-fed fax, the typical, unusual, complex and wide-ranging requests that we tackled within Questline. In 2000, Driving Miss Daisy won the Oscar for best picture and Poison was the reigning rock hair band of the year.

The Questline nuggets of data we published for clients served as a communications tool – we answered questions, learned about the industry and began anticipating what was needed. Organically, Questline's flagship newsletters were born, bringing our team of researchers and engineers into the forefront of energy utility communications.

Around this time, Questline began making our content searchable from a web portal for energy utility account managers to readily access for their commercial and industrial customers. Now, we had a business.
About 10 Years Ago…
As the company grew, we discovered that Questline's ability to produce and deliver relevant and interesting content direct to end-use commercial and industrial customers was of significant value to our clients. We began customizing digital newsletters by account manager, launching a new era of content marketing before the term had been coined. The top tech invention launching in 2005? Mozilla Firefox.

The company's DevOps team assembled our first generation of a web-accessible portal and included new content like energy calculators, benchmark data of industry energy use, business segment tips and recommendations, an e-library of 1,000+ energy-related documents, and even a digital version of the then-named Questline hotline service.

Seeing opportunity, the newsletter package, including client-branded and customer-facing content, moved from a fax-delivered service to email. With this channel change, Questline ramped up its customer segmentation and customization in line with the new focus.

About 5 Years Ago…
The success of the Account Manager e-newsletter package soon led to production and delivery of Small Business, Residential and Trade Ally versions (featuring separate and different content) with equal amounts of success for our clients.


The company officially began doing business as Questline (that's how everyone knew us), changed the hotline to "Ask an Expert," and renamed the email newsletter offering "RelationshipBuilder." All versions of the e-newsletter included an Admin Portal for each client to enable more customization and editing capabilities. We also introduced the ability to manage customer lists through a CRM-type tool and added a real-time reporting engine. Onward!
Today
Questline produces and delivers client-branded and account manager-personalized email newsletters on behalf of energy utilities in all 50 states and Canada. In the last year, we've brought in new creative talent to expand our digital communications portfolio of offerings and are planning new client-inspired features and offerings that we'll introduce soon. We're looking for new office space because we've grown too big for the building we thought we'd never fill. Best of all, though, we're still providing products and services to the same energy utility professionals we always have: you. Sometimes, you can take nostalgia with you.