As part of our mission to make energy engaging, Questline is excited to announce the next evolution to our eNewsletters.
A migration of Questline eNewsletters to our user-friendly Engage platform has officially started. Over the next two years, Questline will be converting all eNewsletters to the Engage platform for our energy utility clients. This evolution will provide more flexibility, insights and customer engagement potential for all eNewsletter users.
"

Consumer expectations regarding the user experience and what types of content resonate have dramatically changed,"

says John Keep, Vice President of Technology & Operations for Questline.

"That's why we've enhanced our eNewsletters to meet and exceed those expectations, and provide an ideal showcase for our ever-growing multimedia content.

"
You spoke, we listened

Questline understands the importance of identifying the latest technological advancements to improve our energy utility clients' content, delivery and user experience.

We're upgrading to the enhanced eNewsletter platform based on feedback from our energy utility clients about technology expectations, needs and preferences. We also analyzed our own best practices and industry data to identify opportunities to strengthen our offerings.

Enhanced user experience

In 2018, 57 percent of online traffic comes from mobile devices, and the average consumer spends more than five hours a day on their smartphone.1 With mobile surpassing desktop, Questline is focused on creating a robust user experience for energy utility customers.

Powered by our Engage platform, our Questline eNewsletters are experiencing a modern refresh with improvements in usability, flexibility and consistency. For example, our redesigned eNewsletter and landing page templates will now be fully responsive and even more mobile-friendly.
"

When redesigning the eNewsletter and landing page templates, the primary focus was the concept of putting content first,"

says Tony Nguyen, Product Design Director for Questline.

"To enhance the user experience, we placed greater emphasis on readability and modernization, such as larger images, increased font sizes and a clean and visually aesthetic design.

"

As Questline Content continues to expand with multimedia offerings like videos, interactive quizzes and animated GIFs, the new templates and landing pages will also provide enhanced viewing. Content landing pages offer a cleaner, more modern look, which is ideal for social sharing functionality.
Great expectations

Account Services team representatives will reach out to those with eNewsletters before their migration begins to talk through the transition plan, schedule administrative portal trainings and answer questions.

When your migration time arrives, you'll work directly with Questline's experienced professionals already familiar with your utility communication needs. The eNewsletter migration project will be managed collaboratively with our Account Services, Operations and Development teams to ensure a seamless and timely transition.

In addition to improvements in usability for energy utility customers, the Engage platform offers a variety of benefits for energy utilities. Improved reporting and analytics aligned with our email services provides a more comprehensive view of customer activity.

You can also review, request changes and approve eNewsletters through the convenient and user-friendly portal, and create a custom deployment schedule.
"

The Questline team was there every step of the way to shepherd us through the transition,"

says Shana Calbreath, Senior Communications Specialist for We Energies.

"Their support was key to the successful deployment of our first eNewsletter. We're pleased with the modern and mobile-friendly eNewsletter and landing page templates. With nearly half of We-Energies.com visitors coming from mobile devices, it was incredibly important for us to have a platform with the latest technologies in responsive design.

"
Why eNewsletters

According to our Annual Energy Utility Email Benchmarks Report, eNewsletters serve a powerful purpose along the customer journey, with more clicks within the emails themselves. Our data shows that customers engaged at eNewsletter touchpoints have higher Open Rates and Click-Through Rates than those who receive only one-off email blasts. For the energy utility industry in particular, continued engagement through an ongoing newsletter is an important component of the customer journey.2

Customer Engagement Improves with Consistent eNewsletters


Click Residential and Business buttons to see data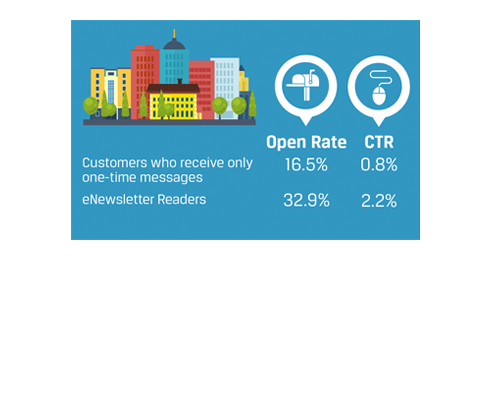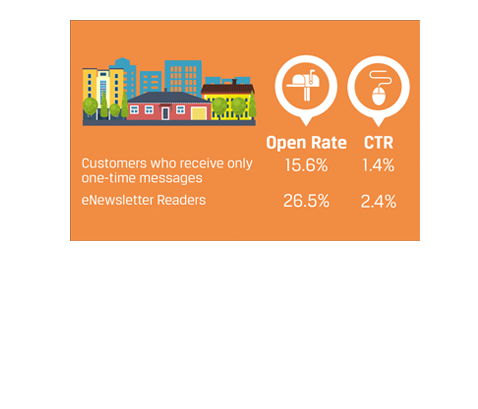 "

The analytics reporting is much more robust – you can dig into customer behaviors, such as who opened an email or clicked on a specific link,"

Keep explains.

"Every activity is in one place so utilities that use our email services can see a customer's behavior across all communications, from eNewsletters to program promotions to outage alerts.

"
The time is now
With all of these exciting upgrades, now is the ideal time to renew your eNewsletters for 2019 if you already have one. Still thinking about adding an eNewsletter to your communications arsenal? The Questline team can help you get started.