Lead the way for customers considering solar, and lead your energy utility to greater customer satisfaction.
Your customers are ready to go solar – are you ready to guide them? With consumer interest in solar at an all-time high, energy utilities can benefit from serving as a proactive resource.
Making the switch to solar is a big decision for customers, not to mention a major investment. That's why energy utility customers need reliable, easy-to-understand resources to guide them along the solar power journey. Unfortunately, there is limited information available beyond what solar vendors offer.
Solar panel installers often set unrealistic expectations with customers about installation timelines and potential energy savings. When these expectations aren't met, energy utilities can become a sounding board for complaints, leading to lower customer satisfaction scores.
Be a proactive resource
Questline and Distributed Energy Financial Group (DEFG) have partnered to create an innovative package of educational solar research and content. This package, known as Pathfinder: Solar IQ, will help energy utilities become a proactive resource for their customers.
"With industry-leading research and customer-facing content, you have the power to create an ongoing solar relationship with your customers," says Questline Product Director Kurt Hansen. "Many customers aren't sure when or how to interact with their energy utility about solar installation and maintenance, but you can help them navigate the many twists and turns along the way."
Solar customers have many questions, concerns and expectations. By serving as a credible source of information, energy utilities can help establish realistic customer expectations and guide the solar process toward a successful outcome.
Journey to solar
The solar power journey encompasses six key phases: awareness, research, contracting, installation, billing and maintenance. Check out this interactive infographic for quick tips to guide your customer in each phase of considering solar installation.
Click on the board to move our solar customer, Molly, through different phases of her solar power journey and reveal helpful tips.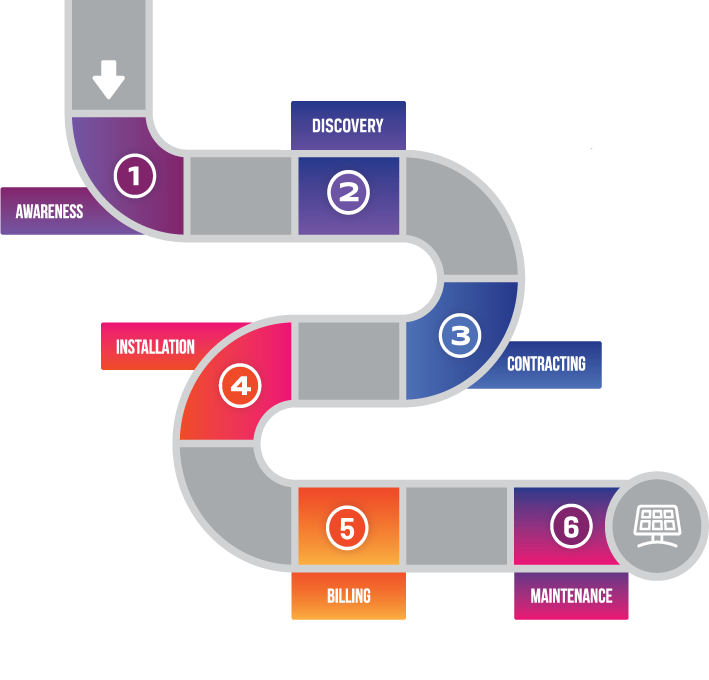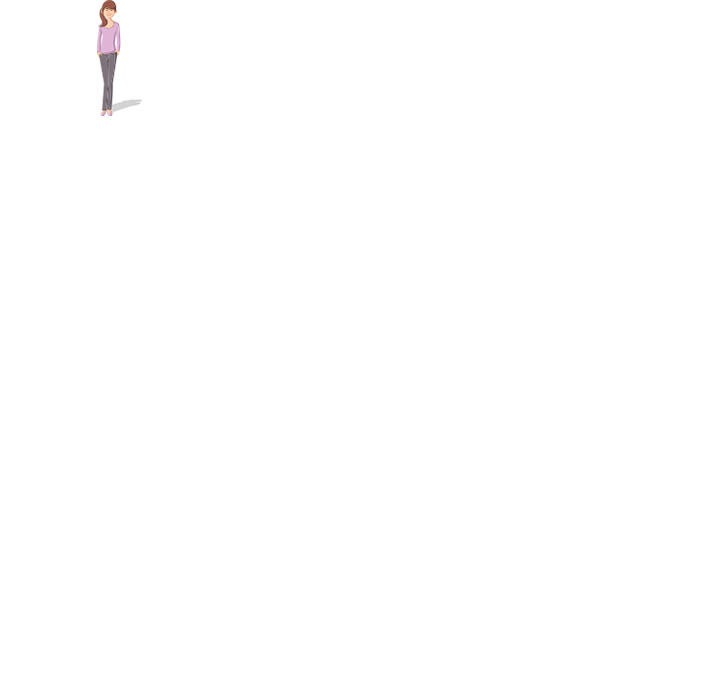 This is where Molly's interest in solar begins. Her primary motivators for choosing solar are saving energy and reducing her environmental impact.

The discovery process can be overwhelming. In this phase, Molly conducts research, finds rebates and contacts various solar providers.

Molly makes the decision to add solar and selects a provider. Progress!

The installation process begins, from installing solar panels to connecting to the grid.

Molly reviews her energy bill and tracks savings. This is the phase where expectations come into play.

Molly wants to maximize the performance of her solar panels.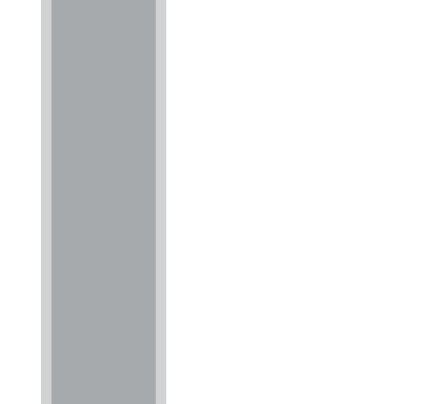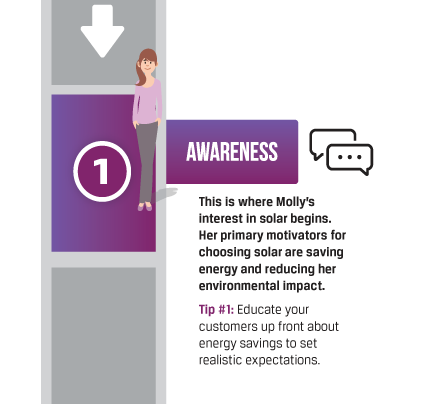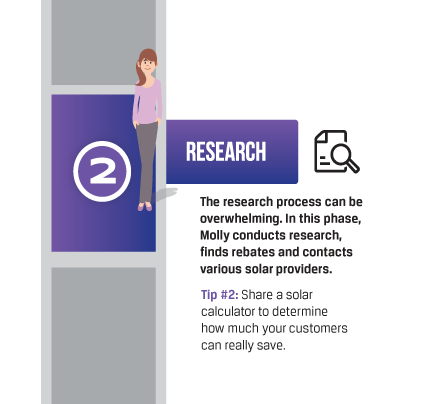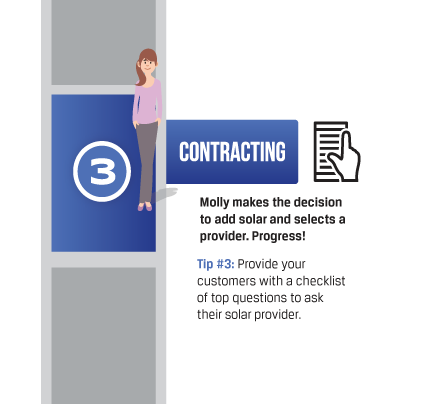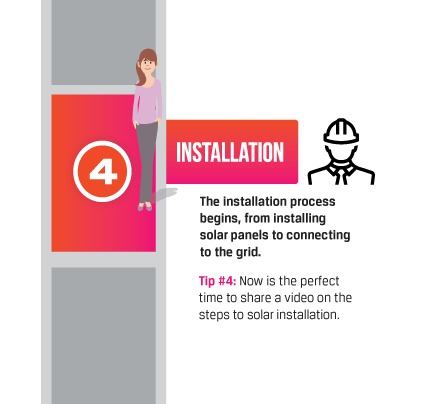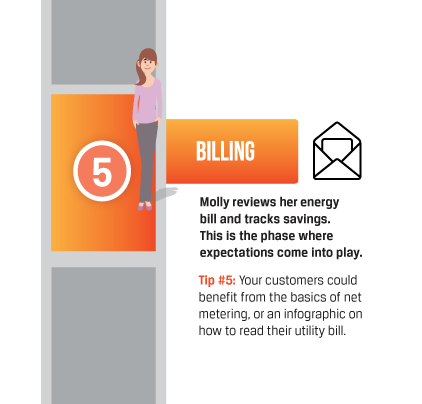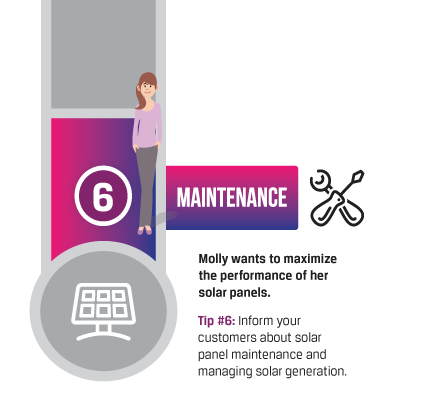 Your solar solution
To educate and engage customers, energy utilities can choose from a variety of industry-leading research and content assets via our easy-to-use online Pathfinder portal. Through an annual subscription to our Pathfinder: Solar IQ package, energy utilities can decide how best to deploy content to reach customers at key touchpoints.


Our research option features four tracks:
Customer Insights
Trend Analysis and Market Developments
Case Studies and Best Practices
Regulatory and Risk Assessment
…and provides insight for your internal team's program development.
These content assets can be shared across all communication channels, including websites, social media, newsletters, email and bill inserts. Questline and DEFG are working closely with an advisory panel of industry leaders to incorporate ongoing feedback to ensure the solar package continually meets the needs of energy utility customers.
"Our solar solution gives energy utilities a strong launch point to make the customer solar journey as smooth and painless as possible," Hansen explains. "Whether customers decide to switch to solar or not, energy utilities can be seen as a proactive resource, not a barrier, in the process."
Solar success starts here
Is your energy utility equipped to serve as a solar resource? Learn how Questline and DEFG can help you play an important role throughout the solar power customer journey.