Digital Marketing
Questline's Creative team is ready to take your digital marketing campaigns to new heights
Questline's in-house Creative team works closely with energy utilities to develop, design and deploy custom digital marketing campaigns. We'll be there every step of the way to make sure your energy utility achieves its marketing goals.
A team of creative technology pros who know energy
As digital marketers with energy industry expertise, Questline's Creative team understands the unique challenges that energy utilities face. No matter your objectives, we create custom campaigns to meet your specific messaging and design needs.
Our focus on energy also means that we understand your program goals — and we know how to market them. From residential energy efficiency and EV charger rebates to EMS systems and demand response programs for C&I customers, no energy topic is too complex or technical for our team.
We can help your energy utility to:
Promote programs and products personalized to specific customer segments
Reach customers in the right channel, with the right message, at the right time
Unify your message across digital channels to encourage customer action
Creativity + cutting-edge technology
From brainstorming to campaign deployment, innovation matters to us. We are always on the lookout for the best ways to drive customer engagement and inspire action, whether encouraging paperless billing signups or participation in demand response programs.
Leveraging the latest digital technology, we design and deploy multichannel marketing campaigns that include emails, landing pages, banner ads, fully interactive microsites, social media ads and even traditional media from postcards to TV ads. We have comprehensive video production capabilities in-house, from directing to scripting to animation.
Our Creative team partnered with the Smart Energy Consumer Collaborative (SECC) to create a series of animated videos to educate consumers about renewable energy. Each video features the lively character Professor Energy who serves as the official guide on topics like solar power, electric vehicles and the smart grid.
Custom digital marketing campaigns for all audiences
Whether you're looking to launch a paperless billing campaign for residential customers or promote an energy efficiency program to business customers, we collaborate with your energy utility to create compelling, effective campaigns.
For example, a major Northeast energy utility asked us to create a paperless billing email designed to appeal to a specific audience: frequent commuters on public transportation. With a theme of "on-the-go bill access," the email performed 1.5 times better than the benchmark rate, based on unique clicks.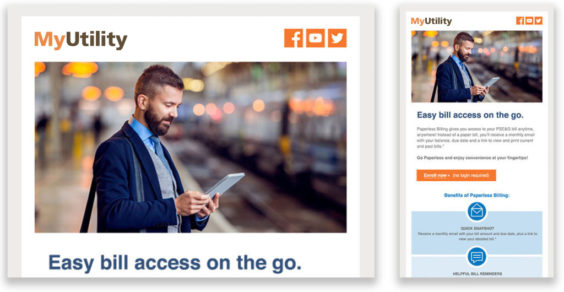 Utilizing segmentation strategies and best practices in email design, user experience and mobile functionality, we're always looking at new ways to connect with customers. Our team will create custom campaigns that resonate, whether your target audience is renters, homeowners, small business owners or large manufacturers.
To increase sales for a major Southeast utility's security lighting program, we created a multichannel campaign segmented by industry, including grocery stories, places of worship, educational facilities and apartment complexes, among others. To maximize reach, the campaign featured both digital and print assets with images and copy targeted to each industry.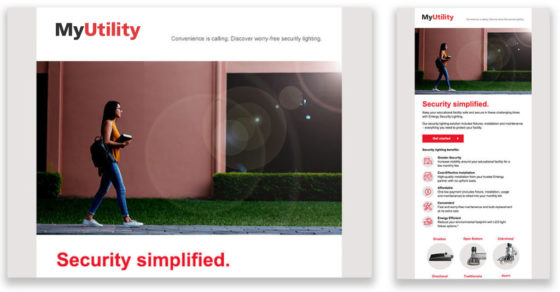 Must-have metrics for energy utilities
Our Client Success and Account Management teams will help you understand the performance of your marketing campaign and optimize it for future success.
Utilizing our proprietary Engage™ platform, we provide valuable insights on open rate, click-through rate, delivery rate, opt-out rate and other important metrics. We back up our creative campaigns with Questline's industry-wide data on best practices for customer engagement.
No matter the project, we will take your energy utility's vision and bring it to life with creative copy, eye-catching imagery and dynamic multimedia experiences.
Learn how to achieve your energy utility's marketing goals with a Digital Marketing campaign from Questline.
Submit the form below and we will contact you with more information.