Benchmarks
2021 Energy Utility Benchmarks Report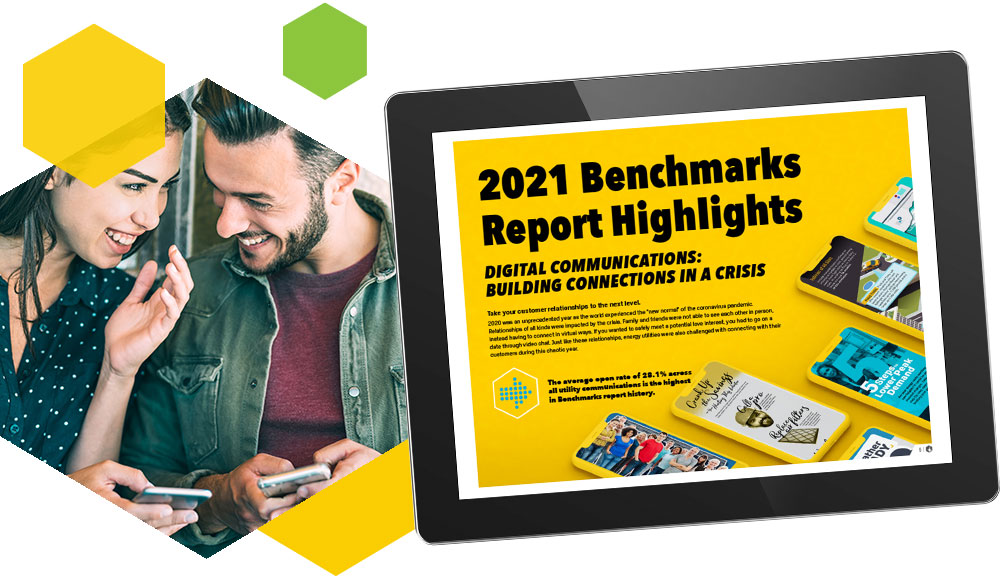 Customer engagement and digital marketing performance metrics for energy utilities.
Digital customer engagement is at an all-time high for energy utilities.
Pushed toward a more virtual world during the 2020 pandemic, companies everywhere accelerated the digitization of their customer interactions.
Highest overall open rate in Benchmarks history at 28.1%
Questline's 2021 Energy Utility Benchmarks Report dives into the data behind digital marketing tactics that resonated most with energy consumers. Through evaluation of over 350 million email sends from 450+ energy utilities around the United States, we've uncovered what's helping drive more program enrollment, eBill adoption and overall customer engagement.
What's new in digital marketing for energy utilities?
Questline's Benchmarks performance metrics provide a unique view of the entire industry's digital marketing efforts. Leverage our comprehensive data to develop, expand and implement a content marketing strategy that leads your energy utility to long-term customer engagement.
Download the 2021 Energy Utility Benchmarks Report to discover:
Email marketing performance benchmarks for the energy utility industry
How segmented eNewsletters achieve a 44.1% higher click-through rate than non-segmented messages
Why click-to-open rates for eBill campaigns are 52.6% higher than last year
Which content formats and topics resonate most with residential and business customers
Optimal days and times to send energy utility customer communications