Utility Personalized Video
Boost engagement and program conversions with personalized videos tailored for the modern utility customer
Personalization matters more than ever. Unique preferences and high expectations mean a one-size-fits-all message won't be effective at engaging customers. They expect personalized digital communications from every brand they interact with, including their energy provider.
Questline Digital's SmartVx solution provides an individualized experience for every utility customer based on their actions and preferences. An essential digital engagement tool, SmartVx has the power to transform the way your utility connects with customers, delivering personalized videos that drive higher engagement and conversions.
What is SmartVx?
SmartVx is an innovative solution designed to revolutionize utility customer engagement. This platform delivers personalized videos with relevant information that's unique to each customer. This enables your utility to better engage customers, develop strong digital relationships and drive desired behaviors.
Why SmartVx Works
Unlike generic mass communications, SmartVx takes a targeted approach, enabling your utility to deliver highly relevant messages that capture customers' attention. By leveraging SmartVx's unique features, you can:
Boost customer engagement: Personalized videos are proven to be more engaging than traditional communication methods, leading to increased customer satisfaction and loyalty.
Drive conversions: SmartVx helps guide customers through their utility journey, from awareness to action. Tailored video content educates and motivates customers, while personalized recommendations ensure that they see the most relevant programs.
Enhance brand perception: Be a trusted energy advisor, showing customers that your utility understands their needs and preferences.
Personalized videos get 16x more click-throughs compared to non-personalized videos.
—Adobe
How Does SmartVx Work?
Powered by advanced algorithms and intuitive technology, SmartVx analyzes customer data to generate dynamic, relevant video content. Using customer information such as energy usage, program participation and content interests, SmartVx automatically creates a relevant video, including voiceover audio and onscreen graphics that are unique to each customer.
Since they are tailored for each customer, utility personalized video from SmartVx is a perfect way to communicate:
Welcome messages: Say hello to new or moving customers at the start of service with a message individualized to their move-in day.
Billing updates: Encourage adoption of new billing resources, like paperless and budget billing, and share updates to customers' bills or billing cycles.
Rate options: Educate customers about time-of-use rate plans and show them personalized bill comparisons to help them save.
Program promotions: Educate customers about new programs or services your utility offers and inspire new enrollments with relevant recommendations.
News and announcements: Deliver timely updates, keeping customers engaged with your utility and informed about the services they depend on.
Work with your account manager to decide the storyline of your video, script and narration, then let SmartVx do the rest.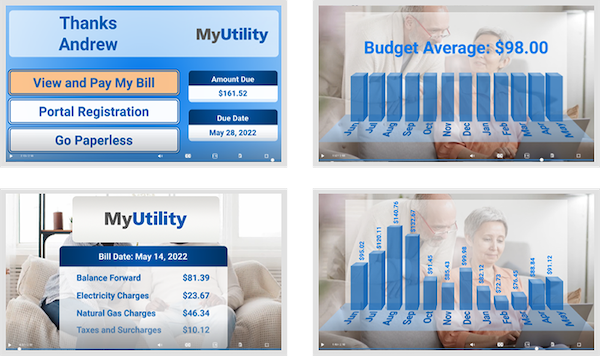 Leverage the Power of Utility Personalized Video
Did you know? According to HubSpot, a personalized call-to-action results in 202% more conversions than one that isn't personalized. Deliver tailor-made messages, drive more program participation and leave a lasting impression on your utility's customers with personalized videos.
What's included in the SmartVx solution:
An experienced implementation team: Our experts will help you launch quickly with personalized videos branded to your utility.
Multichannel video delivery: Meet customers where they are by delivering videos in their channel of choice, including through email, text, QR codes and more.
Multi-language and accessibility support: Connect with a diverse customer base with features like multilingual voiceover, audio narration, closed captions/subtitles, and text transcripts.
A library of media content: Customize your videos with utility-specific images, video clips, voiceovers and relevant customer information like utility data, billing cycles, program participation, energy usage and more.
Configurable calls-to-action: Include relevant CTAs to connect customers with more utility programs and services.
Performance analytics reports: Get easy-to-understand behavioral data to measure success and optimize future campaigns.
Ready to Experience the Power of SmartVx?
Sign up for a demo today and discover how utility personalized video can revolutionize your customer engagement strategy.