Water Utility Customer Engagement
Provide value throughout the water utility customer journey with proven digital engagement solutions
Effective customer engagement is critical for water utilities. Water is an essential service, yet many customers only think about their water utility when it's time to pay their monthly bill. Given the increasing concerns about water conservation, supply issues and rate costs, now is the time for water utilities to connect with their customers and build stronger digital relationships.
Effective digital engagement entails maintaining a regular cadence of consistent, timely and valuable interactions with customers that go beyond basic transactional messaging. With the right communications strategy, your water utility can build trust, boost engagement and educate customers about billing information, water conservation, service interruptions, water quality issues, and more.
Questline Digital offers a comprehensive suite of digital solutions designed to maintain customer engagement for water utilities through meaningful touchpoints, from welcome messages to water utility newsletters.
"With monthly rates continuing to rise and the water supply running dangerously low in many parts of the country, there has never been a more critical time for water utilities to proactively communicate with their customers about what they are doing to protect our drinking water today and into the future."
—Andrew Heath, Senior Director of Utilities Intelligence
J.D. Power
Proven Solutions for Water Utility Customer Engagement
Harness our customizable digital solutions to establish a solid foundation for long-term customer satisfaction. Offer valuable resources to customers, ensuring your water utility stays top-of-mind.

Welcome Series for Water Customers
A customer's first encounter with your water utility sets the tone for the entire relationship. Questline Digital's Welcome Series, a best-practice digital solution, establishes your water utility as a trusted resource to new and moving customers from the first day of service. From program promotions to MyAccount setup and water efficiency resources, this is your opportunity to share valuable information to customers at the start of their journey.
It's also a chance to listen to your customers, not just inform them. Click behavior and other interactions with Questline Digital's Welcome Series are used to capture customer preferences and build meaningful audience segments for future outreach. This data can be employed to provide customers with the content, programs and services they're most likely to engage with.
What's included in Questline Digital's advanced Welcome Series solution:
Each Welcome Series campaign is fully automated and simple to implement, thanks to program templates and tested, responsive designs. Connect with water customers, measure engagement and capture their preferences to improve the customer experience.
An experienced implementation team helps you launch quickly, using email template best practices that can be branded with your water utility's logo, colors and program/service content.
Customer engagement reports with easy-to-understand behavioral data allow you to measure success and optimize future digital campaigns.
Automated email touchpoints delivered on a regular cadence during a customer's first 30 days of service, when they are most receptive to communications.
A fully automated campaign that is maintenance-free and requires no design, programming or marketing knowledge, giving your team the freedom to focus on core business goals.
Water Utility Email Newsletters
Foster ongoing engagement with your water utility's customers through reliable monthly touchpoints. With email newsletters, your utility can regularly educate customers on important water topics, from reducing water heating costs to fixing a leaky faucet.
A residential water newsletter allows your utility to deliver valuable, compelling content directly to customers' inboxes. This consistent customer touchpoint not only increases customer satisfaction, but it also drives program interest and participation. Each monthly newsletter is an opportunity to educate customers, help them make the most of their water use and promote relevant programs and services.
What's included in your water newsletter solution:
Gain access to turnkey and customizable content that fit your utility's needs.
Four original content assets are included each month, covering topics that align to your utility's messages and programs.
Engaging multimedia content, including professionally produced videos, articles and infographics.
Flexibility to review and approve content, request changes, manage lists and schedule deployment dates with our robust Engage™ platform.
Opportunity to personalize content to include program links and other utility-specific information.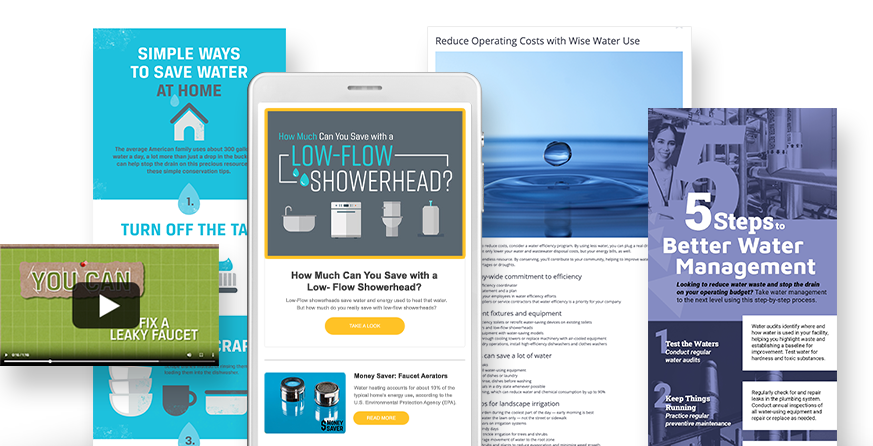 Billing Promotions for Water Customers
Educate customers about water rates, encourage them to make the switch to paperless billing, and promote autopay or other payment options with campaigns that highlight key benefits, including online access to bills, greater convenience and less paper waste. Our billing communication solution increases awareness of billing options and drives program conversions.
What's included in your Billing Communications solution:
Our billing promotion solution has turnkey and customizable options available to fit your utility's needs. Whether your goal is to increase adoption of eBilling, promote new payment options, or educate customers about water rates, we will develop the right campaign to drive results.
Mobile-responsive emails featuring engaging imagery and copy that concisely explains the benefits of your eBill or payment program.
Customizable designs. Add your logo and branding to our turnkey email templates or we'll create a custom series that's all yours.
No-hassle implementation with Questline Digital's experienced, highly responsive team of digital engagement experts.
Seamless deployment through our Engage™ platform with industry-leading deliverability and performance metrics.
Post-send analytics captured daily and generated as a report seven days after each send. We will help you analyze and optimize the performance of your digital campaign.
Ready to elevate your water utility customer engagement?
Submit the form below and Questline Digital will contact you with more information about our proven engagement solutions.