Energy Industry Training
Educate utility employees and customers with Questline Digital's energy industry training solutions.
Provide educational content on trending industry topics with zero strain on internal bandwidth. Your subject matter experts don't have the time to assemble training materials for every new employee. So, let our experts do the heavy lifting.
Our energy industry training library provides customizable assets in multiple content formats so you can choose what works for you. Plus, our team of experienced webinar hosts is available to answer questions or provide guidance in getting the most out of your virtual event production.
With our webinar and energy industry training solutions, your energy utility can focus its time and efforts on other program goals and initiatives. Let us handle the rest.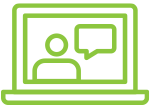 Webinars
Educate customers, key account managers and other utility employees on critical energy topics. Choose from 80+ topics from our energy industry training library or create an interactive presentation that is uniquely yours.
Want to learn more about Questline Digital's energy industry training solutions?
Submit the form below and we'll be in touch soon.