New Customer Engagement
Build long-term customer satisfaction with consistent, meaningful touchpoints
Customer engagement is one of the biggest challenges facing energy utility marketers. Energy is a vital service, but many customers simply don't think of their utility unless they need to pay their monthly bill or the lights go out. While both situations require communications, achieving customer engagement goes beyond the basics of transactional messaging.
For utilities, the energy customer engagement journey requires a regular cadence of consistent, timely and valuable touchpoints.
A driving force of long-term digital relationships, Questline Digital's engagement solutions help customers understand vital information about billing, outages, energy efficiency and more.
Your Solution to Energy Customer Engagement
When engagement is strong, utility customers seek out your messages — reducing the cost to reach them and increasing your utility's impact. Plus, with the right content, customers will view your energy utility as a helpful resource in their daily lives — and they will be more likely to open and act on your communications.
Communicate the following messages to build long-lasting energy customer engagement:
Welcome message to new or moving customers
Billing and payment options
DIY tips and energy savings resources
Power outage and storm safety resources
With our turnkey and customizable energy customer engagement solutions, your utility will see an increase in customer satisfaction and program conversions.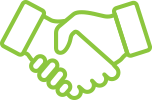 Welcome Series
Build relationships with new and moving customers at the start of service when they are easiest to reach. Our automated Welcome Series solution kicks off the digital relationship between your utility and its customers.

Residential Newsletters
Residential energy newsletters provide ongoing engagement with your utility's customers. Monthly newsletters deliver valuable content, like energy savings tips, seasonal efficiency resources, smart home guides and more.