Who We Are
Your energy marketing agency. Questline Digital provides communication solutions that improve the customer experience and deliver program results.
As a full-service partner, Questline Digital's team of strategists, energy experts and developers work with clients to build cohesive digital experiences that educate, engage and inspire action among diverse customer segments.
Mixing multimedia content, integrated technology and data-driven communication strategies, Questline Digital solves industry challenges and drives measurable results for energy providers across the U.S.
Digitally engaged customers are 69% more satisfied with their energy provider.
—Accenture, "Unlocking the Value of a Digital Customer"

About Questline
Questline Digital is a marketing and technology agency that builds engaging experiences throughout the energy customer journey, boosting program participation and overall satisfaction. Through our proven process, we deliver measurable results with integrated communication strategies that engage, educate and inspire action.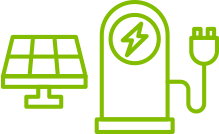 Our Team
Questline Digital is a team of marketing strategists, CX experts and problem-solvers for energy companies nationwide. From writers, designers and video producers to the operations and technology pros who make it all work, our engagement experts help energy providers achieve their customer engagement goals.

Our Clients
Our clients span all 50 states and range in size from small municipalities and cooperatives to large investor-owned utilities. We understand the industry's unique needs and are proud to partner with energy providers like Duquesne Light Company, PSEG Long Island, Eversource, Los Angeles Department of Water and Power and more.

Our Work
See how our energy marketing agency drives customer engagement and program enrollment results for energy companies through strategy, technology, creativity and execution.

Whitepapers
Explore in-depth interviews with industry leaders, original research and analysis developed to help energy companies improve utility customer engagement, communications and CX.