Who We Are
At Questline, our passion for the energy industry is what guides us
Questline is a content marketing agency that works exclusively with energy utilities. Our approach to digital engagement is focused on helping utilities build long-term customer satisfaction. We make it easy for you to get the right message in front of the right audience.

About Questline
Our company started in 1991 with the emerging technology at the time: the fax machine. Even though the technology has changed over the decades, our commitment to the energy industry has never wavered. We continue to leverage the latest marketing tools to build long-lasting relationships with utility customers.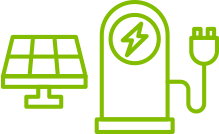 Our Team
Questline is a team of marketing strategists, creators and problem-solvers for over 480 energy utilities across all 50 states. From writers, designers and video producers to the operations and technology pros who make it all work, our digital engagement experts are here to help energy utilities achieve their goals.

Our Clients
As a mission-driven company, we are passionate about the work we do for energy utility clients. Questline's approach is based on driving customer engagement, increasing customer satisfaction and delivering measurable program results for our utility partners with content that engages, educates and inspires action.

Our Work
See how our team drives customer engagement and program enrollment results for energy utilities through strategy, creativity and execution.

Careers
Our employees are passionate about new ideas, creative thinking and professional development. See what makes Questline a great place to work.