Business Customer Communications
Drive SMB and C&I customer engagement with Questline Digital's business energy communications solutions
Your business customers need guidance on reaching sustainability goals and accessing available rebates or incentives. Be their go-to resource and ensure they know how your utility can support their electrification and decarbonization journeys.
Questline Digital works with energy providers nationwide to boost satisfaction for this unique audience segment. You can achieve engagement and education goals with our industry-specific newsletters, virtual training solutions and program promotion capabilities.
Whether you're working with business customers to grow EV infrastructure, promote demand response programs or support electrification, we make it simple to become a trusted advisor.

Business eNewsletters
Build ongoing digital relationships with your utility's business customers by sharing content that educates them on energy efficiency and new technologies, while connecting them with relevant utility programs and services.

Webinars
Educate customers, key account managers and other utility employees on critical energy topics. Choose from one of 80 topics from our webinar library or create an interactive presentation that is uniquely yours.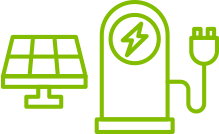 Demand Response
Explain the complexities of demand response and promote the benefits of program participation with educational content and targeted marketing campaigns.

Beneficial Electrification
Encourage your utility's business customers to reduce energy emissions and control costs by educating them on the benefits of going electric throughout their facilities.
Want to learn more about Questline Digital's engagement solutions for business energy customers?
Submit the form below and we will be in touch soon.