Business Customer Communications
Drive SMB and C&I customer engagement with Questline Digital's business energy communications solutions
Your business customers have unique interests and needs — especially when it comes to lowering business costs and improving their bottom lines. They need to be communicated with in a way that addresses these unique concerns. However, it can be tricky to reach customers who are often busy and focused on their business matters at hand.
With Questline Digital's communication solutions for business energy customers, we've identified the most successful ways to engage with this unique audience, including through industry-specific eNewsletters, our Power Your Business segmentation tool, program information and educational webinars.
Your Solution for Communicating with Business Customers
To make it easy for your energy utility, Questline Digital offers both turnkey and customizable business energy solutions that reach small and medium business (SMB) and commercial and industrial (C&I) customers and increase engagement.
Communicate the following business energy topics to your customers:
Strategies for reducing energy consumption and controlling high bills
Business-focused content on energy efficiency and cost-savings
Benefits of energy management systems
Facility and lighting efficiency tips
Power quality and demand response education
Fleet electrification
With our business energy solutions, your energy utility can connect with these hard-to-reach customers and help them achieve their energy-related goals.

Business eNewsletters
Build ongoing digital relationships with your utility's business customers by sharing content that educates them on energy efficiency and new technologies, while connecting them with relevant utility programs and services.

Webinars
Educate customers, key account managers and other utility employees on critical energy topics. Choose from one of 80 topics from our webinar library or create an interactive presentation that is uniquely yours.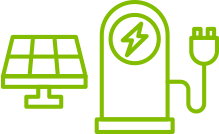 Demand Response
Explain the complexities of demand response and promote the benefits of program participation with educational content and targeted marketing campaigns.

Beneficial Electrification
Encourage your utility's business customers to reduce energy emissions and control costs by educating them on the benefits of going electric throughout their facilities.
Want to learn more about Questline Digital's engagement solutions for business energy customers?
Submit the form below and we will be in touch soon.