Digital Marketing for Energy Utilities
Upgrade your digital marketing tactics to better engage your energy utility's customers
Digital marketing evolves quickly. New platforms, new strategies, new customer demands. It can be difficult to decipher which digital tools are worth the time and investment and which are trends that will fade away.
Questline Digital can help your utility navigate what digital marketing efforts will make the biggest impact. We'll show you how to take advantage of advanced tactics and employ integrated technology solutions to better communicate with your target audiences and reach program goals.

Targeted Communications
Employ audience segmentation and personalization to directly address each customer's needs and concerns with relevant messages and content.

Mobile Communications
Send outage alerts, bill payment prompts or service updates directly to your customers' mobile phones, ensuring they see your message in their preferred channel.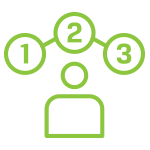 Customer Journey Mapping
Today's customers expect seamless digital experiences. Our CX experts can help you build customer journeys that are free of pain points, bottlenecks and confusion.
Learn more about Questline Digital's strategic engagement services, consulting, digital marketing and deployment solutions.