Subscribe to The Current
Receive insights and advice curated exclusively for energy communicators.
The Current newsletter will keep you updated on customer engagement trends and best practices both inside and outside of the energy utility industry. These insights will help you better strategize your communications to drive customer satisfaction and grow program interest.
When you subscribe, you can expect to receive a monthly email newsletter that includes:
• Helpful articles on energy communication best practices and trends
• A glimpse at the highest-performing email sent by energy providers that month
• Curated, must-read articles from the energy and marketing industries
Examples of What to Expect
Interested in seeing what you can expect month-to-month? Look no further. Here are some recent examples of The Current.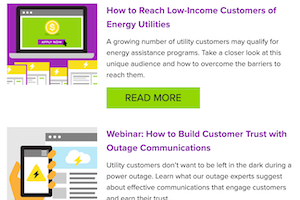 News and trends
Insights and advice on timely energy topics and marketing trends.
Memorable experiences
Industry trends in customer engagement, outage communications and promotions.
Best practices
Examples of top-performing messages from across the industry.