What We Do
Questline helps energy utilities transform their digital marketing strategy, connect with customers in new ways, and deliver program results
Questline isn't your typical digital communications company. We're passionate about the energy industry, and utilize our nearly 30 years of experience to help energy utilities achieve their goals. We don't just understand the common challenges facing the energy industry — we solve them.
Questline's content marketing, custom creative and technology solutions are designed specifically with energy utilities and their customers in mind. Through our diverse portfolio of solutions, we help to increase program participation, reduce the cost to serve and build long-term customer satisfaction.

Proven Process
Designed exclusively for energy utilities, Questline's Proven Process is focused on building long-term relationships between energy utilities and their customers. This data- and research-driven digital engagement strategy has been continuously honed and optimized through our work with 480+ energy utilities across the U.S.

Content Marketing
Questline's content marketing solutions attract your customers with information that is useful, valuable and engaging. By building a digital relationship with customers, your energy utility can increase program participation, boost customer engagement and long-term satisfaction, reduce call center demand, lower paper bill costs, and more.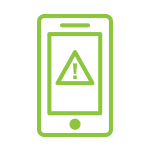 Customer Engagement
For energy utilities, the customer engagement journey requires a cadence of consistent, timely and valuable touchpoints that go beyond transactional messages. With an effective engagement strategy, customers will view your utility as a helpful resource in their daily lives — driving customer satisfaction.

Digital Marketing
Whether you need to charge up EV sales, promote your marketplace or welcome new customers to your energy utility, Questline's in-house Creative team is ready to take your marketing strategy to new heights. Combining creativity and cutting-edge technology, we drive deliver results with effective digital campaigns.

Program Promotions
Our team has decades of experience crafting effective program promotions for both residential and business customers, from smart homes to C&I demand response. We have the industry understanding, technical expertise and marketing best practices to not only engage and inform customers, but inspire them to take action.

Engage Platform
Questline's solutions are built on our proprietary Engage™ platform. It's easy to use our content marketing solutions, deploy emails and newsletters, and publish content to your website or social media pages. Robust reporting is built right in, giving you a complete understanding of your marketing campaign's performance.