Whitepaper: Get More from Customer Onboarding
See how utilities nationwide are taking advantage of strategic welcome messaging to connect with new and moving customers
After analyzing nearly 17 million welcome emails, we've determined which messages are most successful at driving clicks and customer action.
Check out top-performing email examples from Consumers Energy, ConEdison, Avista, Taunton Municipal Lighting Plant, Orange & Rockland and more.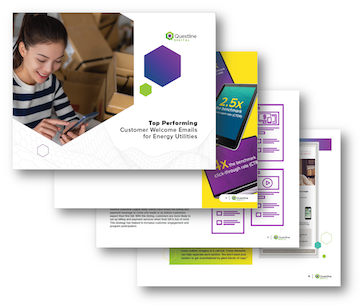 Download Questline Digital's whitepaper "Top Performing Customer Welcome Emails for Energy Utilities" to see winning email designs and learn more about:
What topics customers want to hear about in onboarding messages
How welcome emails can be leveraged to foster future customer engagement
Best practices to help your utility get more out of welcome communications
Tips for welcome email design and copy that encourage action
Data-backed advice for email frequency
Fill out the form below to download the whitepaper and learn how your energy company can improve new customer engagement.