Whitepaper: Building Relationships with New Business Customers
See how key account managers are taking advantage of strategic actions to welcome new business customers at the start of service and raise customer satisfaction.
Whether you're engaging with small mom-and-pop shops or large commercial and industrial (C&I) businesses, these customers need guidance from their utility on how to be more energy efficient and navigate power interruptions. But these customers are often the hardest to reach.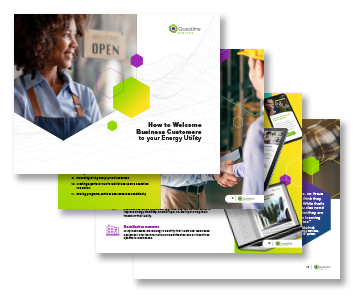 Learn from the tested strategies that help utilities like Cass County Electric Cooperative and Lincoln Electric System rank at the top of J.D. Power's list for business customer satisfaction, year over year.
Download Questline Digital's whitepaper "How to Welcome Business Customers to Your Energy Utility" to learn more about:
What topics new business customers need to hear about during onboarding
How to employ the perfect mix of in-person and digital touchpoints
How to foster ongoing customer engagement to benefit reliability and clean energy goals
Best practices to help your utility maximize the value of business customer relationships
Fill out the form below to download the whitepaper and learn how your energy company can improve business customer engagement.