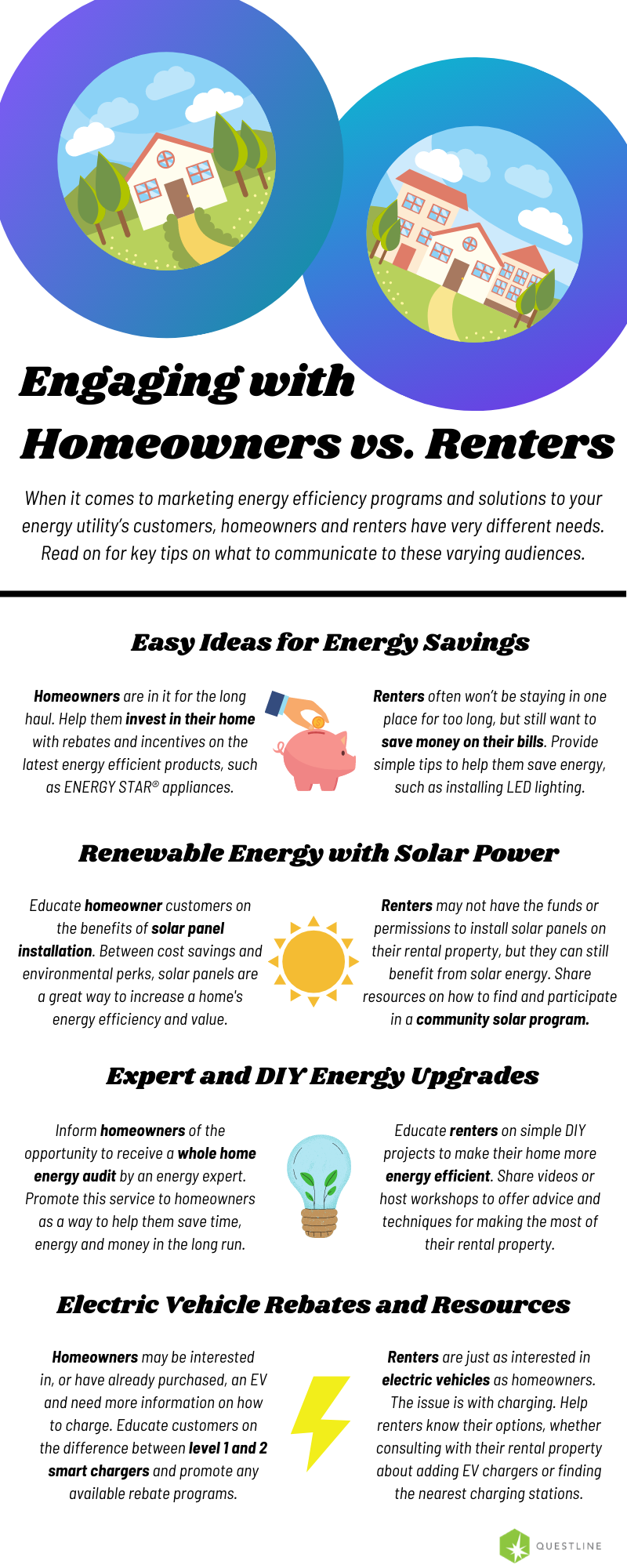 Homeowners and renters are very different audience segments. Your energy utility needs to know how best to communicate to these customers based on their needs and interests. While homeowners are often focused on long-term energy savings, renters are more concerned with quick ways to save that don't require a huge upfront investment.
Read on to learn about the energy utility programs and services that resonate with these distinct groups of customers.
Energy savings
Renters often don't have the means or desire to invest in improving their rental properties. However, they still want opportunities to save energy and money on their bills. Communicate energy-saving tips for small, inexpensive things they can do that will make a big impact on their bill. For example, recommend LED lighting, water-saving showerheads or smart power strips.
Homeowners want to save energy and money but are also willing to make an investment in their property that will increase its value in the long run. Your energy utility should recommend energy efficient products through rebates and incentives. Showcase the latest ENERGY STAR appliances, smart thermostats or EV chargers on your online marketplace and help these customers transform their homes.
Renewable energy
Community solar programs are a valuable option for renters who may not have the finances or permissions for installing their own PV panels. These programs, also called solar gardens or shared solar, offer a way for renters to benefit from renewable energy. Community solar provides participants with the opportunity to positively impact the environment and save on their energy bill.
Solar panel installation is an effective way for homeowners to create a more energy-efficient home. Despite the upfront costs, help customers see PV installation as an investment that will add long-term value to their home.
Energy efficiency
Help your renters make their homes more energy efficient while they live there. Share DIY videos, workshops or classes on how to effectively install faucets, weather-seal their doors and more. Any opportunity to save money and energy on their rental home is a win for these customers.
Promote your energy utility's energy efficiency assessment to homeowners. Let them know this is a unique opportunity for an energy expert to assess their property for energy efficiency upgrades like insulation or a new HVAC system.
Electric vehicles
Renters may be interested in, or have already, purchased an electric vehicle. But how do they charge it? Renters don't always have the option to install EV chargers at their rental property. Offer solutions such as a map with the nearest EV chargers in their area or tips on consulting with their property owner about adding smart chargers. Your energy utility can also offer more information on purchasing hybrid vehicles as another efficient alternative to electric vehicles.
Homeowners who have purchased or are considering purchasing electric vehicles also need to be aware of the charging options for their home. Level 1 and 2 smart chargers are acceptable for home use and can be installed in a garage. Offer smart charger promotions to customers to persuade them to make this purchase and to showcase your energy utility as a trusted resource on this topic.
Make sure your energy utility has a plan in place on how to segment and market to these different audiences. Focusing on specific needs and interests for each group will lead to greater customer engagement and long-term satisfaction.
Is your energy utility reaching the right audience with the right message? Learn more about Questline Digital's proven approach to digital engagement.