Relevant communication isn't just a preference for consumers — it's an expectation. Your customers want to see messages that speak to their needs and interests, and they don't want to be bothered with messages that don't.
For energy utilities, relevant communications are best achieved by employing customer segmentation. This tactic remains the best way to cut through digital clutter and deliver content that matters to each customer.
What is Utility Customer Segmentation?
At its core, segmentation is a marketing strategy used to identify and connect with target customers. It is a way to organize your customers into approachable groups, or segments, and deliver relevant messages based on the interests or needs shared by members of each segment.
Customer segmentation is not to be confused with personalization. Whereas segmentation sends different messages to specified groups, personalization sends a unique message to each individual customer.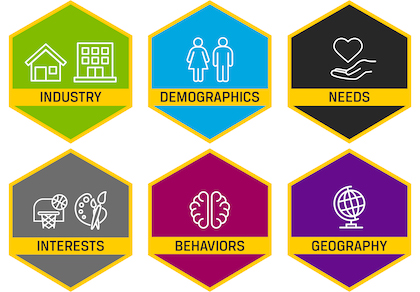 A segment can be defined as a group of customers that share identifiable characteristics that are unique from other customers. Such characteristics include:
Demographics: This includes characteristics such as age or income. Demographic data may be obtained from energy utility customer records or third-party databases.
Geography: Service territory, zip code or neighborhood. This is vital for outage and low-income communications.
Psychographics: What do your customers care about and what are they motivated by? When building preference centers or surveying interests, you can identify who is most likely to engage with specific topics. Some interests you might target include EV ownership, environmental concern or early adoption of new technologies.
Behaviors: Actions taken or not taken by customers. This includes program participation, purchases (electric vehicles, appliances), high energy use and content engagement or reading behavior.
Industry: Hospitals, schools, manufacturers, retailers and data centers all use energy differently. The programs, services and content promoted to business customers should shift based on their specific industry needs.
The Benefits of Customer Segmentation
According to Hubspot, the benefits of customer segmentation can be substantial — marketers who use segmented campaigns can see as much as a 760% increase in revenue.
Specific benefits of customer segmentation for energy utilities include:
Boost in engagement and performance: By targeting groups of customers rather than your entire list, products and services immediately become more relevant. This in turn increases customer engagement with your utility's content and promotions. People are more likely to engage with communications that meet their needs and ignore those that don't.
Better understanding of your customers: By evaluating customer behavior and pursuing segmentation, your utility will gain an understanding of what topics your customers care about. With this knowledge, you can better build future promotions to speak directly to their needs.
Increased loyalty: When customers feel understood and uniquely communicated with, they are more likely to be loyal to your utility and recommend its services or promotions to others.
Tips for Creating Utility Customer Segments
"You can't create one ad or commercial that appeals to everybody, because different groups of buyers have different needs," explains Robert Bly in his classic marketing book, The Copywriter's Handbook. "Tailor both the content and the presentation of your information to the group of customers you're selling to."
Not sure where to start? Follow some of the utility customer segmentation tips below:
Start early. Customer onboarding is an ideal time to begin segmentation. Put your early customer touchpoints to work and gather data that can be used for future grouping. What actions do customers take, and not take, in your welcome emails? Use this information to build segments such as:

Mobile-friendly or tech-savvy: those who sign up for mobile alerts and payments

Hard to reach: those who take no action or make no indication of preferences

Digitally engaged: those who sign up for eNewsletters
Start small. You can ease into segmentation by looking at one journey or one demographic group. For example, you may want to promote mobile payments to customers younger than 40, instead of getting bogged down creating mobile payment promotions for all customers. Start with the "low hanging fruit" to make a big impact right away. Then expand.
Use internal and external data. While it's important to use your own data — like what content customers click on, previous program participation or self-identified preferences — your utility doesn't need to solely rely on this type of information.You can expand your segments with third-party data, such as credit information or vehicle ownership.
Segment only when relevant. Some messages don't need to be segmented; your utility may be better served by sending the communication to the entire customer list. Or for that matter, two or three segments are often just as effective as six or eight segments. Don't segment for segmentation's sake.
Utility Customer Segmentation Examples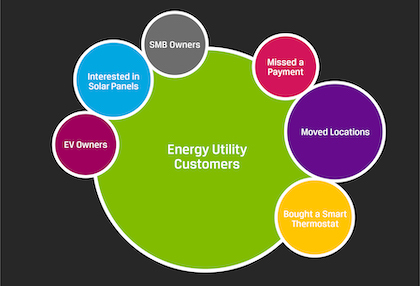 The following examples of utility customer segmentation show how messaging strategies can address specific audiences to increase engagement and conversions:
Marketplace promotions: Specific products can be promoted to segments based on content engagement. If a customer reads your newsletter article about smart thermostats, send them an offer to buy the latest model on your marketplace. If a customer watches your videos about electric vehicles, add them to a segment that might be interested in EV smart chargers.
Small vs. large business: Residential and business customers have obvious differences. But so do large and small business owners. Communicate relevant messages according to employee count or facility size to increase engagement.
Homeowners vs. renters: Energy efficiency messaging and other program promotions can be targeted based on a customer's ability to undertake home improvements. Renters may be interested in LED lightbulbs and smart power strips, but they probably aren't going to buy a new furnace or upgrade their insulation; save those messages for homeowners.
Environmental vs. money-saving motivations: People with varying concerns respond to efficiency messages differently, even when the end result (reduced energy use) is the same. One segment of customers might be interested in paperless billing and appliance recycling because they want to save money, another segment might be more interested in reducing their carbon footprint.
Income-based messaging: Low-income program messages can be targeted to households that meet eligibility requirements or triggered by behavioral factors such as high bills or late payments.
Reach the Right Customers with Utility Customer Segmentation
Utility customer segmentation has the means to improve customer engagement, increase satisfaction, drive program results and boost conversions all by delivering relevant information to target audiences. The benefits of customer segmentation are clear.
Luckily, segmentation doesn't have to be hard. By identifying customer needs, interests and motivations, your energy utility can send targeted communications that resonate with particular audiences.
Improve engagement and satisfaction with a utility customer segmentation strategy from Questline Digital.