Laurel Gerdine, Head of Client Marketing at Franklin Energy, found her love for the energy industry right out of college, joining the team at San Diego Gas & Electric. Since then, Gerdine received her MBA, made a career in the advertising world, owned and operated her own marketing strategy firm and worked as the VP of a software firm. After so many ventures, Gerdine has found herself back in the utility industry and couldn't be more thrilled about it.
"I know when I wake up in the morning the things that I'm working on bring value to communities and to the world," says Gerdine. "That's why I made the career change to come back to this industry."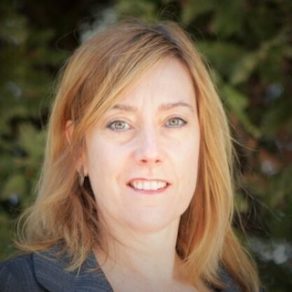 At Franklin Energy, Gerdine leads client and e-commerce marketing. However, during the early days of the pandemic, Gerdine and her team took a step back to reflect on what would truly be helpful to energy utility customers during the unprecedented times. Like many other businesses, COVID greatly impacted Franklin Energy's services, such as delivering energy efficiency and grid optimization services and education to consumers and businesses.
"One of the themes COVID brought to the forefront for me in particular and our utility clients, is the meaning and value of community," says Gerdine. "With COVID, we really needed to find other ways to deliver much-needed services to those in our communities for our utility clients."
After conversations with the executive team, Franklin Energy decided to focus on ways to assist their customers beyond energy marketing. "We started to really brainstorm, 'What are all of the things that we can do that would be helpful during this time?'" Gerdine says.
They took their services out to the community and began delivering resources like LED lightbulbs and energy efficiency educational materials to families served by food banks to help them save energy and money during the pandemic. The initiative eventually served several urban locations across the country.
"I think what's really important is the connections to our community. Energy is a utility, it is a very basic commodity. Customers aren't often very engaged. From a marketing perspective, you might see 70% of your audience not engaged at all. That's changing, but in the meantime, we want to make sure our programs are impacting the community in as many positive ways as possible," says Gerdine.
As communities settle back into more familiar routines, Gerdine and her team are focused on tackling common utility challenges head-on, including energy efficiency education and technology advancements.
"I think the biggest challenge that my teams face in terms of execution is the complex technology landscape that our clients have," says Gerdine. "Making all of the systems work together to deliver the type of marketing that we want, getting the right offer and the right message to the right customer at the right time, is extremely challenging in this industry."
Outside of work, Gerdine enjoys spending time with her husband, four children and two dogs. She travels around Massachusetts for her son's baseball team and loves to take advantage of time outside, hiking and visiting national parks. She also has a love for skydiving and hopes to learn how to solo skydive one day.
Questline Digital connected with Gerdine to get her thoughts on impactful customer campaigns and opportunities within the industry.
How did you get started in the energy utility industry?
Working in this industry was my first job out of college (many years ago!). I helped start up an income-qualified program for San Diego Gas & Electric. I fell in love with it and stayed working in the industry for almost a decade before going to business school and switching careers entirely to advertising!
What has changed the most about your job in the utility industry over the course of your career?
A lot has changed for me — mostly because of the time gap and focus change between my first career 20 years ago and my new career in this industry today.
The biggest thing that has changed is our customers' expectations — we live in the age of Amazon and Google — and these expectations accelerated even more in the last two years with COVID. These have evolved and accelerated to a level where our teams across implementers, consultants, service providers and clients have to include much more diverse skillsets and perspectives to meet them and succeed.
What excites you the most about the energy utility space?
The opportunities and impact that modernization and technology innovation have on the grid, energy supply and demand — and what these means for our customers and communities. This is also what scares me the most.
What campaign or initiative are you most proud of?
I am most proud of the pivot that our teams made to serve our clients' customers through food banks and other central community organizations during COVID. This allowed our programs and services to make an impact with those in our communities that needed us most and provided our employees a way to deliver value in a time that was the most chaotic and uncertain for all involved. It was a win all around.
What is the hardest part of working in the energy industry today?
The rate of change and the headwinds on it created by technologies and structures not yet aligned with where we need to go.
Finish this sentence: If I weren't working in the utility industry, I would be…
Getting my pilot's license and learning how to be a skydiving instructor.
How do you anticipate the world of energy evolving in the coming years? What are you looking forward to?
I think we are going to see a lot of solutions for energy usage and management built into how we live (and work and manufacture and shop), solutions that learn from our behaviors and activities and adjust in the background to deliver energy when and how it is needed to our requirements, without our thinking about it or having to take any action.
This is exciting and I am looking forward to it, but it also has the potential for imbalance and inequity. For a needed item like energy, this has serious implications and must be addressed proactively and collaboratively.
What advice would you give to those entering the utility space?
Be ready for change and to think outside of the box. Be open to new ideas and bring new perspectives! This isn't your mother's utility anymore!
Participation in Questline Digital's Energy Spotlight series does not indicate an endorsement from utility partners.