For over 30 years, Questline Digital has been dedicated to helping energy utilities connect with their customers. Before changing our name to Questline and then Questline Digital, the company that started as "Tech Resources Inc." was engaging energy utility customers through the latest technology at the time: the fax machine.
While technology has certainly changed over the years, our mission has remained steadfast: to build long-lasting relationships between energy utilities and their customers. Read on for a look back in time at Questline Digital's humble beginnings and how our company has transformed over the years.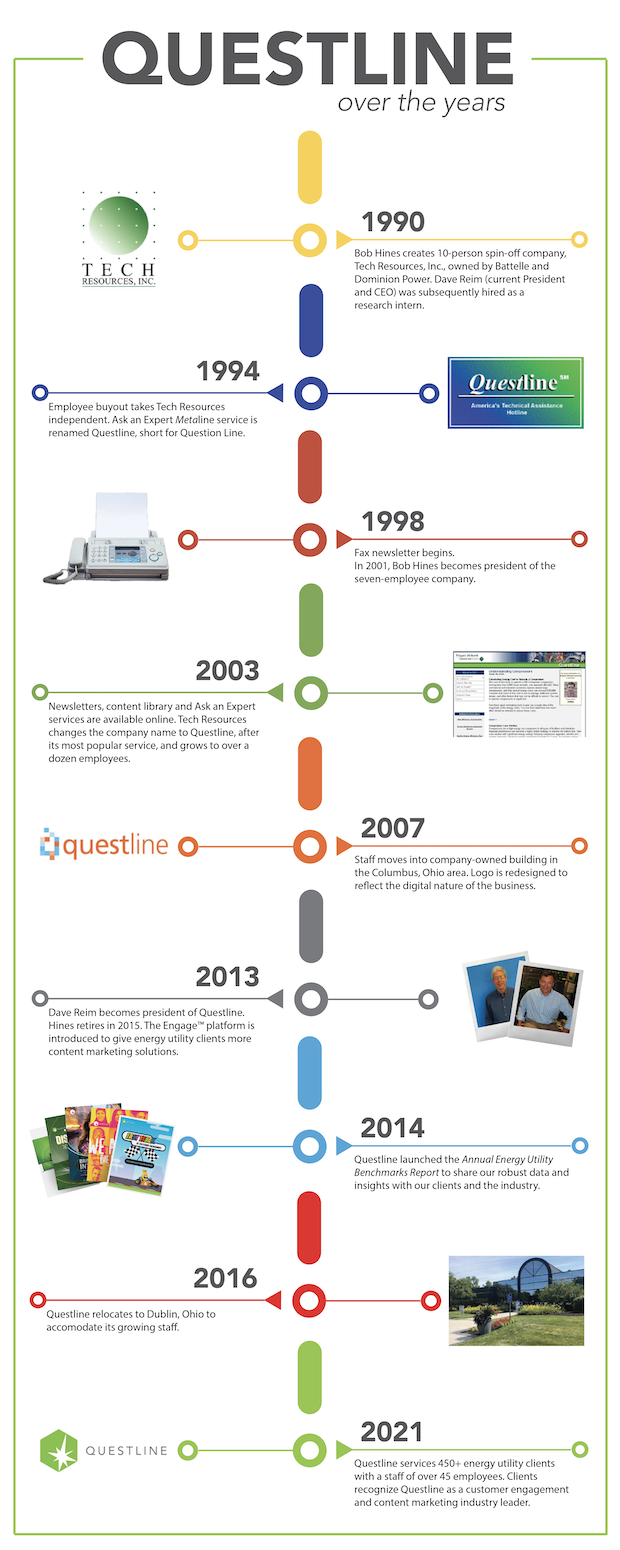 The early years of Questline Digital
Questline Digital was officially born in 1990. Dr. Bob Hines, a Battelle employee in Columbus, Ohio, was training an energy utility client on economic development software he developed. The energy utility client asked Hines if there were any Battelle technologies in which their parent company, Dominion Power, might be interested in as an investment. This led to the creation of a 10-person spin-off company, Tech Resources Inc., owned by Battelle and Dominion Power to commercialize technologies at Pacific Northwest National Laboratories (PNNL).
Over the next four years, Tech Resources' primary service was industrial energy audits and operating an Electric Power Research Institute hotline called Metaline for utility clients. While Metaline originally covered metallurgical-type inquiries, it soon expanded to cover almost any industrial operations issue. A fee was charged for each inquiry.
Dave Reim (now Questline Digital's president and CEO) and engineer Jose Antommarchi were hired to answer these calls and conduct audits. After the Department of Energy (DOE) began providing industrial energy audits, this part of the business evaporated almost overnight.
Growing pains and new leadership
Ultimately, leadership at Dominion Power and Battelle believed that Tech Resources would not survive, so they offered to sell the company to the remaining employees. In 1994, seven employees bought the company. A new business model offered utilities an annual subscription to answer unlimited customer inquiries; the service was called Questline (Question Line), our company's namesake.
To promote Questline, Reim had an idea to support utility account managers by developing a fax newsletter to send to their customers. Tech Resources sent out thousands of faxes per month with illustrations hand-drawn by Hines. This allowed the company to expand as a value-added informational service. After several years of moderate growth, the company added some research librarians, including Scott Miller (now Questline Digital's content director), to help answer inquires.
A new millennium, a new focus
In 2001, Hines became president of Tech Resources. By 2003, utility newsletters had become the main focus of the company. Tech Resources started sending newsletters by email, which led to the growth of an electronically accessible library of Questline articles. The company soon developed the IntraQuest and RelationshipBuilder platforms for content creation and email delivery and tracking.
Throughout this decade, the company appeared every year in the Inc. 5000 list of the fastest-growing companies in America. With Questline newsletters taking center stage, many energy utility clients began to refer to Tech Resources only as "Questline." In response, the company formally changed its name.
A leader in content marketing
In 2013, Reim was elevated to president of Questline. Hines, who served an essential role in the start of Questline, retired in 2015.
The original RelationshipBuilder platform was also redeveloped into our proprietary Engage platform to give energy utility clients access to powerful content marketing capabilities, including deployment and reporting tools. Through Engage, the original content library was transformed into a catalog of 4,500 articles, videos, infographics, interactive quizzes and social media posts.
Today, Questline Digital works with hundreds of energy utility clients across the United States. The company's focus is helping energy utilities transform their digital marketing strategy to achieve program results and increase customer engagement. Questline Digital's content marketing, custom creative and technology solutions are designed specifically with energy utilities in mind.
The company has also become a leader in performance metrics for the energy utility industry. In 2014, Questline launched the Annual Energy Utility Benchmarks Report to share our robust data and insights with our clients and the industry. This valuable report has helped shape the marketing strategy and optimize campaign results for hundreds of energy utilities.
No matter how many years go by, the Questline Digital team remains focused on energy utilities and their customers. As our history demonstrates, our team continues to reinvent itself, adapt to new technologies and think of innovative ways to connect energy utilities with their customers.
We are proud of our track record of successful customer engagement and technological innovation over the years — and we're just as excited about the next 30 years and what's to come for our energy utility partners.
Learn how Questline Digital's expertise in customer engagement can help your energy utility build long-term digital relationships.