Business Newsletter Services
Educate and connect small business and commercial customers with relevant programs
Your utility can establish long-term relationships with SMB and C&I customers with Questline Digital's business newsletter services.This content marketing solution provides your business customers with energy efficiency advice, explains new technologies and builds awareness of your energy utility's programs and services.
Plus, our business newsletter services extend beyond content to provide scheduling, deployment and list management resources. We can curate high-quality eNewsletters for you every month, or you can easily build your own, leveraging Questline Digital's vast content library and Engage™ deployment platform.
Develop Connections With Your Business Customers
Building an ongoing digital relationship is a key driver to higher customer satisfaction. When it comes to your business customers — and biggest energy users — our business newsletter solution is an effective way to connect them to various programs and resources.
C&I customers who are highly engaged with your utility open promotional emails at a 51% higher rate.
Key Accounts eNewsletter readers click on promotional emails at an 87% higher rate.
Small Business eNewsletter readers click on promotional emails at a 73% higher rate.
Case Study: Newsletter Segmentation Leads to Increased Engagement
To better connect with key accounts customers, AEP Ohio's business eNewsletter was segmented by multiple industries, including healthcare, education and manufacturing. Compared to the general, unsegmented newsletter, AEP Ohio's industry-segmented newsletter achieved a 22% higher open rate and 44% higher click-through rate. One industry segment achieved an 84% increase in customer engagement. Learn More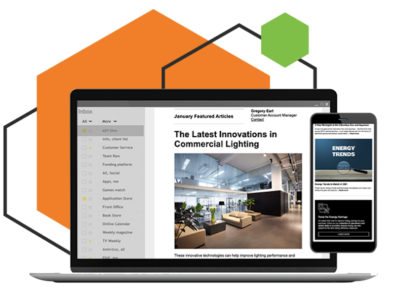 Why Questline Digital's business newsletter solution works
A monthly newsletter is the best way to maintain a consistent touchpoint with business customers and provide relevant information when they need it. Our business newsletter services take the guesswork out of connecting with busy, hard-to-reach customers.
Builds and maintains relationships with your business customers
Promotes energy efficiency programs and services
Technical content engages energy champions such as facility and plant managers
Of course, not all business customers have the same needs and challenges. A manufacturer, warehouse, retailer and healthcare facility — just to name a few — have different energy needs and look to their energy utility for specific solutions.
That's why Questline Digital's business newsletters are designed to be segmented by industry. In addition to separate key accounts and small business versions, we deploy newsletters for 16 industry-specific segments. These newsletters feature content and energy advice relevant to each industry.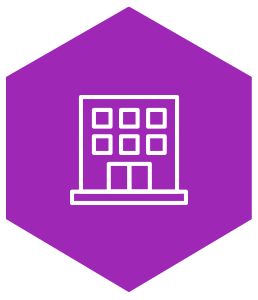 "BGE found that high customer engagement supports high customer satisfaction and with Questline Digital we have been able to positively move that need in the right direction. With Questline Digital's key accounts eNewsletter we can track official metrics for customer engagement and have seen a related increase in satisfaction scores. Our KAMs who have higher eNewsletter opens have happier customers."
—Monika Campbell
Manager, Large Customer Services, Baltimore Gas and Electric
Dynamic Newsletters: Relevant, Industry-Specific Content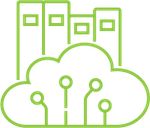 Provide each business customer with a personalized content experience by putting the power of artificial intelligence (AI) to work. Questline Digital's Dynamic Newsletter solution uses machine learning to provide a unique selection of content to each subscriber, no matter the size of your list.
Our AI tool automatically selects the most relevant content from our library of 4,500+ assets. You can send personalized newsletters to every customer without the added effort of curation or segmentation.
This capability is especially important when communicating with attention-starved business customers, who don't want to waste time with content that doesn't apply to their company. With the power of AI, you can automatically deploy relevant, industry-specific content — even if you don't know the industry for every customer — replacing the need for segmentation of a large SMB list.
Dynamic Newsletter key benefits
Provides a personalized, customer-centric experience
Deploy industry-specific content to all business customers
Automatically learns from customer preferences to optimize future recommendations
Supplies consistently relevant and engaging content
A seamless communication solution to reach all audiences
What's included in your business newsletter solution
Our eNewsletter solution has turnkey and customizable options available to fit your utility's needs.
Four content assets each month, covering energy efficiency information specific to heating and cooling, lighting, new technology, facility efficiency and more.
Engaging multimedia content, including professionally produced videos, infographics and interactive quizzes.
Flexibility to review and approve content, request changes, manage lists and schedule deployment dates with our robust Engage platform.
Opportunity to personalize content to include program links and other utility-specific information.
Ability to send personalized eNewsletters from each key account manager.
Comprehensive performance metrics and easy-to-understand analytics.
Ready to learn more about Questline Digital's business newsletter services?
Submit the form below and we will contact you with more information.