Video Content
Access our catalog of ready-to-use video content or choose custom video production.
Using video doesn't have to be expensive or out of reach. Your energy utility can easily provide customers with the video content they want. How? By selecting from Questline Digital's extensive catalog of ready-to-publish videos or working with us to produce custom clips for your specific needs.
Spice up your eNewsletters, social media, energy marketplace or website with engaging video content. Easily share tutorials and explainer videos to educate customers on energy topics for their home and business, encouraging more program participation.
"We used to create all of our own videos, graphics and animations for customer communications, but it wasn't budget-friendly. Questline Digital makes it possible. Content is ready-made, high-quality, affordable and customizable if we need it. We couldn't create these high-tier materials on our own for the same price. Questline Digital is a great money saver, while also improving our communications."
—Tony Mauren, Communications & Administrative Coordinator, Elk River Municipal Utilities
Video Content Collection
Heighten your communications by adding either animated or live-action videos from our content library. Questline Digital's videos are ready-to-publish and proven effective, with tested performance metrics behind them.
Benefits of Questline Digital's video content catalog:
Affordable access to professionally produced assets
Growing library of 350+ videos
Multiple topic collections for residential and business customers
Examples of popular videos:
You Can Install a Smart Thermostat
Does Changing Your Furnace Filter Really Save Energy?
5 Ways to Save with Electric Vehicles
Energy Answers: Calculating Load Factor
Safety First: Electrical Tips for the Workplace
Marketing Video Production Services
We have comprehensive marketing video production capabilities in-house, from directing to scripting to animation. Custom videos allow your energy utility to guide production to your specifications or to cover a target program or initiative.
Unlike other video content marketing agencies or production studios, Questline Digital's in-house video team works exclusively with energy utilities. We have extensive experience creating engaging videos about complex energy topics.
Questline Digital's marketing video production services include:
Concepting and scripting
Live-action production
Animation and motion graphics
Voiceover, music and audio mixing
Editing and post-production
Case Study: SECC Generates Thousands of YouTube Views with Educational Animated Video Series
Questline Digital helped SECC develop the "Evolving World of Energy" video series to illustrate energy's dramatic transformation, providing important insights, latest statistics and real-world examples. The three videos were featured in a variety of communications, including SECC's industry and consumer websites, webinars, social media, email marketing and in-person conferences. Read full case study.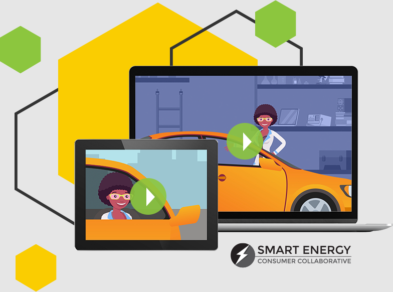 Learn more about Questline Digital's content catalog and video production services.
Submit the form below and we will contact you with more information.