It's imperative that your utility prepares a proactive communications strategy to educate customers about rising energy costs and help them take control of monthly bills.
"Having a proactive and cohesive strategy around changing costs is no longer a nice-to-have," says Mary Malone, Questline Digital Director of Account Development. "It's become imperative to sustaining a trusting relationship with customers."
Customers want to know:
Why are energy costs rising?
How do I reduce my energy consumption?
How do I save money on my energy bill?
What can I expect from my bills moving forward?
Your energy utility should explain rising energy costs and rate changes as clearly and directly as possible.
Remember to:
Keep messages simple by avoiding jargon
Highlight your utility's commitment to keeping costs affordable for customers
Provide energy-efficiency resources and education
Clearly explain bill assistance programs or payment options
Why Are Energy Costs Rising?
The first question for many customers is, "Why are energy costs rising?" Although the answer is complicated, it's important to explain as much as you can about the situation. The more customers know, the more understanding they'll be to price shifts.
Many factors are causing spikes in energy costs, including the pandemic, Russia's attack on Ukraine, supply chain issues and climate changes.
"The cost of natural gas that's delivered through pipes was up 24% in February from the year prior, while electricity went up 9%," The Guardian reported. "Price spikes are notably higher in places where electricity is generated from natural gas, such as the Northeast, which saw a 16% increase in January from the same time last year, with prices dipping down to a 6% increase in February."
The unpredictable natural gas market, which powers much electricity generation, is also attributed to increased production costs. The addition of extreme weather conditions, including the Texas Freeze and Hurricane Ida, pushed oil production to stop on the Gulf Coast. These conditions led to higher energy prices as the demand increased.
Richard Berkley, Executive Director of the Public Utility Law Project, explained that the situation would be different if the U.S. didn't rely so heavily on energy sources that depend on the supply chain and global market. "Now with sustained disruption of the world energy markets, we should expect to see higher prices till the end of the year," he said.
Although customers may be aware of some of these situations, they may not know the direct impact these factors have on rising energy costs. Explaining this information in clear, easy-to-understand ways through emails, newsletters, alerts and more will help keep customers informed and educated.
How to Address the Cost of Energy
Besides world and weather events, customers don't always understand why energy costs fluctuate throughout the year. Generally, electricity prices reflect the cost to build, finance, maintain and operate power plants and the grid.
Do your customers know this?
The more customers understand the various elements behind the cost to generate and distribute energy, the more empathetic they'll be when increases occur. In other words, this has a major impact on long-term customer satisfaction.
According to E Source, customers want to understand how price increases and rate changes affect four areas:
Their families, businesses and personal lives
The environment
Future generations
Their communities
Tactfully explain to customers why some factors drive rising energy costs, including:
Fuel prices: Clearly explain that when demand increases, so does the cost. With supply chain challenges and the demand for fuel increasing, these higher fuel prices can lead to higher costs for generating electricity.
Power plant costs: Let customers know about the costs that go into operating and maintaining generation facilities and what cost increases your utility is seeing in daily operations.
Transmission and distribution systems: The systems that connect power plants to customers also need continuous maintenance. Describe where these costs come from.
Weather conditions: Most of the U.S. has been battered by high temperatures lately, which puts a strain on the grid as the demand for cooling increases. On the other hand, rising energy costs can also occur in the winter when frigid temperatures require increased heating. Customers may not realize that these things affect the cost of energy.
Regulations: Some states have regulated prices or a combination of regulated and unregulated prices. Be upfront about what your utility experiences when it comes to government and state regulations and how it impacts energy costs.
Transparently describing how energy prices are determined can help customers feel "in the know" and showcases your energy utility as a trusted resource.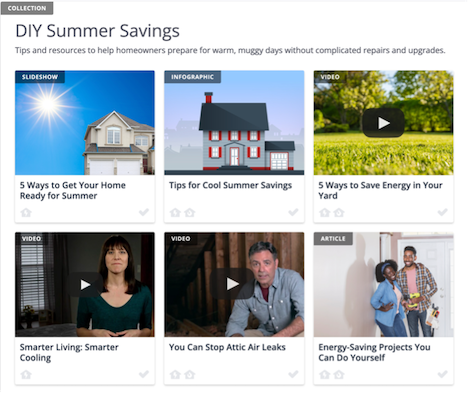 Rising energy costs affect customers in different ways
Develop communications strategies for both residential and business customers. Their different needs and concerns should be addressed in distinct ways.
For example, retail electricity prices are usually higher for residential than commercial customers because of different distribution costs. However, supplying electricity to industrial customers is often less expensive and more efficient because they can receive the electricity at higher voltages.
For residential customers, it's important to educate them on peak and non-peak hours and how these can affect their electric bills, especially if you offer time-of-use rate plans. Typically, electricity demand is high in the early afternoon and evening, which means costs will increase at these times. If customers change when they do some activities, such as charging their EV or running loads of laundry, to non-peak hours they can see a decrease in energy costs.
Provide this information to customers through newsletters, social media, text or emails where you can share content pieces that teach customers about energy use and lowering consumption.

Reach Customers With the Right Message in the Right Channel
Communicating with customers should go beyond basic energy efficiency advice. Instead, provide direct ways that customers can lower their energy consumption and combat rising energy costs. It's important for customers to know that increased energy efficiency ultimately leads to lower costs.
Additionally, provide resources like payment assistance programs, budget billing and content that speaks to the needs of customers impacted by rising energy costs.
A multi-channel communications strategy is key to reaching as many customers as possible. Recommended channels include email, direct mail, social media, text messaging and any other communication methods your utility's customers prefer.
Email Example: Rate Change Message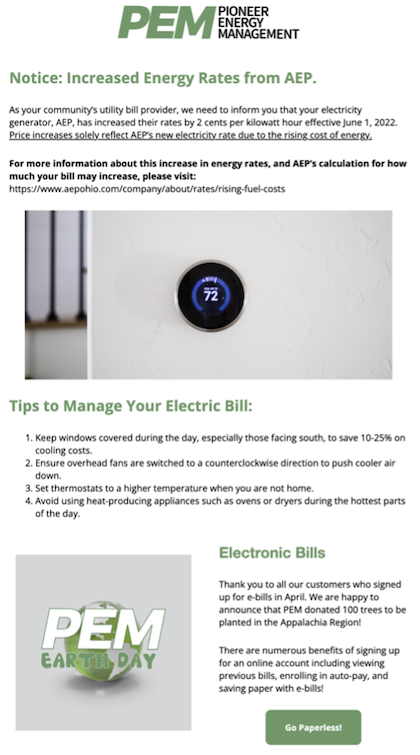 The above email from Pioneer Energy Management in Ohio directly tells customers how much their rate is changing and when the change will be effective. It doesn't include any fluff or introduction — it gets straight to the point. Once readers know that their rate is increasing, they can continue to read on for helpful tips to manage their electric bill.
Direct Mail Example: Rate Increase Message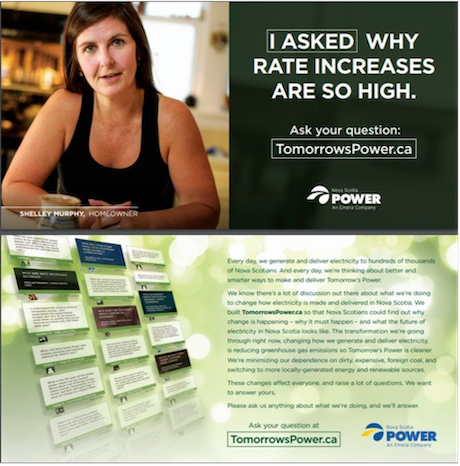 Novia Scotia Power created a direct mail campaign that answered customers' direct questions, including "Why are rate increases so high?" In its direct mail flyer, NSP shares that the utility is working toward distributing cleaner energy and switching to renewable sources. This transparent information allows customers to better understand why price increases are occurring and where the extra revenue is going.
Web Page Example: Rate Education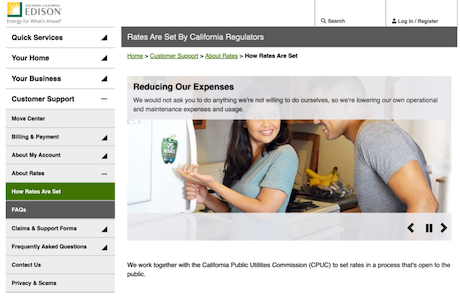 Southern California Edison has a page on its website titled "How Rates Are Set" that provides an FAQ section and clear explanations for how the utility determines the price of electricity and what affects those costs.
The utility also helpfully breaks down where each dollar of the customer's energy cost goes:
46 cents – generation: Costs of energy sources, including solar, wind and natural gas, and generation SCE owns, including hydro and natural gas plants.
37 cents – distribution: Grid maintenance and new equipment, including poles and wires and substations.
8 cents – transmission: Investment in operations and maintenance for high-voltage transmission lines.
5 cents – wildfire: Insulated wire, vegetation clearing, enhanced inspections, weather stations, HD cameras, insurance.
4 cents – public purpose programs: Mandated state programs, including incentives for energy efficiency and protection for low-income customers.
Customers appreciate transparent, direct information. When customers see your utility as a trusted resource they have higher overall satisfaction.
Social Media Example: Peak-Hour Reminders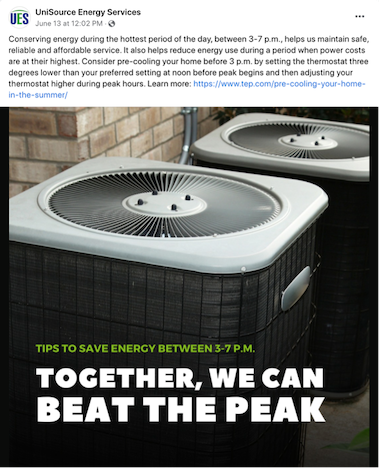 UniSource Energy Services, located in Arizona, provides reminders on its Facebook posts for customers to be aware of peak and off-peak hours when choosing activities. The utility then provides a link to more tips on cooling homes in the summer. Customers do not always know when off-peak hours are — sharing this information in a quick social media post acts as a helpful reminder.
Social Media Example: Bill Assistance Programs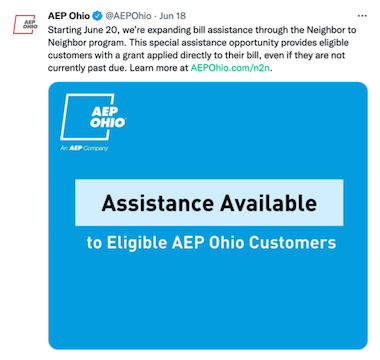 AEP Ohio shared this post on Twitter to inform customers that their bill assistance programs were expanding eligibility requirements, even for customers who were not past due with their payments. This proactive post helps customers who may be struggling but were ineligible previously.
Urgent Need for Proactive Communications
With rising energy costs, there is an increased urgency to provide valuable information to customers for combatting high energy bills. Helping customers understand how to lower their energy consumption and how increased energy efficiency ultimately leads to lower costs can build positive relationships among customers.
Connect customers with the right payment programs and billing options. Learn how Questline Digital's customer assistance solutions can help.