Today's customers feel strongly about their payment preferences. With a multitude of options available to them, from autopay to Apple Pay, consumers expect the same choices from their energy provider. That's why it behooves energy utilities to understand the importance of payment preferences and give customers what they want.
In Questline Digital's webinar, "Utility Customer Payment and Self-Serve Opportunities," Qwana Falkenberg, Customer Services Supervisor at Georgia Power, and Joshua Platt, Account Director at Questline Digital, discuss why customer payment options are vital for improving customer satisfaction.
"There are numerous ways to define customer payment preferences," Platt says. "So why do we care about payment options and devote an hour-long webinar to the topic? We care about payment options because your customers care about payment options."
Evolution of Utility Customer Payment Options
Customer payment preferences have evolved over the last few years just as the technology for making payments has changed. According to E Source, in 2018 customers' top payment options were automatic payment, online payment through a utility's website and check. In comparison, in 2022, customers' top payment preferences were online through the utility's website/portal or paying via mobile (text or app).
According to Falkenberg, 57% of U.S. consumers made their payment through an electronic method, while only 25% used traditional payment methods, like check, money order or cash. During the coronavirus pandemic, the number of consumers using mobile wallets for payments increased from 900 million to 1.48 billion worldwide.
"This speaks volumes on what customers are looking for when it comes to making their payment," Falkenberg says. "The payment preference evolution is definitely on the rise."
As expected, different generations prefer different payment methods. For example, Axerve finds that Baby Boomers prefer paying by cash, checks and debit cards, while Millennials and Gen Z prefer digital methods like Venmo and Apple Pay. With every younger generation, there is a greater preference for digital payments.
Baby Boomers (1940s to 1960s): cash, check, ATM cards
Generation X (1960s to 1980s): credit and debit cards, PayPal
Millennials (1980s to 1990s): credit cards, prepaid cards, PayPal, Venmo
Generation Z (1990s to 2010s): prepaid cards, digital wallets (like Apple Pay)
Income also has a significant impact on payment preferences. The most common payment method for all incomes is autopay or through a utility's website/portal. As income increases, the use of autopay increases. According to E Source, about 40% of customers who make over $75,000 a year pay their bill through autopay. In comparison, only 25% of customers who make under $25,000 a year utilize this method.
Lower-income customers are more likely to pay their bills via walk-in centers, phone or mail. However, with the price of postage continuing to rise, this may be changing. Conversely, higher-income customers are more likely to pay their bills through autopay and online.
"Higher-income customers typically have more money available to make 'set it and forget it' payments," Platt explains. "They also may have more reliable technology access and are generally more tech-savvy."
Focus on the Customer Experience
In addition to offering a variety of payment options, it's important to create a quality digital customer experience. In fact, 58% of consumers want the ability to view their digital bills in multiple places. Unifying payment options under a common, easy-to-use interface has many benefits for energy utilities, including:
Minimizing steps to complete payment
Easing discovery of payment options
Facilitating autopay adoption
Increasing paperless billing enrollment
Improving payment reliability
This is where the importance of education comes into play. Platt shared the example of SoCalGas, which took advantage of video to help customers understand their bill and explain how to enroll in the utility's My Account and online bill pay. Through video and other educational resources, utilities can play "show and tell" to help customers take advantage of self-serve options.
This seamless experience includes interactions with a utility's customer service representatives. Microsoft's Global State of Customer Service Report shows that 35% of consumers rank an agent's lack of knowledge as a poor customer experience. Additionally, the majority of customers agree that their time being valued is imperative to a good customer experience.
"Each and every one of us are customers," Falkenberg says. "As we engage with agents with the companies we do business with, we want to know we are speaking with someone who is knowledgeable and can assist as well as educate us on our options. As customers, we are all busy people and time is of the essence."
For the initial customer contact to be successful, understanding their request is imperative. If this part goes wrong, it erodes trust and negatively impacts the customer experience. According to Falkenberg, Georgia Power ensures every interaction includes education to ensure customers enroll in options that fit their unique needs.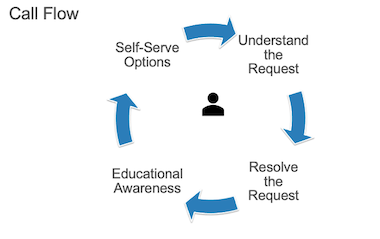 "The initial customer contact is critical — it can either serve as a brand strengthener or a brand diminisher," Falkenberg says. "The key is anticipating customers' needs and delivering an exceptional customer experience."
Bill Payment Options Abound for Utility Customers
For Georgia Power, payment options continue to grow based on customer feedback and preferences. Through their Online Customer Care options, the energy utility offers mobile app, autopay and online payments. For customers who prefer making a payment in person, the utility created partnerships with various vendors like Fidelity Express, PayGo, Walmart and Kroger.
Online Customer Care
Web
Autopay or One Time (ACH)
Debit Card (BillMatrix)
Phone
ACH(GPC IVR)
Debit/Credit/BillMatrix IVR
Authorized Payment Location (APL)
Fidelity Express, PayGo Checkout, Western Union, U.S. Payments and Fiserv CheckFree
Cash
Debit Card (Walmart & Kroger only)
Mail
Based on recommendations from a J.D. Power survey, Georgia Power eliminated payment fees in August 2020. The utility found that satisfaction was low among customers who had to pay an additional fee along with their bill. As a result, eliminating the fee had a positive impact on customer satisfaction.
Going forward, Georgia Power continues to grow its payment options and will soon be moving into the digital wallet space. Digital wallet options include:
PayPal
Venmo
Apple Pay
Google Pay
Amazon Pay
"Customers are telling us what they want," Falkenberg says. "We are actively listening and anticipating their needs to further strengthen the relationship and deliver on our promise of exceptional customer experience."
Creative e-Bill Promotions Boost Enrollment
For energy utilities, a continued challenge is increasing enrollment in paperless billing. According to Platt, 66% of customers receive bills by mail, but only 48% preferred to be mailed this way.
"It's important to highlight benefits like convenience and ease of use — how paperless billing makes their life easier," Platt says. "Remember, customers don't care that your energy utility saves an average of $6 on printing and postage when they enroll in paperless billing unless you tell them why it matters."
Ways to encourage e-bill enrollment:
Showcase how e-bill fits into customers' daily lives
Consider an incentive or sweepstakes to capture attention
Lincoln Electric shares on their website how they reinvest savings realized from paperless billing by planting trees in the utility's service territory. The utility also installs solar-powered charging stations for mobile devices and electric wheelchairs in local parks. This message resonates with customers, demonstrating how paperless billing has a direct impact on their community.
Platt recommends incentivizing customers to go paperless, such as a bill credit or sweepstakes. For example, an investor-owned utility in the Southeast promoted paperless billing with a $5 gift card in exchange for enrolling in the program. Questline Digital research shows that customers offered a guaranteed incentive are more likely to respond than those offered a sweepstakes prize.
Energy Customers Want Payment Choices
In today's world of personalization and infinite choices, payment options have a huge impact on customer satisfaction. From mobile app to mobile wallet payments, listening to what your customers want is key. When it comes to payment preferences, there is no one-size-fits-all approach. That's why your energy utility needs a wide variety of payment options to meet the needs of all customers.
Questline Digital can help your energy utility boost customer satisfaction with a payment option communication strategy.