Program promotions are among the most important email campaigns for energy utilities. They help increase conversions, boost participation and generate revenue. However, keeping program promotions from getting stale can be a challenge.
It's not easy to develop program advertising ideas for paperless billing, EV charger rebates, time-of-use rate plans, and other utility programs. The reality is, if customers don't find the message valuable or exciting, they will quickly tune out emails from your utility.
Bring life to your energy utility campaigns with these creative promotion ideas to increase customer engagement and participation.
Creative Promotion Ideas to Boost Program Participation
Tell a story
Add an incentive
Keep up with trends
Segment your audience
Try an animated GIF
Idea 1: Tell a Story
When looking for program advertising ideas, focus on crafting a story around your target audience. Whether residential or business customers, each audience has unique reasons why your utility's program or service would benefit them.
Maybe paperless billing would be convenient for a customer's on-the-go lifestyle, or an energy efficiency assessment would help them save on their monthly bill. Ask yourself how this would make their life easier or solve a problem. These are your support points to build a strong story in your promotional campaign.
To showcase how security lighting could benefit customers, this creative promotion idea for a Southeast energy utility pulled at their heartstrings. The campaign illustrated how special moments in life are made even brighter with the utility's security lighting program.

Questline Digital also partnered with a major Northeast utility to create a successful paperless billing email for customers who are frequent commuters on public transportation. This email performed 1.5 times better than Questline Digital's benchmark metrics, based on unique clicks. This is just one idea of how creative promotion ideas can hugely impact customer engagement and program participation.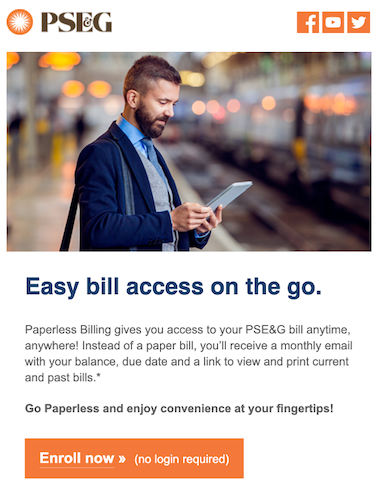 Idea 2: Add an Incentive
Another excellent program advertising idea is the almighty incentive. If customers can receive a prize for their participation, that's a win-win for them and your utility.
Incentives always motivate customers, especially smaller incentives awarded to everyone who signs up, like gift cards or LED light bulbs. In comparison, contest entries that award a single large prize (such as $1,000 cash or major league sports tickets) have not been as successful. Yet, every utility is different, so it's essential to test incentives to see what works for your customers.
Questline Digital data shows that paperless billing promotional emails with incentives have a 17% higher open rate and 28% higher click-through rate than messages without incentives. Additionally, subject lines that clearly state the incentive reach 13% more of their intended audience compared to subject lines that only imply an offer.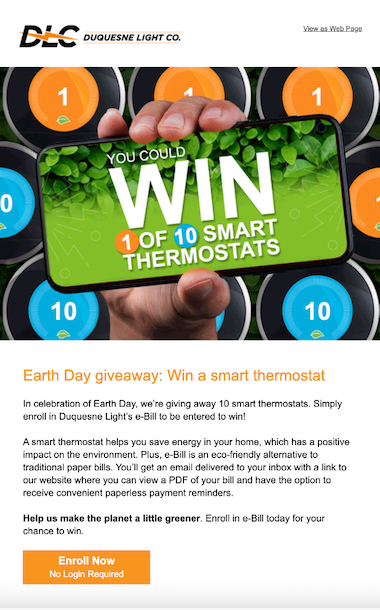 Duquesne Light Company took advantage of a smart thermostat giveaway to encourage customers to enroll in its e-Bill program. Because the email was sent ahead of Earth Day, this program advertising idea centered around the environmental benefits of smart thermostats (and paperless billing).
Idea 3: Keep Up with Trends
As utility marketers, paying attention to the latest trends and current events is essential. By incorporating the latest references or topics in your promotions, you're creating not only a fun narrative, but a timely one. Sometimes a subtle nod to a trending topic is all you need to come up with creative promotion ideas.
To increase interest in a Southeast utility's security lighting program, Questline Digital created a royal guard-themed campaign that ran shortly after the wedding of Prince Harry and Meghan Markle. This creative promotion idea was a success, achieving 160 leads in the first 24 hours.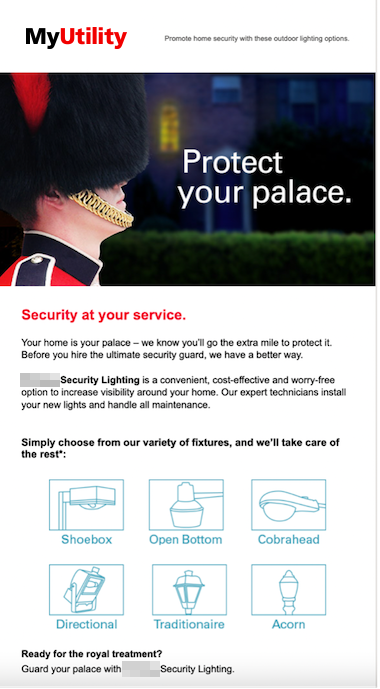 Questline Digital helped a Northeast energy utility promote paperless billing during the coronavirus pandemic. This campaign, which spoke to our virtual lifestyle during the pandemic, effectively increased conversions. When thinking of new program advertising ideas, be mindful of the current environment to create messaging that resonates with customers.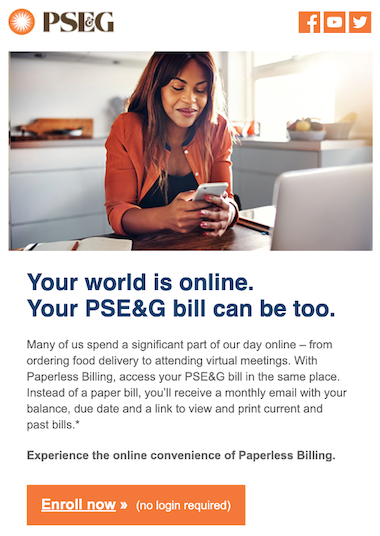 Idea 4: Segment Your Audience
Today's customers expect relevant communications that speak to their needs and interests. Segmentation is a best-practice solution to deliver promotional campaigns that connect with your customers.
With this program advertising idea, you're only targeting customers who would find your product or service beneficial. To take advantage of this creative promotion idea, segment your target audience into smaller groups with similar characteristics, including:
Demographics
Geography
Psychographics
Behaviors
Industry
According to Hubspot, segmented campaigns can see as much as a 760% increase in revenue. Plus, your utility will see increased customer engagement and loyalty. When you send relevant, targeted communications, customers feel understood and appreciated.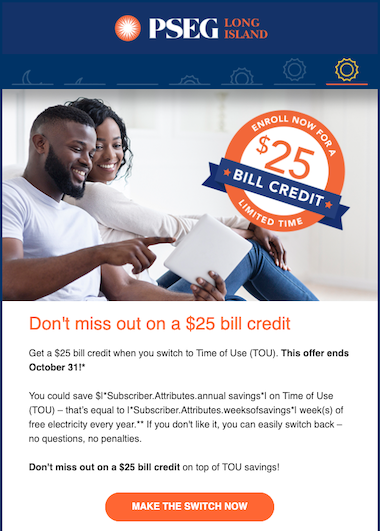 PSEG Long Island utilized segmentation and personalization to promote its time-of-use (TOU) rate program. The emails targeting a segment of prospective customers highlighted the benefits of participation, including compensation for reducing energy use and a no-penalty switch back to regular rates if they didn't like the new program. The emails sent to past TOU participants announced that the pilot rate program would no longer be available and encouraged them to choose from new TOU options.
The campaign included detailed personalization for each customer, such as the annual savings they would expect to see on the new plan based on their current energy use and that amount calculated as weeks of free electricity. The messages to both segments also promoted a bill credit as an extra incentive to switch.
Idea 5: Try an Animated GIF
Another program advertising idea is to give your customers an eye-catching visual to increase engagement. An animated GIF captures more attention than a static image, helping to increase customer engagement in your program promotions.
According to Litmus State of Email data, more than 51% of marketers use animated GIFs in their campaigns to draw customers in. Research finds that emails with GIFs are more successful, with a 6% higher open rate than emails with static images. According to an Experian study, 72% of marketers who took advantage of animated GIFs in their email campaigns saw higher transaction-to-click rates.
GIFs are a great alternative to video because most email browsers support them. Plus, this creative promotion idea can tell a story much better than a static image, engaging customers before they read the copy.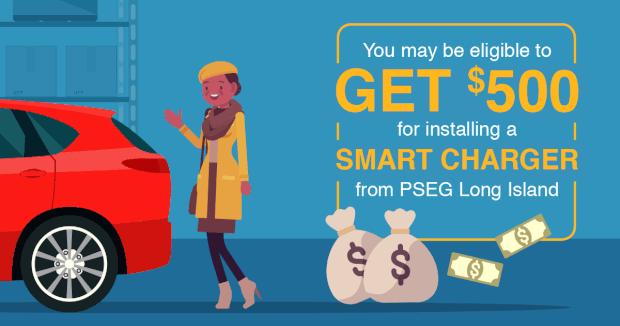 Questline Digital helped PSEG Long Island promote the utility's $500 Smart Charger Rebate through a fun animated GIF. The animation illustrated the money that EV owners would get back through the rebate.
Improve Engagement With Creative Promotion Ideas
When it comes to program promotions, there is no one-size-fits-all formula. Use these program advertising ideas to infuse some creativity in your promotions, keep your campaigns fresh and improve customer engagement.
Reach your goals and boost participation with creative promotion ideas from Questline Digital.