To capture the attention of energy utility customers, the copy in your marketing campaigns is just as important as the design. Effective copywriting has the power to increase customer engagement and participation in your energy utility's programs and services. For example, a strong subject line will encourage customers to open your email, while a successful call-to-action will motivate customers to take next steps.
With 14 years of writing and marketing experience in a wide variety of industries, Questline Digital Senior Copywriter Breanne George shares copywriting best practices to improve your energy utility's marketing promotions.
Tip 1: Tell a story
When you think of storytelling, you probably think of your favorite book or a news article. However, your marketing campaigns can tell a story too. When promoting a product or program, create a story or theme around a specific benefit to your target audience.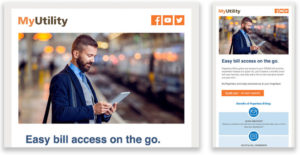 For example, for a major Northeast utility's paperless billing campaign, we focused the message around the benefit of "anytime, anywhere bill access." Since a majority of the utility's customers were commuters who used public transportation, the copy and imagery aligned to tell a story about easy bill payments that resonated with this audience.
Your campaign's theme should draw in customers by appealing to their needs, interests and lifestyles. To achieve this, you need to think about your audience:
What would make their life easier?
How does your program or service benefit customers?
Does the copy motivate them to keep reading?
This is where it's helpful to have demographic information, marketing personas and any other insights that break down your audience and what matters most to them.
Tip 2: Craft an impactful subject line
Before your customers can engage with your marketing campaign, they first have to click into the email. A great subject line makes all the difference. According to Questline Digital performance metrics, the sweet spot for subject lines is 50 characters or fewer. Your subject line should make it clear what customers will learn in as few of words as possible.
We recommend using active words that encourage customers to learn more. Consider the following subject lines about outage text alerts:
Subject line #1: Text alerts to stay informed during an outage
Subject line #2: Stay informed! Sign up for outage text alerts
While both subject lines have similar copy, the second option is actionable and encourages the reader to click into the email to sign up. For this example, you could also use a lightning bolt emoji to help the subject line stand out in customers' inboxes. When it comes to subject lines, try A/B testing to see what engages your audience.
Tip 3: Choose a powerful headline
Your headline captures attention and encourages your customers to keep reading your message. As the first piece of copy your customers will see after clicking into your email, it's vital to get your promotional message across in a simple, direct and exciting way. No pressure, right? Follow these helpful tips for writing an effective and engaging headline:
Be clear and concise: Your headline should be simple and direct, while articulating what customers will be reading in the email.
Lead with key details: Think of the most important message from your email and write it in a fresh new way. This could be the dollar amount in an EV rebate program or the main customer benefit in a paperless billing campaign.
Consider the imagery: Make sure the headline and visuals work together. For example, "Protect Your Palace" was a headline for a Southeast energy utility's security lighting campaign featuring a royal guard in the hero image.
Generate curiosity: By giving away just enough information — but not too much — your headline should persuade your audience to read further for more details.
Get creative (within reason): Avoid copywriting that is too whimsical, cutesy or irrelevant. Think creatively but don't stray from the ultimate goal of your campaign.
Tip 4: Keep it short and sweet
In today's fast-paced world, your customers simply don't have time to read a long, copy-heavy email. That's why it's best to write short and concise copy. We recommend breaking up paragraphs with the use of bulleted lists, headers, pull quotes and other call-outs for easy scanning. Remember, your customers will get the full details when they click on your call-to-action, so there is no need to include "everything but the kitchen sink" in the email.
It's not always easy to write short and sweet when describing complicated utility programs. By using the copywriting tactics mentioned above, you can avoid massive blocks of copy. Keep in mind, your readers may not understand complex terminology or programs that are common knowledge in the energy industry. Use simple words and short sentences, focusing on the value propositions that resonate most with your customers.
Tip 5: Encourage customers to take action
After engaging with your message, you want customers to take action, whether enrolling in paperless billing or taking advantage of a rebate program. Your call-to-action (CTA) is one of the most important elements of your marketing campaign. Keep these best practices in mind to create a powerful CTA:
The shorter the better: Your audience will tune out an overly long and complicated CTA. Keep it short and simple so your customers understand what you want them to do.
Urgency is effective: Use time-sensitive language to help boost program conversions and create a sense of urgency. Some examples include "Time is running out," "Don't wait" or "Sign up today."
Get creative with button copy: Sometimes a simple button like "Learn More" or "Get Started" works best. However, there are times when you should switch things up and make it fun. For example, "Enroll. Enter. Win?" for a sweepstakes email or "Start Saving Now" for a rebate program promotion.
Placement matters: If your email is lengthy and requires readers to scroll, include two CTAs — one at the top and one at the bottom. This ensures customers can click-through at any point in the email.
Copywriting is more than creative writing
As you can see, there are many things to keep in mind when writing copy for your email marketing campaign. Copywriting is more than just creative writing — it's about crafting an effective, concise and persuasive message that motivates your target audience. With these best practices in mind, you can transform your marketing messages, one word at a time.
Learn how Questline Digital's copywriting experts can help you craft an effective message that connects with customers.