As energy consumers choose new electricity sources and show more interest in their overall consumption, the utility industry is paying more attention to the customer experiences it provides. Utility professionals now understand that their relationships with customers need to be built around two-way conversations.
In the latest edition of its "New Energy Consumer" report, Accenture paints a picture of utility customers seeking relationships with their energy providers that go beyond transactional. They are demanding more of their energy providers, especially when it comes to energy-efficient products and services.
The voices of these new energy consumers are getting louder, underscoring the need for utilities to take a customer-centric approach to their communications strategies. Utilities know they need to offer new products and capabilities. But they also need to understand the unique needs of each customer and develop relationships with them.
So, what are utilities doing?
How Content Marketing Affects the Utility Customer Experience
Now that brands in other industries are realizing the importance of creating content for specific stages of the customer journey, utilities are also finding it to be a valuable strategy for customer engagement and retention.
"When it comes to customer experience, a big motivation for utilities is to establish and maintain long-term relationships," says Brian Lindamood, Vice President of Marketing and Content Strategy at Questline Digital. "After all, unlike most other companies we do business with, we have lifelong relationships with our utilities. That's why content marketing can be so effective. It's not about a sales cycle that can be measured in weeks or months. It's a lifelong relationship."
An effective content marketing program includes a variety of content types. Offering multiple communication options allows utility customers to choose their preferred method of engagement. Communication channels and potential content formats include:
Newsletters
When it comes to the content marketing channel that utilities use successfully, email newsletters are the winner, hands down. "Newsletters are the main channel for utilities in proactively getting their message into customer inboxes and on their phones," says Lindamood. "The monthly touchpoint is an effective, low-key way to be visible in customers' lives without bombarding them with ads or messages."
The town of Benson, North Carolina has been enjoying outstanding customer engagement from its eNewsletter, which leverages videos, infographics and articles from the Questline Digital content catalog. In 2021, the utility's monthly newsletter achieved an above-average open rate of 47.3% and an impressive click-to-open rate of 33%.
At Baltimore Gas and Electric (BGE), the utility's Key Accounts eNewsletter is improving engagement — and customer satisfaction — among business customers, with the metrics to prove it. "With Questline's Key Account eNewsletter, we can track official metrics for customer engagement and have seen a related increase in satisfaction scores," says Monika Campbell, Manager of Large Customer Services at BGE. "Our Key Account Managers who have higher eNewsletter opens have happier customers."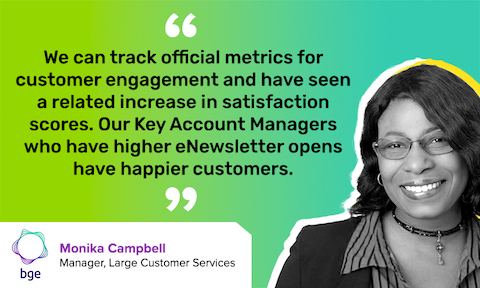 Social media, text and websites
Because millennials and Gen Z audiences are active users of mobile devices and prolific sharers on social media, many utilities are choosing to use social media platforms and text messaging to communicate with these audiences.
"Younger customers are used to getting their bills via text from other companies," says Lindamood. "We're seeing utilities increasingly using text messaging, especially for outage alerts, emergency messages and promotions."
Websites, meanwhile, are used by most utilities for providing in-depth content resources like articles, infographics and videos.
Webinars
The experience of commercial and industrial (C&I) customers is important, too. In fact, because they have more options when it comes to suppliers, maintaining their loyalty can be a greater challenge. Webinars are an effective way to reach these customers and position your utility as a thought leader in energy end-use implementation.
Duke Energy, one of the country's largest energy holding companies, has seen a substantial increase in customer engagement and its J.D. Power ratings since it began offering webinars to its C&I customers.
Improving the Utility Customer Experience With Relevant Content
A recent survey by Content Marketing Institute found that more than half of the companies delivering an optimal customer experience agreed that content marketing was a major contributor to their success. These marketers make it a priority to deliver relevant content when and where a customer is most likely to see it.
For energy utilities, that means providing customers with helpful content when they need it. "Using content marketing tactics to reach consumers on the channel they prefer can go a long way toward helping utilities meet their safety and educational goals," Lindamood says. "Providing relevant and helpful information not only increases engagement, it improves the overall customer experience."
Learn how a content marketing strategy from Questline Digital can help your utility improve the customer experience.