Maintaining energy customer satisfaction is a top priority for energy utilities nationwide. As energy prices continue to rise and inflation affects prices across industries, customer satisfaction is taking a hit.
According to J.D. Power's 2022 Electric Utility Residential Customer Satisfaction Study, overall residential electric utility satisfaction is down as customers experience higher monthly bills and struggle financially. "Utilities need to be sensitive to the financial challenges that some customers are experiencing," John Hazen, Managing Director of Utility Intelligence at J.D. Power, said in a recent press release.
Additionally, service reliability and lack of transparent communications are impacting residential energy customer satisfaction.
6 Ways to Raise Energy Customer Satisfaction
Despite the challenges that utilities face, there are several strategies for achieving high energy customer satisfaction. Utilities ranked highest in their respective regions share their tips and tactics, including:
Focus on the customer experience
Communicate proactively and consistently
Offer convenient services and programs
Provide energy efficiency tips and energy savings advice
Educate and empower customers
Champion and encourage employees
Focus on the customer experience
For Louisville Gas & Electric Company and Kentucky Utilities Company (LG&E and KU), high residential customer satisfaction stems from a mission to provide safe, reliable service at a reasonable cost, communicate with customers and focus on the customer experience.
"It has to be across the entire company. Everyone has a responsibility, whether it's on or off the job, they're representing our brand," says Debbie Leist, Director of Customer Services and Marketing at LG&E and KU. "It's a huge initiative for us. We need to make sure we're addressing the evolving needs and expectations of our customers because they're constantly changing."
The customer experience includes every touchpoint the customer has with their utility, including payments, outage alerts, energy efficiency and more. Energy customer satisfaction also comes from understanding customers' needs, interests and preferences.
"Cost and reliability are customers' greatest concerns," says Leist. "Reliability is very important, especially on the residential side with more customers working from home. There's greater awareness from customers, even with brief interruptions or outages."
For PSE&G, the utility has dedicated teams focused on specific customer experience categories, such as corporate citizenship or billing and payment, that influence perception, explains Cynthia Foose, Manager of Customer Assessment at PSE&G.
"We have subject matter experts within those areas to understand what we're currently doing and where there are gaps in customer experience that we can improve upon, whether it's with a process, technology or people," says Foose.
An important part of corporate citizenship is supporting the utility's local communities. PSE&G encourages employees to volunteer and regularly communicates the importance of doing so.
Additionally, PSE&G develops customer journey maps to look at its processes from customers' perspectives. "We've been doing journey mapping for a few years," says Foose. "We get a lot of learnings from it. It's not a process map, it's really going through the customer experience, from the customer's point of view, and looking at things differently."
Communicate proactively and consistently
As the energy industry continues to change, it's important to keep customers in the know. This starts with proactive communication and consistent touchpoints.
In a world of quick Google searches and hyper-personalization, keeping up with changing customer expectations can be a challenge. "We're a utility, but we're not being compared to other utilities, we're being compared to Amazon and other retailers that are quicker to market or more agile," says Foose. "We have to be just as nimble and provide similar experiences that our customers have come to expect."
PSE&G leverages a variety of messaging formats to communicate with customers and impact energy customer satisfaction, including newsletters and email campaigns. "We find email has a very strong recall, but we also do bill inserts, bill messages, social media and website updates," says Foose.
Whether it's an outage, gas emergency, billing updates, or self-service technology enhancements, PSE&G believes communicating to customers in a way that will resonate with them is critical. The utility sends messages in various channels and reviews the metrics of each to help its internal team understand where they need to make tweaks in the communication — both in messaging and in the delivery channel.
Leist says there's been a large focus in recent years on educating customers about economic development and what LG&E and KU are doing to make service more reliable. The utilities also regularly communicate with customers about:
Safety
What to do in the event of an emergency
How to contact LG&E and KU
Programs and services that are available
Payment options
Self-service opportunities
AMI awareness and preparation
"Communication is important," says Leist. "We take what we call a surround-sound approach to that, in meeting customers on platforms that they use most, so we don't just rely on one way to communicate to our customers."
LG&E and KU communicate to customers via social media, the utility corporate website, a monthly newsletter, bill inserts, email and direct mail. Additionally, when there is important information that will affect a lot of customers, LG&E and KU reaches out to community leaders to make them aware and act as advocates in sharing the information.
"Communication is critical for us," says Leist. "We have a lot going on at any given time, so we try really hard to keep customers informed of everything that is happening."
Offer convenient services and programs
No one likes jumping through hoops to find an answer to a simple question. Customers expect to easily find relevant information or interact with their utility in their preferred channels.
"Convenience is important," says Leist. "When we say convenience, we're talking about offering a variety of options to customers — not everyone likes to pay or interact with us in the same way. It's important that we can meet customers where they want to be met and we offer a variety of technology and tools to give them the flexibility to do that."
One way LG&E and KU offer convenience is through a mobile app that the utility implemented in 2021. It allows customers to make payments, track their energy usage, report and track outages and more. The utility's app currently has more than 450,000 downloads, 13,000 ratings and a 4.8-star rating in the App store. Additionally, it has 3,350 ratings and a 4.7-star rating in the Google Play store.
"In a single calendar year, our customers conducted 5.4 million transactions on the app alone," says Leist. LG&E and KU offer other self-service options through their automated phone system and My Account portal as well.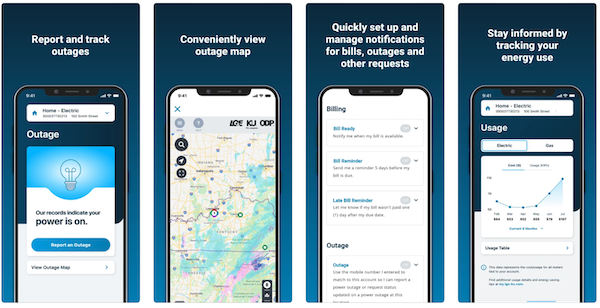 "We realize that the digital experience is the key to being better in a lot of ways. There really has been a focus in the past six years on improving the digital experience with our customers," says Leist. "We continue year after year to see increases in the use of our self-service channels. While you can't do everything self-service, we try really hard to have the basic, simple functions be available via self-serve."
PSE&G offers three digital self-serve options to customers, including My Alerts, an opt-in text notifications program, mobile app and My Account web portal. Customers who are enrolled in PSE&G's My Alerts program and mobile app rank higher in energy customer satisfaction. This is attributed to the fact that customers receive more proactive information and updates.
Provide energy efficiency tips and energy savings advice
Rising energy rates and overall inflation are major concerns for customers. More than 20 million American households — one out of six homes — are now behind on their utility bills, by an average of $788. According to the U.S. Energy Information Administration, there is no relief in sight.
Educating customers about the options available to them and how to manage their energy usage is a top priority for both PSE&G and LG&E and KU. This strategy has a high impact on energy customer satisfaction.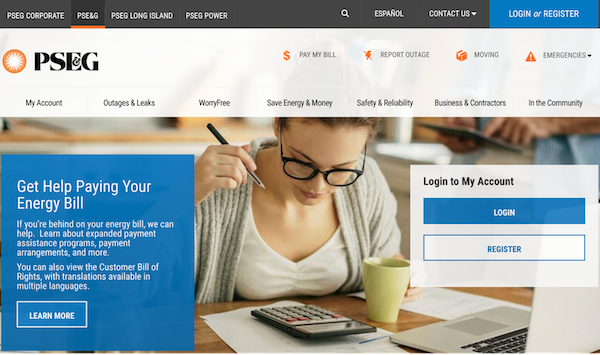 "We have a very robust communication plan. There's a conscious effort to let customers know what programs are available to them, whether they're PSE&G energy efficiency programs or federal and state payment assistance programs," says Foose. "We do targeted campaigns as well as general awareness campaigns to make sure that customers who are eligible for assistance know how to apply and access programs."
Within the past year, PSE&G has implemented both rate increases and decreases. In either scenario, transparent communication is key. For rate increases, the utility focuses communications on how to save money, use its home energy analyzer, assess personal energy usage and more. Additionally, the utility includes information on programs and services that could help customers mitigate the costs of rate increases. For rate decreases, PSE&G communicates when and how much customers can expect in bill impacts and provides continuing energy efficiency education to keep the costs down.
"We work very closely with our residential energy efficiency program managers to make sure we know the program benefits and how to communicate the benefits of the programs to customers," says Foose. "With increasing prices and the economic challenges that our customers are facing, we need to be able to have that partnership with our customers so that they see the value and opportunity in our efficiency programs."
LG&E and KU offers a WeCare Program, which is a "voluntary program designed to create savings through weatherization and energy education to help income-eligible customers in need." This program provides assistance to eligible customers, offering energy efficiency tips and even making home repairs when needed.
"We have a team dedicated to these customers to help them make energy-saving changes to their home," says Natasha Collins, Director of Media Relations for LG&E and KU. "They look at different ways energy is impacted in their homes and help them better manage their energy use, which ultimately impacts their energy bills."
The utilities offer a budget payment plan, which levels out payments throughout the year so customers know what to expect and can budget for monthly payments. LG&E and KU customers can also take part in installment plans that allow them to extend their due dates to have more time to make payments. "We try to educate our customers on the investments that we're making," says Leist. "That's one component of our consistent communications with them."
AMI meters are also being installed, which allows customers to look at their energy usage in intervals and see how they can better manage their usage. "We want customers to be aware of the many programs available to them and help them be wiser energy consumers," Leist adds.
LG&E and KU also offer website resources in a variety of content formats, which speaks to customer preferences. "Everyone likes to learn differently," says Collins. "We offer energy efficiency videos on our website for those who like to learn more visually, in addition to our articles and text-based content."
Additionally, the utilities put a large focus on community partnerships. One example is holding quarterly meetings with low-income agencies in their service territories. "We get together and talk about what's going on, what we, as the utility company, can do to help make their jobs easier in being able to assist customers as quickly and effectively as they can," says Leist. "We don't want to be a bottleneck."
Educate and empower customers
Educating customers about what is going on in the energy industry is a win-win for both the utility and customers. The more transparency and open communication there is among groups, the more energy customer satisfaction is impacted in a positive way.
"Our primary mission is safe, reliable, affordable and sustainable energy for our customers," says Collins. "As a company, it's all about empowering customers. We want to make sure that customers know they have control over how they're using energy. Part of that is teaching them how to manage energy use in their homes and resources to manage their usage and cost as much as possible."
In addition to the quarterly meetings with low-income agencies, the utilities also have an online panel of customers to expand their reach in the community. Conducted for 10 years, the panel currently has 1,000 participating customers. The utilities present and discuss information with customers, such as communications they're planning to send out, which messages are resonating most, what features they'd like to see on the website or in the app, and more. This allows LG&E and KU to hear from engaged, responsive customers to see what they're interested in.
"We want our customers to have a voice in what we do," says Leist. "The online panel has been a very valuable tool for us to get insight to our customers to make sure we're delivering and meeting their expectations."
Additionally, LG&E and KU have a customer advisory panel, where customers throughout the service territory can learn about the utilities' offerings and share them with others. Panel members are chosen after being recommended by employees or other community members. The panel consists of 20 customers from various parts of the utilities' service territories who each serve a three-year term. "The purpose of these customers is for them to be advocates for us in the community," says Leist. "They help get the word out — help educate, increase awareness and bring back learnings for us."
PSE&G also touts the value of customer feedback in expanding and improving the utility's energy customer satisfaction efforts. The utility has an online panel of about 2,500 residential customers that PSE&G can tap into for feedback. Customers opt-in to the panel to provide their opinions and perspectives. "We've gotten good response rates," says Foose. "These customers are invested and interested in providing us feedback so that we can better their experiences."
In addition to various customer panels, PSE&G and LG&E and KU look for feedback from J.D. Power research, email surveys, Gartner best practices and Chartwell research. The utilities stay tuned in with these different organizations to ensure they are constantly improving the customer experience and affecting energy customer satisfaction. PSE&G also has an in-house research team that produces ad-hoc research, including email surveys, to gauge its customers' satisfaction and interest in the utility's products and services.
Champion and encourage employees
In addition to encouraging customers to speak up and become involved in utility decisions, PSE&G and LG&E and KU find that championing employees leads to higher energy customer satisfaction.
"We share positive customer feedback with front-line associates and also with supervisors to share with their teams," says Foose. "We're looping that feedback back to the individual that provided that service, which really helps recognize the employee and drive employee engagement which then translates into better customer service."
Utilities are people-focused organizations, both in how they operate internally and who is affected externally. Empowering employees directly impacts energy customer satisfaction.
"It's more than just customer satisfaction," says Foose. "When you really think about the customer and make a conscious effort internally of how to improve the customer experience, you've gained loyalty and advocates — both with employees and customers."
What's the Secret to Energy Customer Satisfaction?
Utility customers are unique in many ways. Research shows that customers think about their utility for only 10 minutes per year. In those 10 minutes, customers are most likely experiencing an emergency, such as an outage or billing issue.
What doesn't make utility customers unique is the fact they want reliable service and easy interactions. Being able to quickly and efficiently ease customers' anxieties will lead to an increase in energy customer satisfaction.
"You're not dealing with something that's static. We're working with customers and their behaviors and experiences," says Foose. "Everybody is unique so you have to be able to constantly adapt based on what the customer needs."
Not one thing impacts customer satisfaction; there is a domino effect of factors influencing each other. Developing designated customer committees can assist in seeing the full picture, along with the nitty-gritty elements that impact customers. "It's a continual process," says Leist. "We have to identify opportunities for improvement, make sure we're addressing the evolving needs and expectations of our customers and implement changes."
Additionally, building awareness about utility services is key. Utilities aren't just natural gas or electricity providers, they're partners to customers and their communities. It's not just about making sure the service is delivered, but seeing how the service is delivered, understanding the value of the service and how it's resonating with customers.
"It's about the overall customer experience," says Foose. "It's education, building awareness and making sure that we have strong customer service to back up the value that we're presenting to customers."
Customers must be put first, with an eye on constantly improving the customer experience in the long run. Customer centricity isn't just a buzzword — it's a tangible concept of working toward a customer-focused culture.
"We're all people," says Leist. "We're trying to help customers the best we can in the best ways we know how. Communicating, educating and empowering customers and employees comes first. Then customer satisfaction, advocacy and loyalty follow."
Learn how a customer engagement strategy from Questline Digital can help boost energy customer satisfaction at your utility.