Customer testimonials are a powerful tool to increase credibility and loyalty. In an age where product reviews on Amazon or Target are paramount for driving sales, it only makes sense that customer reviews could do the same for your energy utility.
Customer testimonial videos are impactful for a number of reasons, including:
First-hand accounts from customers are more natural and trustworthy than staged videos.
Testimonial videos let customers speak about benefits and experiences in a way that appeals to other consumers.
Video testimonials help customers easily understand how a program works.
A customer testimonial video allows customers to learn from another person's experience that they can relate to. Read on to discover more about the value these videos could bring to your utility's customer engagement strategy.
What Is a Customer Testimonial Video?
A customer testimonial video includes a first-hand review from a customer about a product, program or service. In these videos, a customer will discuss the program or service, their experience with it and their overall views.
Using testimonial videos is a great way to leverage positive consumer experiences to help convert potential customers.
"The value of testimonial videos is to provide real-life, real-world examples of programs or incentives that have worked for other people," explains Jason Meeker, Questline Digital's Director of Video Production.
Customer testimonial videos are nothing new. Dive into YouTube and you can find a myriad of "unboxing videos" from YouTubers sharing their opinions that endorse (or not) a brand's product. These videos don't even have to be about a tangible product, they could be about software, like this example: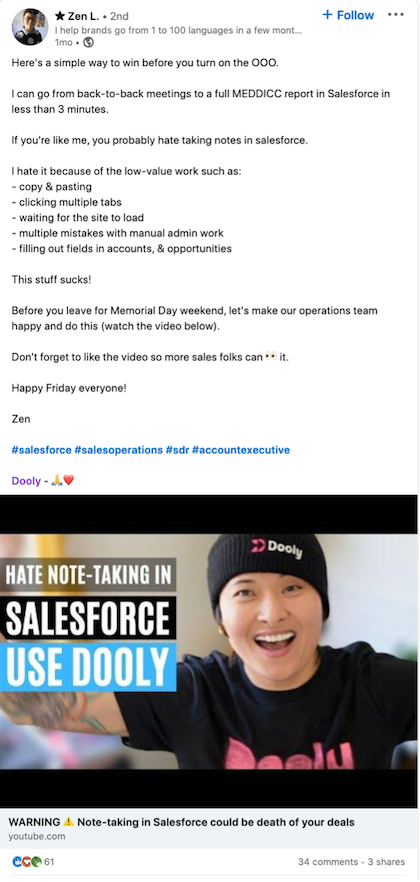 Videos like this are popular because people like to learn about products from others rather than blatantly being sold to by a brand. In fact, research from Forrester says that 32% of online consumers trust a stranger's opinion more than brand advertisements or marketing collateral.
This alone should be reason enough for your utility to invest in customer testimonial videos. Why put money and effort into other materials that your customers don't want to see?
Why Does Your Utility Need Customer Testimonial Videos?
A customer testimonial video is an advantageous way to sell to and win new customers.
Whether you're promoting your utility's products, programs or services to residential or business customers, audiences find value in learning from peers and other satisfied consumers. Nine out of 10 people say that they trust what a customer says about a business more than what that business says about itself.
Additionally, a customer testimonial video gives potential customers the information they need to make a purchase decision. The beauty of a customer testimonial video is that it can be used at the top of the sales funnel to increase awareness in your utility's program, or it can be used near the bottom of the funnel to convert leads into sales.
First-hand accounts from customers are more natural and trustworthy
People trust people. It's as simple as that. According to research, 90% of consumers are more likely to trust brand recommendations from other customers, even if they're strangers.
Sharing testimonials from actual customers who have used your products or programs helps build trust and highlight the user benefits.
It's important to let these customers speak naturally, so they sound like they're talking to a friend or family member — not reading from a script. The greatest strength of a customer testimonial video is this relatable language.
Some questions you can ask customers to get the ball rolling include:
What was your main concern before buying this product or program?
What challenges were you trying to overcome with the purchase?
What specific feature do you like the most?
How have your day-to-day activities been impacted?
Would you recommend this product or program?
Meeker encourages asking prompts that dig into a customer's experience.
"There are always those questions that can get people talking," he says. "Try to think of more probing questions that really get to the 'why' or the feelings behind it. For example, ask, 'What are some of the things you wish you had known before you started with the program that you'd recommend people think about before signing up?'"
Testimonial videos share benefits in a way that appeals to other consumers
Would you rather learn about the pros and cons of a new smart home device from your tech-loving friend or have a salesperson hound you to purchase?
The choice is easy. And it's the same way for your customers.
For business customers in particular, testimonial videos can often balance the technical details these consumers want to know about with the real-life use cases that they're also interested in.
"For the most part, the business side is going to lean more toward, 'How does this impact my bottom line and make or save me money?'" says Meeker. "At the residential level, it's more of an even split between a personal value or belief of wanting to do something as opposed to strictly how it's going to save money on utility bills."
The Smart Energy Consumer Collaborative shared that consumers are more likely to adopt energy-efficient technology or programs if their neighbor has adopted them. Likewise, if your utility's program is focused on reducing demand on the grid, research shows that people use less energy when they think their neighbors care about the environment.
This is all to say that customers are more likely to take action if another customer with a similar situation recommends a solution.
Video testimonials help customers understand how a program works
Testimonials in any form can be useful, but the impact of a customer testimonial video far outweigh the benefits of written or audio content.
For one, customers may question the authenticity of written or audio testimonials. Video testimonials are much more authentic. They feature real people who are willing to associate their name and face with your utility's program or service.
Additionally, video testimonials are typically more personal and engaging, produce higher conversion rates and can be shared on various channels for distribution.
"The benefit of testimonials being on video is that it puts a name, face and personality behind the story," Meeker explains. "It becomes much more personal. You can actually see and hear the person who has experienced the benefit of the program."
According to research, 73% of customers prefer to watch a video to learn about a product or service, while 47% of people say testimonial videos are effective because they help visualize how a product or service actually works.
Video testimonials also allow your utility to demonstrate a product or program in action while the customer speaks about it.
"The use of cutaway shots — close-ups of a facility or retail store or apartment complex — gives a visual reinforcement and what you're hearing that you don't get with audio or written testimonials," says Meeker. "It's a much more visual and immersive experience."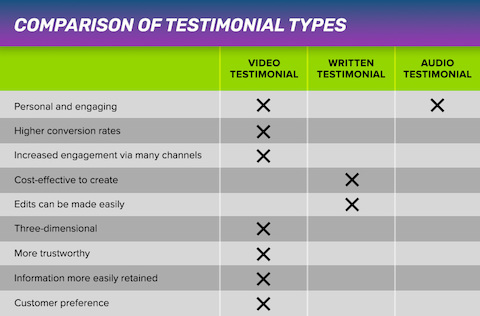 Where to Share Customer Testimonial Videos
Customer testimonial videos should be shared on multiple distribution channels, including:
Product or program landing pages
Place testimonial videos where interested customers will most likely visit, like the program page. This allows customers to learn about the product or program and immediately be able to watch firsthand reviews.
Using these videos on landing pages can significantly boost conversions because it's showing proof that your product or program works. Research shows that including videos on landing pages can increase conversions by 86%.
National Grid has a landing page dedicated to their Upstate New York Electric Vehicle Charging Station Make-Ready Program.
Here, customers can learn more about the program and watch customer testimonial videos related to EV charging locations. These locations are separated into categories so customers can view the testimonial video most similar to their situation, like workplace stations, multiunit building stations, retail stores or public destinations.
Video testimonials were chosen to help viewers connect with the program on a personal level. "We tried really hard to put customers in an environment that showed what they were talking about," says Meeker.
Questline Digital worked with National Grid to create each of these individual testimonial videos, as well as an animated explainer video, to create a well-rounded customer outreach campaign.
"One of the things that stuck to me in this interview series as a whole is the diversity of interview subjects," says Meeker. "We had a university, medical center, municipality, private business, even a contractor that did the installation of charging stations. They all had different and unique perspectives to share."
All of the customer testimonial videos can be viewed here.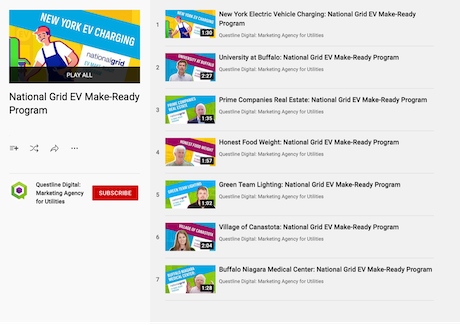 Social media
Different customers prefer different using digital channels to learn about new products or services. Offering customer testimonial videos on social media is imperative to extend the reach of your campaign.
Videos perform exceedingly well on social media platforms. In fact, Questline Digital's data shows that videos shared on Facebook attract 200% more engagement than static content.
Create "scroll-stopping" content by creating short snippets of customer testimonial videos for social media users to watch. If they want to hear more from the testimonial, link to the full video on your utility's website or YouTube channel.
Make sure all videos include captions, as many people prefer to watch videos without audio on social media.
Emails
Some studies show that including the word "video" in email subject lines has the potential to increase open rates by 19%. Additionally, including videos in emails can boost click-through rates by 65%.
Your utility should already be deploying email campaigns to engage with customers, so adding customer testimonial videos to the mix is an easy addition.
Sending these real-life recommendations will have a stronger impact on customers than just having your utility talk about its benefits. An email campaign including a customer testimonial video could be a turning point for sales. In fact, 77% of people who have watched a customer testimonial video say it played a part in convincing them to buy a brand's product or service.
It's important to remember that videos can't be solely embedded into emails. Rather, make it clear that there is a video to watch with a large "play" button overlayed in the hero image or a specific CTA to click through and watch the video.
Events
Now that in-person events are returning, nothing is stopping your utility from including customer testimonial videos in your event or booth set-ups. In fact, hosting in-person events and inviting customers who have had positive experiences with your utility can be some of the best advertising.
"Identifying customers that are good advocates for your utility company is very important," says Meeker. "For example, National Grid did a really good job at picking interview subjects that were not only pleased with the results but wanted to share their story. This is just as important as the success of the program itself — finding someone who is willing and able to talk about the success in a way that comes across well on camera."
At the 2022 SECC Consumer Symposium, Dave McKee from JEA shared that their utility hosted in-person events for customers to learn about purchasing and owning electric vehicles. Real EV owners were in attendance to share their experiences with interested individuals.
McKee said, "Electric vehicle owners are so excited to talk about their EVs and share their own experiences that they make for the best salespeople." This event alone led to two customers purchasing EVs on the spot.
Customer testimonial videos should be integrated with your utility's broader marketing strategies. They work in tandem with other tactics to push the campaign's reach and connect with customers in their preferred way.
Harness the Power of Customer Testimonials
Customer testimonial videos are influential because they feature real people talking about real challenges that your utility helped solve. They are persuasive because they're personable and insightful. Customer testimonial videos provide:
An honest way for potential customers to connect with existing customers
A dimensional way to show how your utility's product, program or service works
A tool to move customers through the sales funnel
Including customer testimonial videos in your utility's program promotions is a surefire way to build trust and increase conversions.
Learn how a video content strategy from Questline Digital can put the power of customer testimonials to work for you.