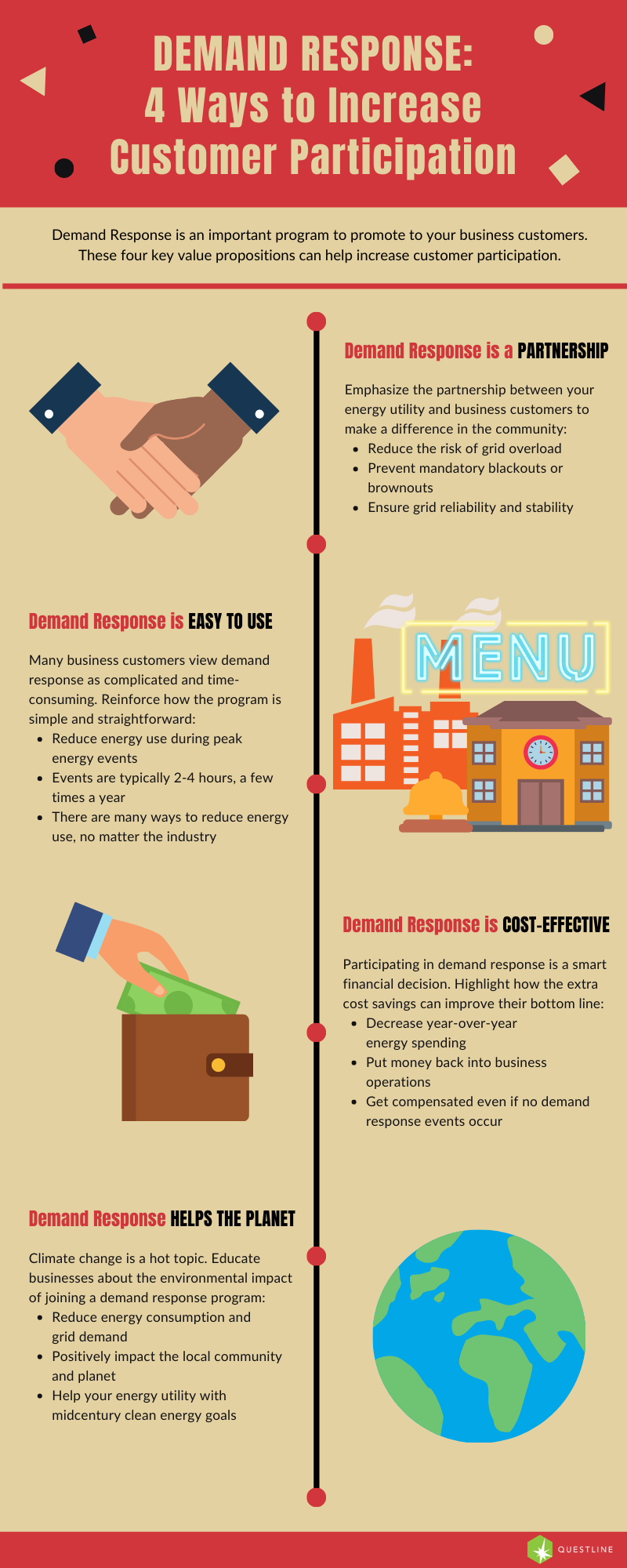 As demand on the U.S. power grid continues to grow, energy utility demand response programs are gaining traction. These beneficial programs compensate participants for temporarily reducing their energy usage during periods of peak demand.
Many business customers are hesitant about the program and its impact on operations. For example, will reducing energy use during a demand response event significantly impede workflow? With this concern top of mind, it can be a challenge to encourage business customers to join your energy utility's program.
Through our experience working with energy utilities on their demand response campaigns, we've identified four key value propositions to increase participation.
Demand response is a partnership
The program is a mutual solution for both energy utilities and local businesses. By joining forces with their energy utility and other area businesses, energy utility customers can help reduce the risk of grid overload, preventing mandatory blackout or brownouts.
When promoting the program, emphasize how enrolling in a demand response program is an opportunity to make a difference for the local community. By working together with their energy utility, business customers can help ensure grid reliability for everyone.
Demand response is easy to use
Many business customers are hesitant to participate in a program they view as complicated and time-consuming. In reality, the program is very simple and straightforward for participants. All they have to do is reduce their energy use during peak energy events (typically 2 to 4 hours) a few times a year. Advance notice typically ranges from 12 hours to two days.
In your program promotions, reinforce how customers have the flexibility to reduce energy usage in the ways that work best for their specific industry. For example, a manufacturing facility can reduce certain equipment usage or delay heating/cooling processes. An office building, in comparison, can shut off lights in rooms with ample daylight or where no employees are working. There are many options to reduce energy usage during peak demand, no matter the industry.
Make sure your business customers know your energy utility is there to suggest opportunities for their particular business to lower energy usage if they are unsure where to begin.
Demand response is cost-effective
Participating can be a smart financial decision for businesses. Be sure to highlight the cost savings for business customers and how this program can benefit their bottom line.
It is also an opportunity for business customers to decrease their year-over-year energy spending. With the extra cost savings from reducing their energy use, they can put that money back into their business operations. In addition, many demand response programs compensate participants even when no events occur.
Demand response helps the planet
The environment is a hot topic right now, especially as energy utilities plan for their midcentury clean energy goals. Demand response programs are just one element to help reduce energy consumption and demand on the grid.
While environmental benefits are less effective as the main value proposition in your campaign, it is still important to educate customers about the greater purpose behind the program. For eco-conscious business customers, the opportunity to make a difference for the environment may be a deciding factor to enroll.
Demand response is essential to the reliability and stability of the grid. That's why you need a marketing campaign that drives participation among your business customers. These value propositions can help take your campaign to the next level — and help customers see the valuable benefits of joining this vital program.
Learn how the experts at Questline Digital can drive participation in your demand response program.