For energy utilities, eNewsletters are a vital tool to connect with hard-to-reach business customers. Whether you're trying to reach large commercial and industrial (C&I) customers or small business owners on Main Street, eNewsletters are a consistent source of valuable information and a regular touchpoint in the digital customer relationship. But what type of eNewsletter content resonates most with business customers?
Read on to learn what topics are trending and learn simple strategies to maximize engagement with this important audience.
What eNewsletter Content Do Business Customers Want?
Businesses in your energy utility's service territory have varying needs. For example, a hospital has very different energy needs than a manufacturing facility. The size of a business also has an impact on their familiarity and comfort level with energy efficiency. A large corporation likely has an energy manager on staff, but a small business with 50 or fewer employees may not.
The truth is there is no one-size-fits-all business customer — that's why segmentation is an important strategy to reach different industries or types of businesses.
Segmentation is a best-practice solution to maximize the impact of your eNewsletters. Your energy utility can achieve greater customer engagement by tailoring content based on a particular audience's needs and interests. For example, segment your eNewsletters based on the size of the business (such as C&I customers) or create eNewsletters focused around the top industries in your region.
Industry-Segmented eNewsletters Reach More Business Customers
AEP Ohio, an energy utility that serves 1.5 million customers in the state, experienced a dramatic increase in customer engagement with a segmented eNewsletter strategy. The energy utility partnered with Questline Digital to segment their business eNewsletter by multiple industries, including healthcare, education and manufacturing.
Each eNewsletter features industry-specific educational content, such as HVAC considerations, workplace safety, seasonal efficiency, electrification and building comfort. Compared to the non-segmented eNewsletter, the industry-specific eNewsletters achieved outstanding customer engagement (based on click-through rate).
84% higher engagement for the healthcare segment
54% higher engagement for the education segment
43% higher engagement for the manufacturing segment
Trending eNewsletter Topics for Utility Business Customers
Once you've segmented your eNewsletter, the next step is deciding what topics to share with each group of business customers. These are some of the trending topics we're seeing in energy utility eNewsletters in 2021:
1. Simple ways to save energy
Businesses of all shapes and sizes are looking for easy ways to save energy and improve their bottom line. In the past year, the top business content centered around simple energy-saving upgrades, how to save energy during business downtime, LED lighting upgrades and other quick fixes. The infographic "Low-Hanging Fruit: 5 Simple Energy-Saving Upgrades" was a popular piece in this category.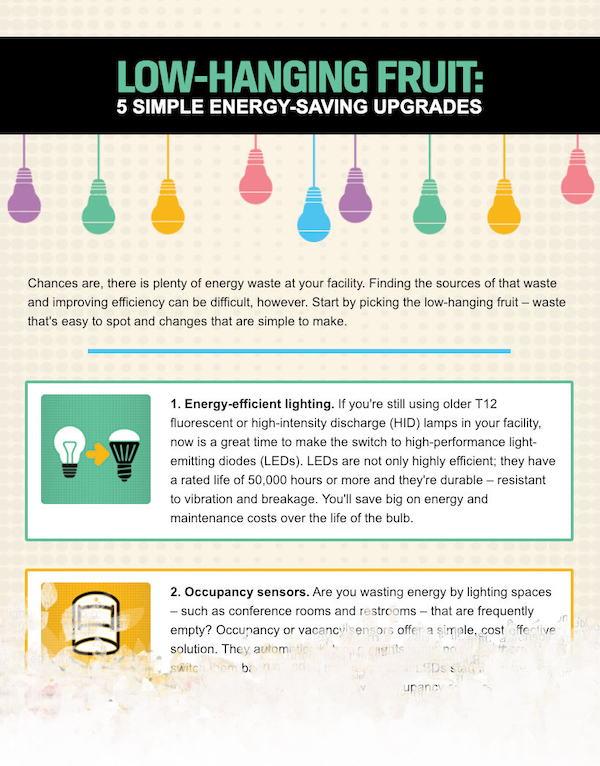 Your SMB business customers are looking for simple solutions they can do themselves to improve energy efficiency, such as installing occupancy sensors, smart plugs or unplugging unnecessary "energy-guzzling" equipment. Larger business customers may be interested in upgrading their HVAC system or installing LED lighting throughout their facility (or multiple facilities). However, these projects are a major investment. Your eNewsletter content should focus on the benefits of these upgrades, such as long-term financial gain, a healthier work environment and more productive employees.
2. Renewable energy
Large corporations like Amazon, Starbucks and Walmart are making headlines for their commitment to renewable energy, reduced carbon emissions and other sustainability initiatives. Your business customers are also looking for opportunities to reduce their carbon footprint without breaking the bank. An article like "Solar Energy Can Power Savings at Your Facility" is an effective introduction to the topic.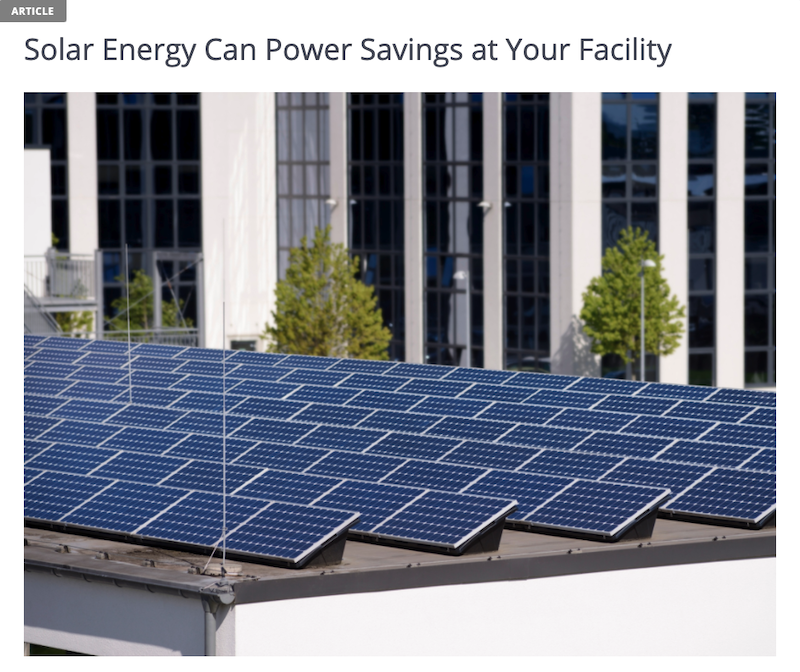 To help business customers invest in renewables, consider content that explores their renewable energy options. Popular topics for business customers include renewable energy credits, solar power, wind energy, geothermal systems and energy storage. Consider sharing news about your energy utility's renewable energy offerings and initiatives, such as a new solar farm in operation or available renewable energy tariffs for easier access to clean power.
3. Smart technology
Your residential customers aren't the only ones interested in smart technology. Business customers want to know about the latest technology available to them and how these gadgets can help them increase energy efficiency. Many business customers simply don't understand the impact of smart technology when it comes to saving money and improving productivity. Questline Digital's popular video "5 Ways to Save With Smart Technology" is a quick and engaging overview of the topic for business customers.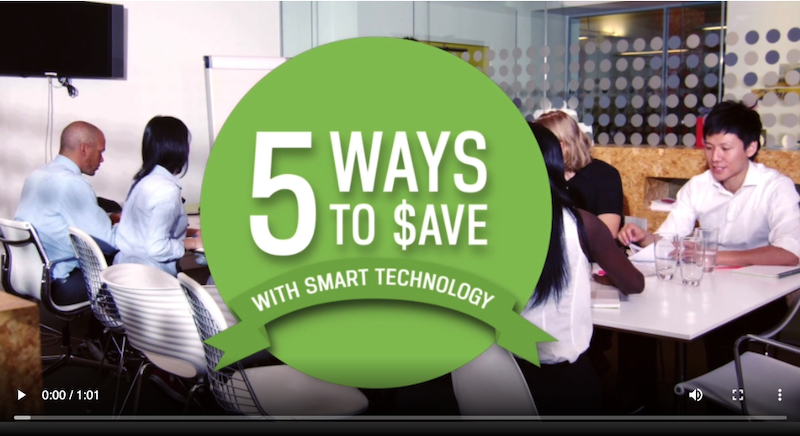 We recommend sharing content about the advantages of smart thermostats to automate energy use in an office environment or the benefits of connected security cameras, smart locks and alarm systems to keep customers' facilities safe. In addition to smart technology, keep your customers informed on hot topics in the industry like beneficial electrification, demand response and smart grid technology.
4. Electric vehicles and equipment
Both large and small business customers are thinking about electrifying their fleets and warehouse equipment. The benefits abound, from less maintenance to reduced noise levels. To meet the demand of employees and customers who are investing in electric vehicles, many companies are considering installing EV chargers at their facilities. Not only does an investment in electric vehicles and equipment save money long-term, but it also shows that your company is taking steps to reduce its carbon footprint. An infographic like "Electric Vehicle Charging at Businesses" is effective at illustrating these benefits and providing lots of information in a quick, digestible format.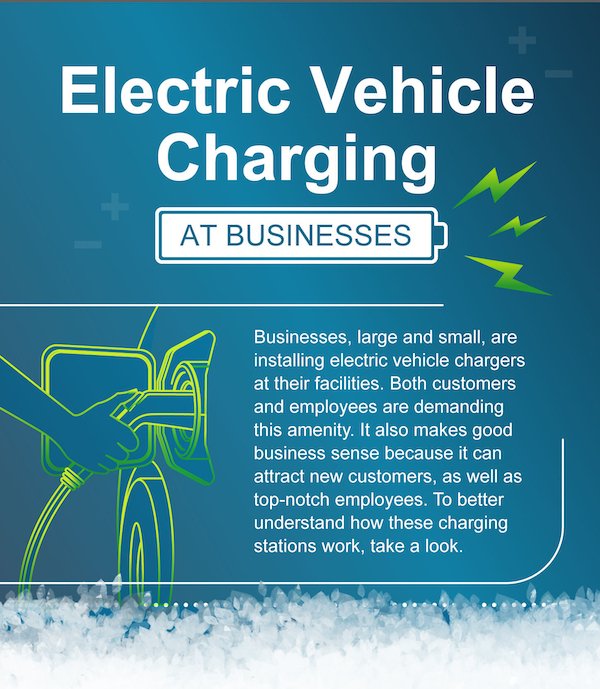 We recommend sharing educational, action-oriented EV content to help businesses in their decision-making process. For example, why should they consider EV workplace charging? What are the benefits of converting to electric warehouse equipment? Is an electric fleet the right fit for their business? Your business customers rely on your energy utility's advice and resources to help them make the right decision.
Build Engagement With Business Customers Through eNewsletter Content
To maximize eNewsletter engagement, utilize segmentation strategies and share topics that will help businesses improve their operations. With the right content, your energy utility can help your business customers make smart investments in energy efficiency.
With Questline Digital's eNewsletters for Business Customers, you can build more effective digital relationships and maintain long-term satisfaction.