Key Account Managers (KAMs) have a unique role within the utility industry, working to develop and nurture relationships with business customers. Key accounts are often large and complex, with a wide range of energy and education needs.
However, it's up to KAMs to support their key account customers with information and advice on renewable energy advancements, energy-efficient technologies, demand response programs and more. KAMs must help business customers lower costs, increase energy efficiency and improve sustainability — regardless of challenges.
"If you're building those trusted relationships with your customers, they are going to look to you — they are going to lean on the Key Account Managers to make them aware of things they might not have been aware of," says Angela Koker, Regional Account Executive with Avista Utilities.
However, building engagement with these customers takes time and effort. They are busy running offices, warehouses and manufacturing facilities, after all. But busy schedules are just one of the hurdles for engagement. There are a multitude of utility key account management challenges that KAMs can encounter when trying to engage with these customers. Luckily, there are also tools to overcome these barriers.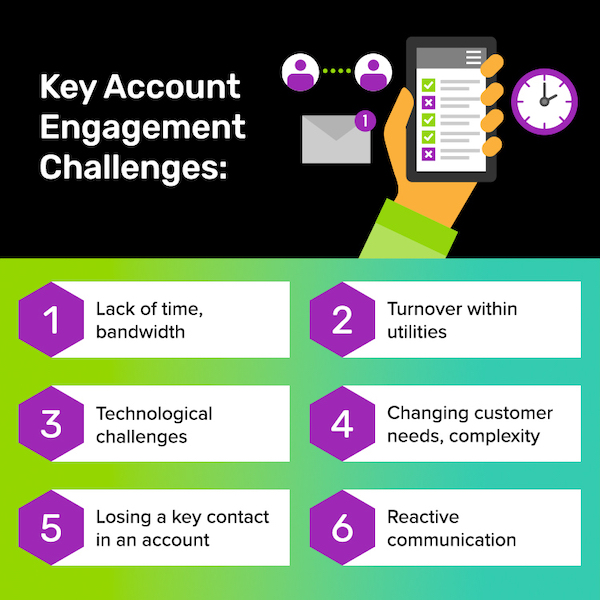 Key account engagement challenges:
Lack of time and bandwidth
Turnover within utilities
Technological challenges
Changing customer needs and complexity
Losing a key contact in an account
Reactive communication
Key Account Engagement Challenges
Common utility key account management challenges span from internal capacity issues to technology, or lack thereof. Today's energy professionals face a complex environment. Do any of the following hurdles sound familiar?
Lack of time and bandwidth
Time constraint tends to be a common utility key account management challenge. There are just never enough hours in a day or enough people to accomplish all that needs to be done. The role of a Key Account Manager is multifaceted, meaning KAMs must switch gears continuously throughout the day and week.
One day, a Key Account Manager may focus on researching a customer's latest electrification goals. On another day, they might be meeting with customers on how to strategize their renewable power for the year. The next day, they may need to determine how the grid can support new fast charging stations.
No matter the project, KAMs are responsible for educating customers, coordinating paperwork and facilitating large efficiency upgrades. This makes it difficult to provide all accounts with the attention they deserve. With many key account departments being scarce on manpower, setting multifaceted plans in motion can be difficult.
Turnover within utilities
A new utility key account management challenge is talent turnover. Many long-term Key Account Managers are preparing to retire, while fresh faces are entering the industry. According to the U.S. Department of Energy, 25% of the utility workforce is expected to retire by the end of this year.
KAMs who are retiring will no longer be able to pass on historical knowledge or train new employees. And with new KAMs entering, there is a lack of industry experience. These gaps make it difficult to provide end-use energy customers with the hands-on assistance they require.
"There's a whole shift of new Key Account Managers," says Kathleen Collins, Questline Digital Account Manager. "If you're already a seasoned person, how do you keep up to date with what's new and happening? If you're new, how do you start the education process to make sure what you're communicating is relevant and accurate?"
Education will be key to filling this knowledge gap. Everything from job aids to playbooks or webinars and formal classes will be essential. Utilities are hiring internal training managers and leveraging third-party tools to launch these education programs quickly and affordably.
Technological challenges
A rarely mentioned utility key account management challenge faced is the use of technology, or lack thereof. Instead of having a designated CRM system for organizing and monitoring client contacts, many KAMs simply use a Microsoft Word or Excel doc. This can be time-consuming and allows for errors when adding or updating information.
Other times, Key Account Managers have a system in place but haven't had the proper education on how to use it. Thus, their comfort level in leveraging the technology isn't where it should be.
Key Account Managers also face situations where a system or software is so highly policed within the organization that they must go through multiple layers of approvals before using the system. Or perhaps it's challenging to gain access to and analyze data to see customers' energy usage. Without access to accurate data, KAMs often have difficulty implementing energy management solutions.
Each of these scenarios makes it difficult for Key Account Managers to do their jobs and do them well. Many must rely on the basics.
"If you don't have any other tool, send an email," says Maureen Huss, Questline Digital Group Accounts Director. "Although CRM systems are valuable for organization and list management, and face-to-face time can gain much-needed exposure, use the tools in front of you. If that's an Outlook email, use it to your advantage."
Changing customer needs and complexity
As new energy technologies progress or new federal and state laws take motion, commercial and industrial customers need help understanding how they can personally benefit. How can they take advantage of the new technology? How will the impending energy efficiency laws affect them? How should they respond?
It's up to KAMs to answer these questions for customers and provide further insights and information.
"We really try to be that resource for our customers for their specific questions or if there are other things going on in the states we serve related to energy," says Koker. "We try to be that single point of contact for them. If I don't know the answer, I try to connect them to that person who does."
At the end of the day, the goal of a Key Account Manager is to help customers achieve their energy-related goals. Achieving this includes providing each customer with a personalized experience that shifts to meet multiple demands.
"I think that at the forefront of the key account representative responsibility is to form those relationships," sales Dale Odom, Supervisor of Retail Energy Services for ElectriCities of North Carolina. "I think from each key account representative and each utility, that's going to look different. There's not a cookie-cutter approach to it. But I think at the core of every key account representative, their responsibility and primary duty is to be the point of contact for their customer."
Losing a key contact in an account
Just like turnover within utilities, there are often employee shifts at accounts. Job roles are fluid nowadays — one day a person is there, the next they've moved on to something new. Whether a key contact has moved to a different role, exited from the company, or role restructuring, it's never easy to start a new relationship from the ground up.
Despite the inconvenience, it can also present numerous opportunities. The new contact may be eager to learn and kickstart new communications or programs, making it an exciting time for a Key Account Manager.
If nothing else, it means the Key Account Manager can offer new ideas, or old ideas that never manifested, to the new contact and build another trusted relationship within the company. This utility key account management challenge can be a blessing in disguise. The new contact may have contacts that can provide substantial help in achieving key deliverables throughout the relationship.
Reactive communication
Reactive communication is a classic utility key account management challenge. Often too busy to provide a long list of clients with personalized communications, KAMs only have time to respond to incoming requests.
Unfortunately, the account-client relationship suffers without proactive communication, and program goals are harder to meet. KAMs must educate commercial and industrial customers. Most don't know what their electrification or sustainability journey looks like or where to start. Only responding to inquiries leaves a lot of untapped potential on the table.
"The other thing with only sending reactive communications is that you're not building a trusted relationship with a client," says Huss. "You have to make a point of meeting with them on a regular scheduled basis or picking up the phone and calling them. If all they hear from you is when there's something going on, then that doesn't always go well — you're not paying your relationship forward."
How to Overcome Engagement Barriers
Despite the common utility key account management challenges to engagement, there are a number of tools and resources to overcome them.
A new report shows that customers rank their KAMs on traits like acumen, proactiveness and serviceability.
Develop a plan
First and foremost, Desiree Enoch, Questline Digital Account Manager, encourages Key Account Managers to develop a plan.
"Overcoming these barriers starts with a plan for how KAMs want to engage with customers or what they want to deliver to them," says Enoch. "Whether it's how they're going to market, how they're going to keep making sure they're the expert in XYZ, how they're going to ensure they're trusted by the customer, having a plan will help overcome a lot of these obstacles and guide them to a more successful relationship."
As you set up a plan, consider your goals and potential ROI. What do you want to track? What metrics would show success? Then strategize to achieve those goals.
If your utility is looking to expand EV charging ports at businesses, for example, consider your audience. Analyze your target customers to decide what they would see as the pros and cons of such an investment. Then develop a marketing campaign that highlights the benefits. Segment the campaign to reach those customers who would already be on board with the installations versus those who might need more convincing. Decide on what goals and metrics you want to analyze from this campaign and then hit send. When the numbers start rolling in, you can then decide the next steps based on the campaign outcomes.
In conclusion:
Understand your audience
Choose your objectives and goals
Develop an outreach plan or campaign based on audience insights
Target and segment communications
Analyze and review results
Monitor and follow up with customers
Lean on partnerships
"I often hear my clients say, 'We have so much to say, we have so much that needs to go out, but we don't have the time or know-how to make it all happen,'" says Enoch.
Invest in partnerships that can take some of the heavy lifting off Key Account Managers' plates. These partners can aid with content creation, consistent communication, relevant information and more.
For example, as a partner to many utilities, Questline Digital provides an email newsletter service that takes the heavy lifting away from Key Account Managers. Account Managers choose relevant and timely content to include in a newsletter and choose a deployment schedule based on previous conversations with the Account Managers. If KAMs want more of a role in the newsletters, they can also choose to write a short introductory text. Otherwise, the newsletters are a hands-off and seamless process.
These newsletters provide enormous value to utilities, including:
Timely information with relevant updates.
A consistent communication that builds a trusted expectation with clients.
A focus on conveying important information and the value it provides to clients.
Focus on benefits
With so many things to accomplish, it's important for KAMs to consider how information is dispatched. It's not just about being fast, but relevant.
"The timeliness of the information being conveyed is important… You want to set and build a communication expectation with your client," says Huss. "The important thing to be conveyed is what does it mean to them? If you have a rebate program, tell them the deadlines and what it's about, but get down to the nitty-gritty of why it can be helpful to them. Make sure you're translating for your reader just what the benefits are in reading your messages."
As the main point of contact, KAMs should simplify things for energy customers, not add to their plates. Focusing on benefits, not just facts or features, can help illustrate why action is needed.
Make time for visits
For continued relationship development, Collins recommends in-person visits. "If time allows it, in-person visits are extremely valuable," she says. "I know that's not something people have been doing a lot in the last couple of years, but especially if it's a new account or you don't know your contact, face-to-face is a great way to build those relationships."
Koker highly recommends client visits as well. "I think you learn so much more being in a customer's facility and seeing their operation versus just having a telephone conversation or virtual meeting. Whenever I can accompany a site engineer on a visit, I do."
Invest in tools
Guiding key accounts on large energy investments requires a lot of calculation and precision. Customers need to know the potential return before diving into any facility upgrades. Having easy-to-use tools that produce custom data can go a long way in helping KAMs with customer communications.
"Having credible tools that provide good estimates of what kind of savings they will see over time or the payback they will get on upfront investments for programs or rebates is helpful," says Rendall Farley, Manager of Electric Transportation at Avista Utilities. "Deliver communications that allow customers to feel comfortable knowing that you'll be there to help them in the journey."
Education is key
Business customers need to be made aware of the latest sustainability and green building legislation, so it's helpful to not only educate them on utility incentives and rebates, but also on state legislation and requirements. Utilities need to have current rebates and incentives available that reflect the needs of their business customers.
"First, you have to listen and understand that every business is going to have their unique perspective and specific scenario of where they are with their business, what their goals are and what they're focused on," says Koker. "You have to figure out what they are trying to accomplish and support where you can. Each customer is unique."
Trust Leads to Customer Engagement
Utility key account management challenges don't have to inhibit engaging relationships from growing and flourishing. In fact, sometimes finding ways to overcome the challenges helps to develop a more trusted relationship in the end.
"Start building that trust," says Huss. "If you do it continuously and they can depend on you for information, you're building a level of trust with that person. You become a subject matter expert to that client and a partner by providing relevant, consistent information."
Learn how an engagement strategy from Questline Digital helps key accounts managers build stronger relationships with their customers.