Personalization can be a powerful force in helping energy providers build engaged relationships with customers. In fact, 55% of consumers believe that targeted communications create a more enjoyable experience.
By using data to personalize the customer experience, energy providers can achieve:
More effective marketing messages
Higher engagement rates
Increased program conversions
However, it's important to remember privacy and security considerations when collecting and using data. Although customers expect relevant messages, they also expect their privacy to be respected and protected.
In Questline Digital's webinar, "Data Privacy & Personalization," our expert speakers, Brian Lindamood (Questline Digital) and Marianne Holohan (BlastPoint), shared insights into:
What is personalization
How personalization differs from segmentation
The benefits of personalization and segmentation for energy providers
Legal considerations and data privacy best practices
Examples of personalization in customer engagement campaigns
Personalization vs. Segmentation
"Personalization and segmentation work really well together," Lindamood says. "Campaigns are most effective when you create segments based on the relevance of a program or the motivations those customers have, and then you personalize some piece of information for each customer within those segments."
In the data privacy webinar, Lindamood explains that personalization is an engagement approach that treats customers as individuals. You do this by customizing the content, format or channel of messages for individual customers and you send relevant messages to customers based on:
Needs
Interests
Behaviors
Channel preferences
The benefits of personalization are expansive. Energy providers can achieve:
More effective marketing messages
Higher engagement rates
Increased program conversions
Build customer satisfaction through stronger digital relationships
Secure Data Analysis
"Many people think of segmentation as a one-and-done situation where you segment your customers broadly and then you use those segments over and over again to reach different objectives," says Holohan. "However, we found that objective-driven segmentation is a much more effective personalization tool."
Holohan shared BlastPoint's process for secure data onboarding and analysis, including:
Review
Clean
Append
Analyze
Activate
She then described BlastPoint's process. The first step is to collect and clean existing customer data. This is followed by enriching the data with external data sources and generating specific intelligence tied to the energy provider's business goals. Last, the data and intelligence is put into action to achieve those objectives.
Holohan also highlighted various third-party data information that can be used for personalization, such as
Residential demographics
Financial data
Media engagement
Psychographic data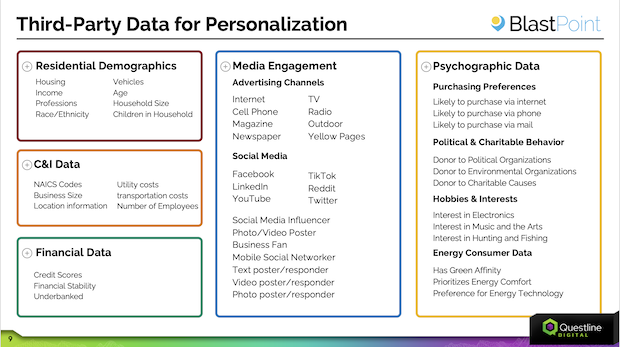 Legal Considerations and Customer Expectations
When it comes to data privacy, there are a variety of legal considerations and processes for both incoming data and outgoing data.
Incoming data is defined as data that is purchased from third-party vendors. If the data is personally specific data, it's important to ask the vendor to validate their permission to use the data. If it's modeled or inferred data, it means the data is less accurate, so your organization shouldn't rely too heavily on it.
Outgoing data is defined as sharing your customer data with third-party vendors. When doing this, Holohan suggests:
Limit the scope of the data being shared, especially if it includes personally identifiable information (PII)
Review vendors' data security practices to ensure the legality (under GDPR) of transferring data.
In terms of information security, customers have high expectations for the privacy and security of their data, such as:
"Don't leak my data"
"Don't gather more than you need to know about me"
"The data you are gathering should benefit me, not annoy me"
To respect and meet these expectations, Holohan shared some best practices for using data in the data privacy webinar, including:
Validate third-party organizations' security practices.
Use objective-driven, targeted segments for personalization instead of broad, multi-purpose segments.
Make data actionable with AI to ensure effective personalization practices.
Opportunities for Energy Providers to Personalize Communications
The data privacy webinar went beyond high-level definitions and shared real-world success stories. Lindamood and Holohan each shared examples for data privacy and personalization on various topics, including:
Energy efficiency
Electric vehicles
Payment assistance
For energy efficiency use-cases, Lindamood suggests:
Target users with relevant programs based on their interests
Segment based on past participation
Create messages that reflect their motivations or interests
Include personalized data, e.g. energy use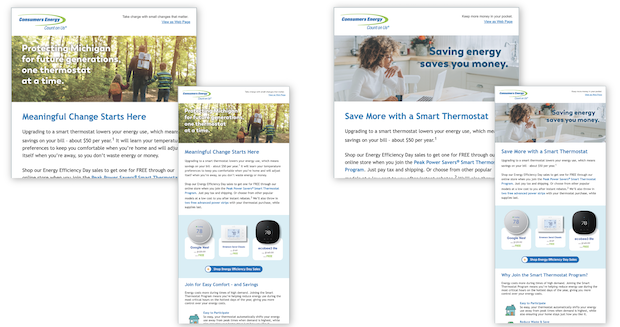 He shared an example from a smart thermostat campaign. The utility used targeted messaging to segment and send emails to customers. One segmented message was about adopting a smart thermostat to help the environment, while the other pushed the benefits of saving money. By segmenting the messages, the utility found more success in its smart thermostat adoption program.
Holohan shared an example of BlastPoint's process of working with a utility to increase engagement in its energy efficiency messaging. By acknowledging the utility's goals of providing relevant programs and identifying income-eligible households, BlastPoint was able to gather and analyze data to assist in achieving these goals. They reviewed:
Internal residential data
Psychographic data
Demographic data
The data analysis led them to develop customer segments around energy efficiency, including income-eligible segments, and identify a target segment that had a high propensity to adopt efficiency measures. Using this technique and secure data access, the utility had 47% more income-eligible customers engaging in energy efficiency.
The Power of Data and Personalization
When done correctly, data-driven personalization can lead energy providers to achieving increased engagement and satisfaction among customers. The data privacy webinar highlighted the many impacts of data privacy and personalization.
Learn more about how Questline Digital can help your utility with targeted customer communications.