Webinars
A personal, interactive way to educate energy utility customers and employees
Are you looking for an effective, affordable way to educate customers and train employees? Questline Digital Webinars offer many advantages over in-person events and static training materials.
Our energy experts can educate your target audience with engaging, interactive and personalized online webinars at a fraction of the cost of conferences or print materials. With more than 500 successful utility webinars completed, the Questline Digital team has the experience and industry expertise to ensure your event is a success.
Connect with virtual meetings
Whether your goal is to generate leads, train employees or provide targeted educational sessions to business customers, Questline Digital Webinars offer many advantages over in-person meetings or other events:
Lower costs by eliminating travel, facilities, catering and other expenses
Greater reach by leveraging both live presentations and on-demand recordings
Increased engagement through video, audio, Q&A discussions and other interactive elements
Reduced workload on internal staff by using Questline Digital expert facilitators and certified energy managers to create and lead presentations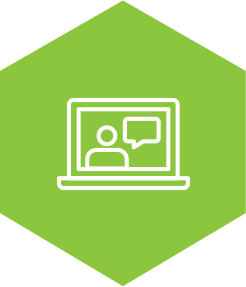 Proven content and experienced presenters
Depending on your energy utility's specific needs, Questline Digital can have as much or as little involvement in each webinar as you'd like. We can discuss options for creating a fully custom presentation on your behalf, or you can select from a library of popular topics already prepared by our experts.
Have great content and speakers, but no platform to facilitate your webinar? Our Basic option allows you to present your content, and we'll take care of the rest.
Interested in educating customers on an energy-related topic, but lack the presentation resources? Our Plus option allows you to choose from a library of more than 80 available topics.
Questline Digital's experts stay ahead of trends and technology, updating existing presentations and creating new webinars to educate your customers and employees about the latest industry advances.
Some of our most popular webinar topics include:
Chiller/RTU Maintenance
The Best Step Forward: ENERGY STAR Portfolio Manager
Breathe Easy: Improving the Quality of Indoor Air
Energy Efficiency for Commercial Customers
Energy Savings Opportunities for Schools
Power Quality Solutions
Energy Efficiency Financial Analysis
Compressed Air Energy Management
A Battery of Choices: Energy Storage
Standby Generators for Business Continuity
Seamless facilitation and management
Success is in the details. To ensure a seamless and stress-free experience, you'll have a dedicated Questline Digital webinar specialist guide you every step of the way.
We'll take you through a proven virtual event process including:
Content and presenter consultation
Branding of invitations/presentations
Strategic audience targeting
Event reminder emails
Dry run practice
Event facilitation
Technical support
In-event polling
Moderated Q&A session
Post-webinar follow-up and analytics
After the completion of your webinar, count on Questline Digital to follow up with your attendees and provide you with valuable performance metrics. Those who registered will receive links to the recorded event and presentation materials.
We'll provide you with:
Presentation materials
Webinar recording
Registration and attendance reports
Polling responses
Webinars are an excellent way to educate customers and employees, keep customer satisfaction scores high and reduce costs.
Learn more about Questline Digital's Webinar services.
Submit the form below and we will contact you with more information.