You created the perfect video to promote your utility program or service — now what? The next step is finding the ideal places, from short clips on social media to personalized video emails, to share your video to reach the right customers. That's why understanding how to distribute video content is key to achieving success for your engagement strategy.
Your utility can create the best video in the world, but if it's not shared on the right channels, it won't reach the intended audience or accomplish its engagement goals. Plus, you'll lose valuable time and money. To reach your program promotion goals, the right video distribution strategy is just as important as producing the best video content.
What Are the Best Channels to Distribute Video Content?
When choosing the right platforms to distribute your video content, energy utilities should assess how each platform works with the video's message. For example, an in-depth video explaining your demand response program would be completely out-of-place on TikTok, but it would a helpful resource on a website landing page where customers can sign up for your demand response program.
"Different videos do better in different forums," says Matt Irving, Creative Director of Video Content for Questline Digital. "It's not just about having people see your video, but they need to see it at a time and place that makes sense. In other words, how you deliver the message depends greatly on the message."
For example, sharing a billing video would be a great option within a personalized video email versus being posted on YouTube. According to Irving, energy utilities should always be thinking of their video's message and what platform is best to deliver it.
With your message in mind, here are the best places for energy utilities to distribute video content.
Channel #1: Website Landing Pages
For energy utilities, learning how to distribute video content can make a tremendous impact on your program promotion goals. The first, and perhaps most obvious, channel to share your video content is on your utility's website.
Video has a powerful impact on website engagement. In fact, consumers stay 60% longer on website landing pages with video compared to those with just text and images. Video can also increase organic traffic, as websites with video content rank higher on Google's search results. According to the latest research, landing pages with at least one video are 45 times more likely to achieve high rankings.
Compared to other industries, utility programs and services can be technically complicated and difficult for customers to understand. By adding videos to your landing pages, you can educate customers about a complex topic, such as time-of-use rates, demand response or beneficial electrification. In fact, 94% of marketers believe video plays a vital role in increasing customer understanding about a product or service.
PSEG Long Island utilizes video on their Time-of-Use (TOU) landing page to encourage customers to make the switch. The video explains how a TOU rate plan works and the main benefits for customers. This landing page is a great example of how to distribute video content to educate customers who would benefit from TOU.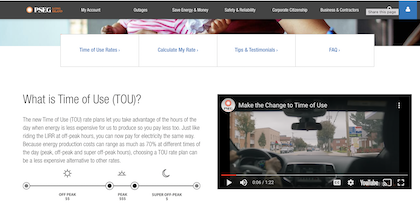 To help customers understand their monthly bill, Duquesne Light Company provides a helpful video on its residential bill landing page. This animated video provides a quick overview of the recent bill changes and where to find important information. The video is embedded on the page so viewers can easily watch it from the utility's website.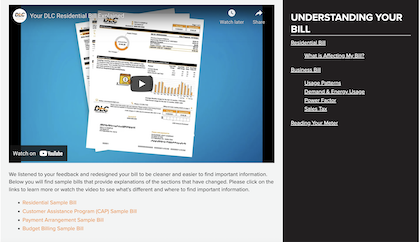 Channel #2: Social Media Platforms
When planning how to distribute video content to utility customers, social media is likely one of your go-to tools. Your utility's social media channels are a great opportunity to reach a wide audience, including residential and business customers.
Your utility's YouTube page is the perfect place to both host and share your videos. Currently, YouTube has more than 122 million active users in the U.S. each day. Utilities can host their videos on the site and then use the video link in various marketing communications. Since YouTube is owned by Google, which prioritizes content from the site, your energy utility will also boost search rankings for web pages with embedded videos.
Keep in mind, your utility's video is competing with a ton of other content on social media. In order to get customers to watch it, you'll need to use videos that are short, fun and lighthearted. The reality is not all videos posted to social media will give you the desired views.
For example, an animated video with tips on how customers can take advantage of smart home technology is ideal for Facebook and Instagram. However, a long webinar with in-depth information would be better suited for your utility's website or LinkedIn page.
A great example of how to distribute video content on social media, Duke Energy shares videos of their employees in the field to help humanize the utility and showcase their work in the community.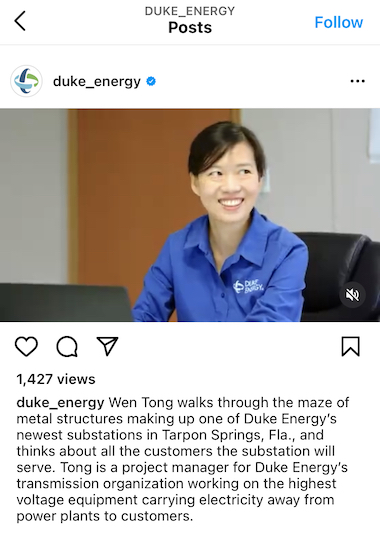 Since 80% of social media browsing is now from a smartphone, your utility should include text and captions in your videos to make them mobile-friendly. This is becoming a must-have on social media for consumers who want to watch videos without audio while in public. We Energies utilizes videos with captions on their Facebook page to ensure all customers can get important outage restoration updates.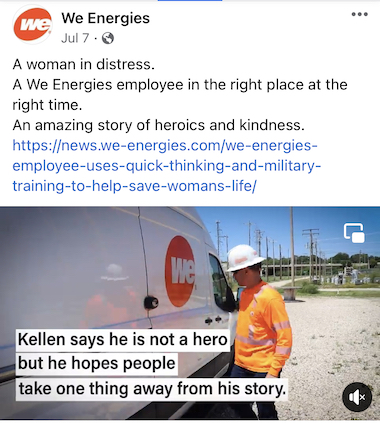 Channel #3: Newsletters
Monthly email newsletters are a powerful educational tool for utilities, so it only makes sense to share your video in this effective communication channel.
Your utility customers look to your eNewsletter for helpful education, advice and resources; adding video gives them the information they want in the format they prefer. In fact, visuals, like video, have the power to improve the learning and processing of information by up to 400%.
Video is also more engaging than other content types, leading to higher click-to-open rates. Questline Digital data finds that email newsletters with video have a 7.1% average click-to-open rate versus a 5.7% average click-to-open rate for email newsletters without video.
For utility marketers, exactly how to distribute video content in newsletters can be a challenge. Unfortunately, you can't embed a video into your newsletter; instead, you'll need to add a "play button" graphic on top of a static image and link to YouTube, Vimeo or another web page with the video. This makes it clear to customers that they need to take action to watch the video.
This newsletter example from one of Questline Digital's utility clients features a video with tips to help business customers adapt to a hybrid work environment. The video includes a large play button to make it clear that it's a playable piece of content.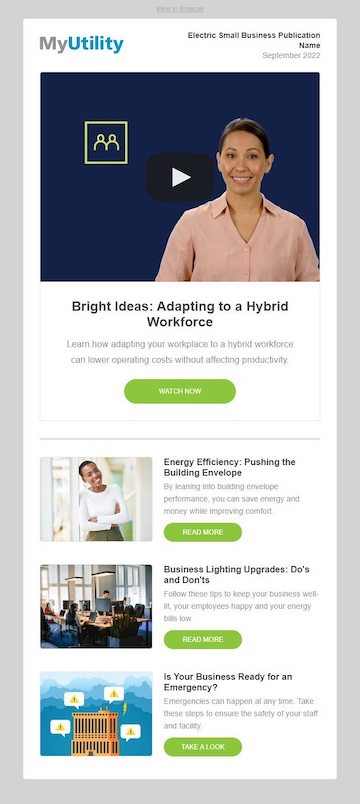 Channel #4: Banner Ads
Another recommended channel to share your videos is banner ads. A potentially unexpected channel, banner ads are a great way to generate brand awareness and click-throughs. With less text and more visuals, banner ads capture attention and invite customers to learn more about your utility's programs and services.
Just like emails and newsletters, you'll want to link directly to your video on YouTube, Vimeo or a website landing page. You can include a play button on a static image or use a GIF to illustrate movement in the banner ad. Your utility can also take advantage of outstream video advertising that plays the video without sound (unless the viewer chooses to unmute it). When using video for banner ads, be sure to use captions and text to effectively communicate the message.
An example of how to distribute video content, PSEG Long Island took advantage of banner ads to promote the Smarter Home, an interactive video experience to educate customers on energy efficiency. The banner ads linked directly to the animated microsite.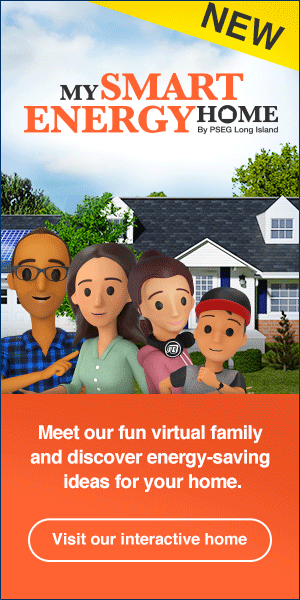 Channel #5: Personalized Video Emails
Personalized video emails are a powerful tool for energy utility marketers looking to distribute video content and increase program enrollments.
With an average of 16x higher click-to-open rates and a 4.5x increase in unique click-throughs compared to non-personalized content, it's clear that personalized videos capture the attention of customers and drive engagement.
Unlike most platforms that don't allow individual targeting, personalized video emails enable marketers to create unique experiences tailored to each customer. By using personalized video emails as part of communication strategies, energy utilities can effectively encourage customers to take action whether to enroll in a program, sign up for a service or purchase a product.
These videos provide additional information that customers need to make informed decisions, enhancing the overall effectiveness of marketing campaigns. With personalized video emails, energy utility marketers can deliver engaging and impactful content directly to their target audience.
Facebook utilizes personalized video emails that are tailored to each customer. By using their back-end consumer data, they can deliver personalized video emails for users' birthdays, anniversaries and more. The videos make users feel seen and special and, in the long run, encourage them to continue visiting Facebook and sharing on their profile.
By using a similar strategy and delivering highly relevant and targeted content through personalized video emails, your utility's customers will also have a compelling reason to visit your website or program landing pages. It allows your utility to stand out and create a memorable experience.
Right Fit, Right Format, Right Channel
Keep in mind that videos can be shot or edited in any number of formats to fit your needs. The distribution channel you plan to use will determine what aspect ratio (or shape) you will use, such as horizontal videos for laptop or TV screens or vertical videos intended for smartphone screens.
According to Irving, the standard HD aspect ratio of 16:9 works in most digital environments. Videos designed for social platforms such as TikTok or Instagram stories should use the inverse aspect ratio: 9:16 for vertical viewing on a phone. Square videos (with a 1:1 aspect ratio) will also work well on many social platforms and can also be adapted for use in video display ads.
Distribute Video Content to Reach Program Goals
Creating a great video is only one piece of the puzzle. The next step is deciding how to distribute video content and finding the right channels to get as many eyes on your video as possible. The challenge is choosing the platforms that work best with your message, whether it's a fun clip for social media or a relevant, personalized video email for a program promotion.
"Make sure the people in the space you're jumping into want or care about your video," Irving says. "It's important for energy utilities to understand how the video is going to resonate with people. The platform has to fit the message."
Learn how a video content strategy from Quetline Digital will help your energy utility build customer engagement.