Newer digital media like TikTok and NFTs may get all the headlines, but according to research email newsletters still have 40 times the effectiveness of social media. Campaign Monitor confers, noting, "These emails…seem to make an impact. They've been shown to drive sales, boost social media reach and increase website traffic and engagement."
Why? Because email newsletters help build:
Customer engagement, turning one-time customers into repeat buyers
Strong, direct relationships with audiences
Habit and loyalty
According to Questline Digital Marketing Director Bethany Farchione, "Newsletters are an authentic way to regularly communicate with customers. Whether you're handpicking relevant content for your audience or writing a personalized intro, you're talking with your customers directly and curating an experience for them. It's difficult to find another medium that offers this level of engagement."
However, before the content can speak for itself, audiences must first be drawn into the newsletter with the best email subject lines.
A newsletter email subject line is the first thing readers see when they scan their inbox. It is your utility's initial chance to garner attention, connect with customers and build trust with your brand. The best subject lines must balance being informative and engaging, previewing the valuable information inside and prompting readers to open your newsletter to learn more.
Repeatable Newsletter Subject Lines Take Precedence
According to Questline Digital's 2022 Energy Utility Benchmarks Report, the best email subject lines utilize a repeatable format, such as "Utility Name + eNews + Month," delivering higher engagement than newsletters with new or custom subject lines each month.
In fact, repeatable newsletter email subject lines experienced:
28.1% higher open rate compared to newsletters that used new/custom subject lines each month
23.3% higher click-to-open rate (CTOR) compared to newsletters that used new/custom subjects each month
The top 5 most popular non-custom newsletter subject lines of 2021
Questline Digital's Energy Utility Benchmarks Report found that non-custom subject lines achieved more engagement than custom subject lines. The following are the top non-custom newsletter subject lines from all utility email deployments in 2021.

The top 5 most popular custom newsletter subject lines of 2021
Despite performance metrics data showing that non-custom subject lines performed better, custom subject lines still delivered engagement from customers. The following are the top custom newsletter subject lines from all utility email deployments in 2021.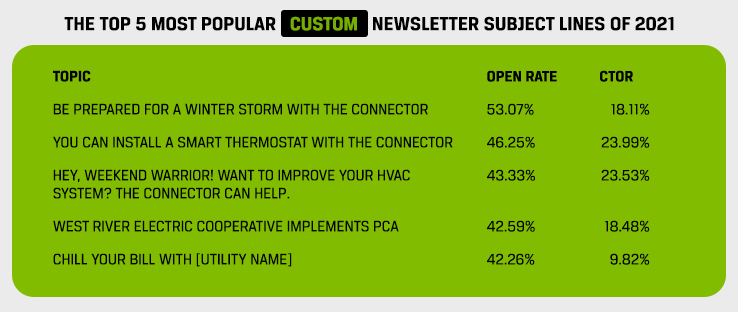 Tips for Writing the Best Email Subject Lines for Newsletters
Even though Questline Digital data has shown that repeatable newsletter subject lines perform better than customized subject lines, it's still important to test the best subject lines for your specific audience. Consider performing A/B tests with varying subject lines or segmenting your audiences to see which newsletter attracts more opens or clicks.
When creating customized newsletter email subject lines, consider:
Personalizing the subject line with your receiver's name
Be brief; no more than 40 characters
Put relevant information at the beginning; subject lines may get cut off
Make the subject line timely
Try using an emoji to capture attention
Offer value within your subject line
When creating repeatable newsletter subject lines, remember:
Keep it short and to the point
Include your utility's name
Consider incorporating the month or date
Try to feature the topic of the newsletter
No matter which subject lines you run with, remember to use a familiar sender name and avoid a "no-reply" sender name. An un-optimized sender name may send your newsletter to the spam or trash folders.
Detailed Suggestions for Writing the Best Newsletter Subject Lines
Connecting with customers in crowded inboxes is no easy feat. When customers look to subject lines for whether or not to open an email, it's important to put your best foot forward. When writing email newsletter subject lines, consider:
Length
A/B testing
Segmentation
Action words
Email newsletter subject line length
Email platforms only allow so many words and characters in a subject line. That's why it's important to keep subject lines on the shorter side. Test character and word limits to see what resonates most with your customers, but in general, we suggest staying within six and 10 words or 50 characters.
A/B testing for newsletter subject lines
As mentioned above, testing for what resonates with your customers is imperative. Consider writing different subject lines for various email newsletter sends to see what delivers more opens or clicks. Test word length, humor versus serious tones and including the value of the content. Testing allows your utility to see what makes an impact with customers so you can continue using similar subject lines down the road.
Incorporate segmentation and personalization
When it comes to emails, no one enjoys a one-size-fits-all approach. Opening an email should be an experience for customers to see products and solutions that fit their interests or needs. By segmenting your email newsletters and developing subject lines that highlight that personalization, your utility will show it cares about connecting with customers and providing them with valuable information.
Utilize action words in your newsletter subject lines
How many times have words like "Hurry, SOS, Ending Soon" prompted you to open an email you otherwise may have scrolled past? We're willing to bet fairly often. Although these specific words are more fear-based action words, prompting a FOMO (fear of missing out) reaction, there are many other action words that can generate similar responses from your utility's customers. Some of the most well-received action words include:
Update
Join
Congratulations
Last Chance
Final Offer
Avoid using special characters or all caps in subject lines, as these will typically catch the eyes of spam filters.
Make a Good First Impression with Newsletter Email Subject Lines
First impressions are everything and a subject line is the best chance your utility has when it comes to newsletters. Make it count by considering your utility's message, the value to its customers and why they should open your email. Remember: If it doesn't pique your interest, it won't pique your customers' interests either.
Effective subject lines are critical in engaging with utility customers. Put time and effort into crafting one and the next best email subject line for newsletters could be yours.
Learn more about building lasting customer engagement and satisfaction with Questline Digital's residential and business newsletter solutions.