To help solve problems and transform the customer journey, energy utilities need to think like their customers.
In our webinar, "The Ins and Outs of Utility Customer Journey Mapping," Zach Hardison, VP of Solutions Innovation at Questline Digital, and Brent Baker, VP and Chief Customer Officer at City Utilities of Springfield, Missouri, provide insights on the importance of customer journey maps and why they are essential to helping energy utilities transform the customer experience.
"Customer journey mapping is a design framework that helps us solve customer problems with the customer in mind," Baker says. "We often go into the utility mindset on how to design something, but customer journey maps really help us elevate our minds to what it is like to be our customers and to develop processes with the customer as our focus."
What Is Customer Journey Mapping?
Customer journey mapping is a visual workflow that outlines a step-by-step experience that customers have with a brand, service or product. According to Hardison, a customer journey map highlights a customer's actions, emotions and behaviors within an experience:
Actions: This includes any actions that the customer is taking or any actions that your energy utility is taking
Emotions: How your customers or employees may be feeling about a particular pain point along the journey
Behaviors: How your customers are behaving or moving through an experience
"Customer journey mapping allows you to think like your customers to better understand how they feel about your utility as a company, brand and experience," Hardison explains.
A customer journey map has many benefits for energy utilities, including:
Strategy and resource planning
Identifying customer pain points
Improving customer satisfaction
Identifying operational efficiencies
Hardison notes that customer journey mapping is an excellent tool for strategy and resource planning. It allows you to identify an experience that's difficult for customers as well as the specific pain points. For example, a customer journey map can tell you where customers get hindered in a process, such as signing up for paperless billing, receiving outage text alerts or enrolling in an energy efficiency program.
"I see customer journey maps as a catalyst to bring a more customer-focused culture into an organization," Baker says. "From the utility perspective, a customer journey map helps us to be relentless at solving customer problems. The journey mapping process can bring diverse groups together to solve problems differently than they had before."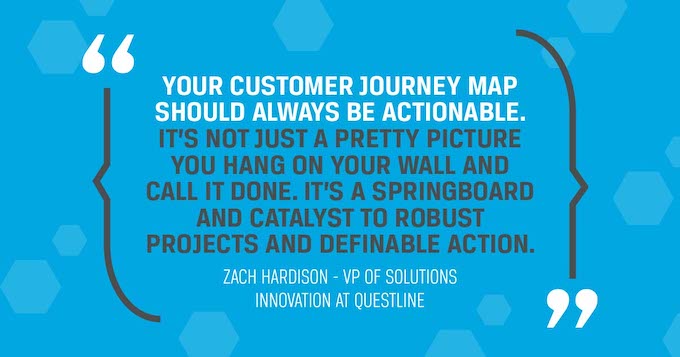 Customer Journey Mapping Examples from Other Industries
To showcase the effectiveness of customer journey mapping, Hardison and Baker shared a variety of examples from other industries. For example, several years ago, Ford Motor Company designers were strategizing how to make opening a car door low effort for consumers. They utilized customer journey mapping to walk through the specific steps that would be required for customers to open their car door using a smartphone app.
The designers found that a digital solution actually hindered customers and made the experience far worse. The customer journey map became the genesis for a much more user-friendly and easily accessible solution. Ford's hands-free Liftgate allows customers to open it by kicking their foot underneath the vehicle.
Hardison shared how Starbucks took advantage of customer journey mapping to create more channel options to meet customers' preferences. The world's largest coffee chain wanted to find a solution for customers who enjoyed the experience of going to a coffee shop and interacting with the baristas but desired a more streamlined experience.
Ultimately, Starbucks created their drive-through window with this customer base in mind. For a subgroup of customers who are less extroverted and more tech-savvy, the mobile app order came into fruition. With customer journey mapping, Starbucks was able to create the right experiences to meet the unique needs of their customers.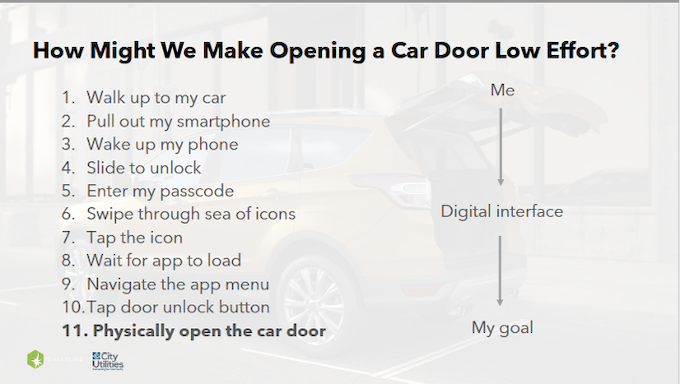 How Do You Create a Customer Journey Map?
Creating a customer journey map starts with these five steps:
Identify the experiences you want to analyze
Identify the users in the experience — primary, secondary, etc.
Cluster your users into distinct groups
Interview users from your groups to get direct input
Map out the steps, including actions, mediums, emotions and behaviors
If you already have an experience you want to analyze, Hardison recommends identifying the users and breaking them down into specific personas, such as tech-savvy customers or those who own an electric vehicle. Identifying your primary users provides a better understanding of who your energy utility should be building experiences around.
"It's also helpful to have one-on-one interviews with your customers to get their direct input. During these conversations, customers will tell you what you want to hear and probably what you don't want to hear," Hardison says. "Either way, you'll receive a highly objective view of your company and experience."
For Baker, customer journey mapping was essential to improve City Utilities' power outage experience and emergency service requests — two moments of frustration for customers. The utility set up a cross-functional team to develop the customer journey map and expedite improvements. Through this process, they were able to recognize what was most important to customers. For example, how often do customers want to be texted during an outage and what information do they want to receive?
"We experienced some resistance on providing an estimated restoration time to customers," Baker says. "It requires a lot from our operations group to stop what they are doing to provide restoration updates. However, we discovered these communications are very important to customers."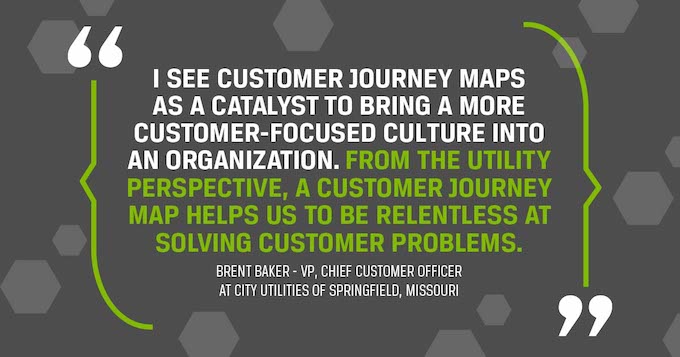 Making Progress with Your Utility Customer Journey Map
Once you have a customer journey map, your energy utility can identify the possibilities:
Prioritize your pain points
Define your desired outcomes
Identify your metrics and success measurements
Make the customer journey map actionable
According to Hardison, it's essential to prioritize your pain points in alignment with your primary user or target demographic. This helps you to understand what you are going to do first, second and third. What pain points do you want to alleviate the most? What are you willing to hold off on? It's also important to understand the level of effort to reach your desired outcomes.
"If something is painful but a high effort to solve, you might want to reconsider if you do that first or not," Hardison explains. "If something is painful and low effort, that will usually jump to the top of the list. This is a good exercise to go through to identify what solutions you're going to implement."
After defining your pain points and desired outcomes, the next step is identifying metrics and success measures. As your energy utility implements change, it's key to have a process in place to measure improvements over time. This ensures you have the data you need to communicate regarding ROI and the progress you're making toward long-term goals and objectives.
"Your customer journey map should always be actionable," Hardison says, "It's not just a pretty picture you hang on your wall and call it done. It's a springboard and catalyst to robust projects and definable action."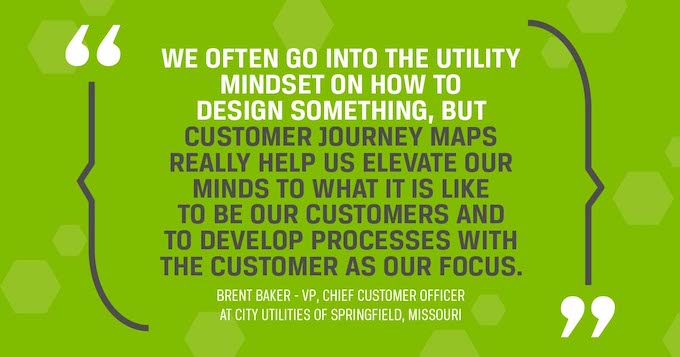 Utility Customer Journey Mapping: A Catalyst for Change
From major brands to small businesses, companies worldwide are taking advantage of customer journey mapping to address customer pain points. This framework helps your energy utility build the momentum necessary to make positive changes. With an actionable journey map, the possibilities are endless to improve the customer experience.
"It really gives us an ability to have a conversation about making changes," Baker says. "I found early on during my time in customer service, it was often difficult to explain the real benefits of making changes for customers. Oftentimes, it looked like cost impacts, not benefits. The journey map really helps you understand what it's like to be a customer of your business."
Learn how a customer engagement strategy from Questline Digital can address the pain points on your utility's customer journey map.