Effective communication has become more important than ever for utility marketers. To truly connect with customers, water and energy providers must adopt an outreach strategy that goes beyond a simple, one-time approach.
In fact, it takes five to seven interactions for a customer just to remember a brand. An effective communications strategy requires a consistent series of touchpoints that work together to build trust, loyalty and familiarity over time.
The key to success lies in maintaining consistency in utility customer communications. By establishing regular and reliable interactions, utilities can cultivate trust and loyalty. This forms the foundation of a genuine digital relationship, leading to a multitude of benefits.
The Benefits of Enhanced Communication with Utility Customers
Consistency in utility customer communications cannot be overlooked. The benefits of such an approach are substantial, including:
Stronger digital customer relationships
Increased customer control in decision-making
Enhanced operational efficiencies and reduced costs
Increased customer retention and loyalty
Boost in brand awareness and reputation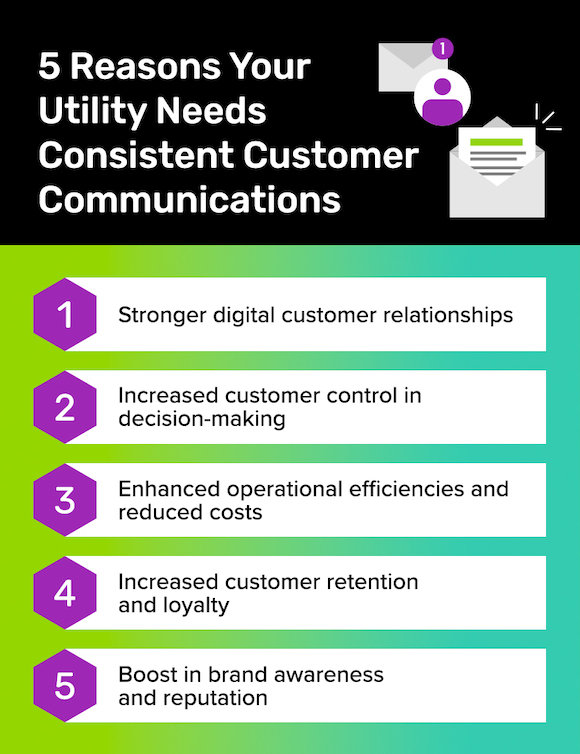 Building strong digital customer relationships
Prioritizing consistent utility customer communication is essential for fostering a strong digital relationship. By regularly sharing relevant information, your utility can keep customers informed and engaged on your utility's services and operations.
Brian Lindamood, VP of Marketing and Content Strategy at Questline Digital, emphasizes the importance of maintaining consistency in order to build strong digital relationships with customers. "Merely reaching out to customers when there is a need does not constitute a true relationship," says Lindamood. "To form strong digital relationships, utility companies must consistently deliver proactive messages that align with customers' interests and needs."
Ensuring regular delivery of relevant and personalized content is vital for building and maintaining a strong digital relationship with customers. By consistently providing valuable information, you establish yourself as a reliable source they can turn to. This not only keeps your utility's audience engaged but also allows them to foster a deeper connection with your brand.
One way to foster engagement is through consistent touchpoints like newsletters. Southwestern Electric Power Company (SWEPCO) achieved increased engagement and participation in its energy efficiency programs by doing just this. The utility established a monthly residential email newsletter that included educational content for customers, plus information on the utility's programs. By maintaining this consistent digital relationship, SWEPCO saw a substantial increase in customer engagement and satisfaction.
Increased customer control in decision-making
When it comes to utility services, the complexity and unfamiliarity of industry jargon can often leave customers feeling confused and frustrated.
Regular communication with utility customers is crucial in helping educate them and improve understanding of programs and new technologies. As customer education increases, the more empowered they'll feel to take control of their energy and water usage. This can be achieved by providing educational resources that allow customers to stay updated with the latest trends, important news, billing updates, rate options, program promotions and more.
When customers are well-informed about their utility's offerings, they have the confidence to select programs and services that best suit their needs and goals. This not only benefits the customers but also strengthens the relationship between the utility and its customers, fostering trust and loyalty.
Enhanced operational efficiencies and reduced costs
By streamlining communication channels and processes, utilities can eliminate inefficiencies and minimize the risk of miscommunication. This not only saves time but also reduces operational costs, allowing utilities to allocate resources more effectively.
Sarah Sharp, Business Development Consultant with Questline Digital, says, "There is a lot of information to communicate for utility customers, so it is important to minimize jargon and send information when it is most relevant."
Well-informed customers are less likely to phone a call center, and when they do have questions they will know where to find answers using digital resources. A consistent digital relationship also drives adoption of programs like paperless billing and autopay, further reducing operational costs for utilities.
Increased customer retention and loyalty
Maintaining consistent communication with utility customers enables utilities to position themselves as trusted community resources. "Building trust is the most crucial element in customer communications," says Sharp." If people don't trust you, they won't listen to you."
In building trust, customers will know that they can turn to their utilities for guidance on their energy and water usage, cost-saving tips, programs to participate in, and more.
Consistent outreach also raises the visibility of the utility across different touchpoints. "Customers are receiving information in many different channels. When it comes to omnichannel communication, it is crucial to be consistent between channels," says Sharp. This means ensuring your messages are consistent in tone and language, as well as being delivered in the channels customers expect to receive communications in.
Boost in brand awareness and reputation
Through consistent messaging across channels, utilities can reach a wider audience and showcase their commitment to customer satisfaction. This increased visibility and positive reputation can build new customer relationships and strengthen existing ones.
One way to demonstrate this commitment is to focus on proactive communications versus reactive communications. For example, informing customers about potential outages during storm season can help them be better prepared, even if an outage doesn't occur. This proactive approach not only builds trust but also highlights the utility's dedication to keeping customers informed and supported.
One major investor-owned utility in the Northeast focused on these types of communications to ensure customers received timely updates ahead of forecasted storms. By leveraging pre-built email templates, the utility was able to quickly deploy messages with information regarding the projection of the storm, as well as highlighting self-service resources customers could use to stay connected.
Best Practices to Ensure Consistent Communications with Utility Customers
Consistency in customer communication plays a pivotal role in a utility's outreach strategy, but it can come with challenges as well. Here are two ways to foster success.
Conduct regular training and upskilling programs for employees
Providing regular training and upskilling programs for employees helps them develop strong communication skills and stay updated with industry trends. This ensures that all customer-facing employees are equipped to effectively communicate with customers.
For example, with limited resources and a small training team, one Southeast utility faced challenges in educating its customer-facing employees to address customer questions. To combat this challenge, the utility leveraged monthly training webinars that were customized to meet the needs of the account managers, who were then better prepared to engage with customers.
Leverage marketing automation tools
Customers want a seamless experience from start to finish, and that's not possible unless employees have the resources they need to quickly and easily communicate with them. By managing their customer interactions with automation tools, utilities can ensure timely outreach that meets customer expectations from beginning to end.
A Midwest energy utility integrated a customer relationship management (CRM) tool to replace their traditional way of deploying emails. Questline Digital's Engage platform enabled the utility to manage and send quick-turn communications to its customers, using pre-approved templates and centralized customer lists. As a result, the utility successfully sent nearly 3.7 million operational emails, facilitating a seamless and timely customer experience.
Harness the Power of Consistency in Utility Customer Communications
Consistent communication with utility customers brings numerous benefits, such as improved customer satisfaction and loyalty, enhanced operational efficiency and increased brand awareness. By implementing consistent communication strategies and leveraging appropriate tools, energy utilities can establish themselves as trusted advisors while delivering exceptional customer experiences.
Learn how Questline Digital can help your utility deliver consistent customer communications and build stronger digital relationships.