Energy utility customers no longer want or hope for engaging digital experiences — they expect them. These experiences offer opportunities for people to learn and understand things they might not otherwise encounter.
For example, during the height of the pandemic, the Google Arts & Culture team partnered with over 2,500 museums and galleries to offer free virtual tours and online exhibits worldwide. Not only did this allow people to travel without leaving their homes, it also created a unique sense of connection as people experienced these virtual visits together.
When it comes to your customers, they want nothing short of an engaging digital experience from their energy utility. The past two years have shown that webinars are highly successful at providing these experiences. In fact, 2020 saw a total increase of 160% in digital experiences, according to the 2021 Digital Experience Benchmarks Report.
Webinars are a unique way to connect with utility customers and employees, sharing educational resources or training tools with each group. However, what does an engaging digital experience look like?
According to Mark Bornstein, Vice President of Marketing and aptly named "Chief Webinerd" for On24, it's a branded experience that includes multimedia, multitouch content as well as human interaction.
"Our audiences no longer want passive experiences," says Bornstein. "They're looking for multimedia experiences — this idea of really mixing and matching the forms of media and the different types of content in a different experience. We need to deliver multitouch content experiences where people get lots of content in every experience. And every experience needs to feel like an approachable human experience."
Read on to learn more expert advice for creating an effective, interactive webinar to engage with your utility's customers or employees as you educate them. Then, download Questline Digital's checklist and put these tips to good use during your next webinar.
Top 10 Webinar Tips and Tricks
These are the top 10 webinar tips and tricks to produce successful and engaging virtual events.
Maintain a consistent schedule
Build a multichannel promotion strategy
Ensure you have an engaging host
Limit the number of presenters
Practice, practice, practice
Know your audience
Make the presentation engaging
Plan for the unexpected
Follow up with registrants
Make the webinar available on-demand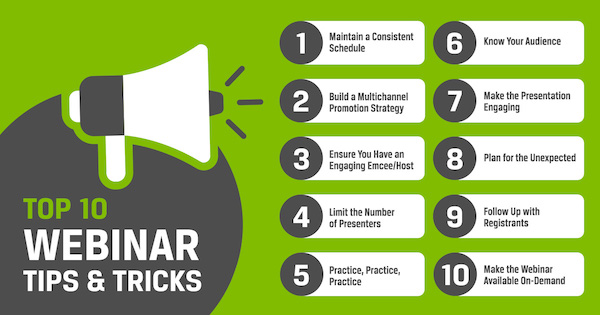 Webinar Tip 1: Maintain a Consistent Schedule
The best webinar series has built-in loyalty by being consistent with topics and presentation days. Customers know what to expect and when to expect the webinars because the schedule has been communicated from the start.
Questline Digital's client, Arizona Public Service (APS), is well-known for this approach. "They host webinars regularly — about two webinars a month for the past three years," says Josh Platt, Questline Digital Account Director. "Some may see this as overkill, but it's simply consistent branding, allowing the utility to have a pre-determined editorial calendar and loyal attendees."
Webinar Tip 2: Build a Multichannel Promotion Strategy
It's imperative to go where your customers are. This means promoting webinars in emails, on social media and your utility's website. The more you promote your webinar, the more registrants you're bound to get. Bornstein reminds us, "Everywhere your audience goes to interact with your brand, they should be met with, not a piece of content, but an experience."
Platt again points to the success of APS, noting, "They do a great job promoting their webinars online and offline. They publish articles or ads in a trade journal once a quarter that lists their upcoming webinars. They also cross-promote on social media to reach people who may not be on their email list.
"If you're promoting well, you're doing a number of things," Platt adds. "The benefits of online and offline promotions extend to list building and outreach to customers you may not currently have in your network."
Questline Digital's webinar tips and tricks recommends starting promotions for webinars six to eight weeks in advance. When sending emails, consider sending three in advance and two after the event:
First email one month before webinar
Second email two weeks before webinar
Third email the week of the webinar
"Thank you" email after the webinar to those who registered and attended
"Sorry we missed you" email to those who did not attend with a link to a recording of the webinar
"With APS, we plan an entire year's worth of webinars by October and have them promoted offline in a magazine the first week of November," Platt says. "If you're wanting to work off of best practices, you're promoting a ways out."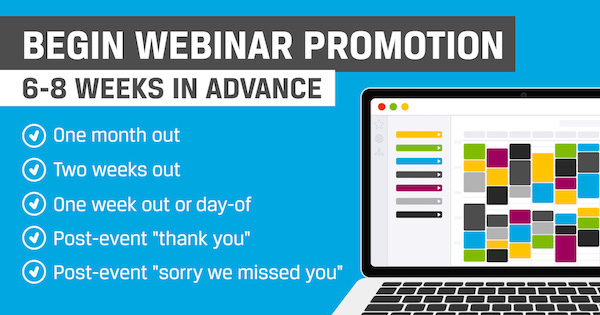 Webinar Tip 3: Ensure You Have an Engaging Host
Even if the content and presenters are top-of-the-line for your webinar, it's still key to have an emcee or host who can moderate questions and move along the conversation.
Your host can hold different responsibilities depending on the webinar. They can be virtually invisible during the presentation, only appearing when needed, or they can be face or voice for your webinar or series. No matter which way your utility chooses to go, ensure you have a host who is engaging and lively — nothing is worse than having a monotone voice trying to carry the conversation.
In addition, your emcee should be able to quickly navigate the conversation, moving it from one speaker to another or directing questions to specific presenters to keep the webinar from stumbling into an awkward lull. Managing the time and pace of the webinar is also imperative; the host should be able to jump in and remind presenters of the time remaining and keep things moving.
Webinar Tip 4: Limit the Number of Presenters
It's best to include multiple subject matter experts in your webinar to provide different perspectives and unique answers to customer questions. However, having too many presenters at once can often do more harm than good, making the presentation overwhelming and confusing for attendees.
Kelly Metz, Digital Campaign Production Specialist with Questline Digital, suggests no more than four presenters during a webinar, saying "Too many cooks will spoil the soup."
Metz also advises that when including multiple presenters, be prepared in advance by deciding:
Who will move the presentation slides
How and when to transition between speakers
Who will moderate Q&A
What location to present from so you have a reliable internet connection
"If possible, use the same hardware, software and location in both practice sessions and the live webinar," Metz adds. "If it was successful in the dry run, chances are that it will work for the live run."
Bornstein also shares the importance of utilizing video during your webinars and showing the presenters' faces. "Video is table stakes at this point," he says. "If you're not showing your face, you're not doing digital marketing."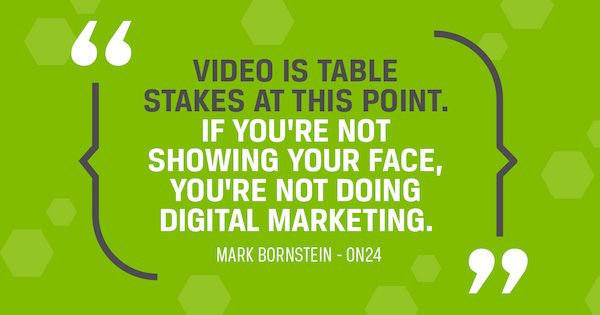 Webinar Tip 5: Practice, Practice, Practice
Everyone knows the phrase, "practice makes perfect" and yet it continues to ring true. "You can't go into a webinar thinking it's any other meeting, especially if you're on camera," Platt says. "You need to practice, prepare and plan."
Questline Digital suggests holding a dry-run event one or two weeks before the live webinar to ensure there are no technical difficulties and that each person understands the way the platform works.
Another webinar tip and trick is that each individual needs to plan accordingly for his or her own performance. "You need to think about how you want to look — dressing the part with a shirt and tie or being casual in a hoodie and letting the content speak for itself," Platt says. "Practice using hand gestures in camera view. Practice smiling and nodding even when you're muted — those things go a long way."
It's important to remember that most attendees registered for the event because of the content, but they stay because of the presenters. It's imperative to make sure the presentation is engaging and worth attendees' time.
"Remember, whether you're on camera or not, the webinar is being recorded forever and could potentially be broadcast to the world," Platt says.
Webinar Tip 6: Know Your Audience
Webinars can be used as tools to promote programs to residential customers, educational resources to small business owners or training materials to employees. No matter what your utility's goal, it's critical to understand the audience that will be attending to develop webinar content appropriately. In addition, knowing your audience's interests or level or expertise and developing webinars to meet their needs is an immediate way to build trust.
Invest in open and closed captioning subtitles and provide options for multilingual viewing. Depending on your service territory, you may not be able to assume that English is your customers' preferred language, and you should never assume that they can hear spoken language.
"Make the investment" in multilingual support, Platt says. "Build that trust with your customers and prove to them that your utility cares. If you don't, you're missing out on an important touchpoint."
National Grid and Eversource lean into this, ensuring all its customers are accounted for when producing webinars. As customers struggled financially due to the pandemic, National Grid and Eversource developed webinars to promote their financial assistance programs. To accommodate the varying needs of customers, the webinars were produced with closed captioning and broadcast in English, Spanish and Portuguese. The webinars also included live video of an American Sign Language (ASL) interpreter, which attracted nearly 1,000 attendees to its broadcast alone.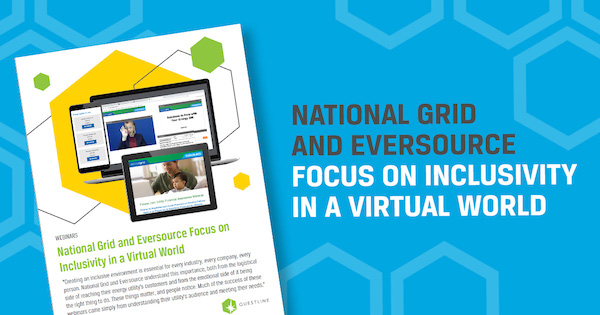 Webinar Tip 7: Make the Presentation Engaging
Despite expert presenters and subject matter experts, if a presentation falls flat, so does the whole webinar. After all, "It's not a presentation that you're delivering, it's an experience that you're giving," says Bornstein.
A few simple webinar tips and tricks when creating the deck for your presentation include:
Keep the text to a minimum
Utilize bullet points for easy skimming
Include relevant imagery
Build links into the content
"If you can't sell it in three bullet points and a pretty picture, you're talking too much," says Platt. "The purpose of a webinar is getting people interested in taking another action. You don't need to explain everything, just enough for them to want to know more."
"We've seen a great evolution away from talking PowerPoints to creating really great serialized programming in the world of webinars," Bornstein says. "We've seen webinars do all these really cool formats, where there are interview shows and news style formats and coffee talks and chat shows and they're really taking their inspiration from TV-like viewing experiences more than the old-school tutorials of the past."
Webinar Tip 8: Plan for the Unexpected
As everyone has been keenly aware of during the past two years of increased digital experiences, technology is not always on our side. This is why it's so important for your webinar's host and presenters to prepare for every failure that could happen. "Whether your cell phone battery dies or the dog is barking or a tree is being cut down in your yard, plan for the unexpected," says Platt. "Plan for failure and you will avoid failing."
When preparing for a webinar, Questline Digital recommends:
Have a hard copy of your script and presentation on hand
Charge and mute your phone
Share your phone number with the other presenters and webinar producers in case of disconnection
Have a backup way of connecting to audio
"If there's one thing I've learned as a webinar technical producer, it's that planning for the unexpected is imperative to the success of a webinar event," explains Josh Dozer, Client Operations Coordinator for Questline Digital. "Numerous contingencies have been put in place to account for as many unknowns as possible, dramatically improving the experiences of both audience members and presenters alike. However, it's still up to each individual to plan and prepare for the unknowns."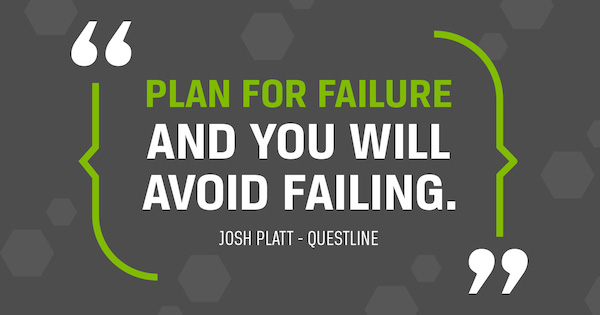 Webinar Tip 9: Follow Up with Registrants
Another key webinar tip and trick is to connect with all registrants after the live event. This includes the following groups:
Those who registered and attended
Those who registered but didn't attend
Those who didn't register or attend
Each follow-up email should contain a message that is specific to the intended receivers. For those who didn't register or attend the webinar, the follow-up needs to explain how your utility felt the topic was important enough to reach out again.
For the other two types of follow-up messages, saying "thank you for attending" or "sorry we missed you" goes a long way. Provide key takeaways from the webinar and a link to view the webinar on-demand. A multistate Northeast investor-owned utility has gone a step further to embed a survey link in their follow-up communications to encourage customers to share about their webinar experiences. The survey responses help the utility best prepare for its future webinars.
In addition, you can create brief audio or video highlights from the webinar that can be shared on social media, in emails or on your website. For example, Questline Digital identifies relevant soundbites from each webinar we host and turns them into short audio recordings to share on social media.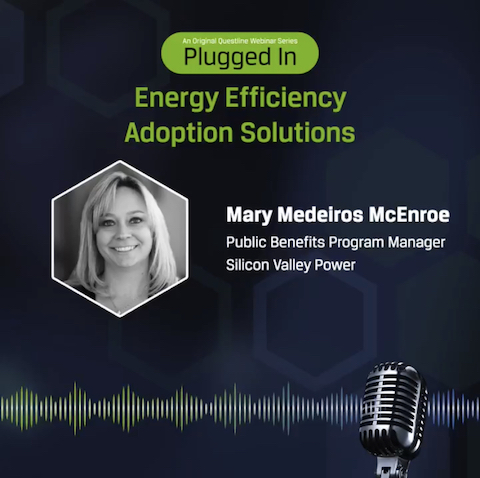 Platt recommends this tactic specifically as a list-building activity. "If you've scripted it well and have done a good presentation, you can take a 60-minute webinar and cut it into five 10-minute segments to promote to customers who you don't have an email address for and attain that information from them," he says.
Bornstein adds, "Now, you can build the event and take the event content and repurpose it in so many different ways. Perhaps creating personalized experiences or virtual roadshows using a targeted personalized landing page. This means that digital events are not just an event, they're a strategy."
Webinar Tip 10: Make the Webinar Available On-Demand
An absolute must-have when it comes to webinars is making the event available on-demand following the live production. This extends the lifecycle of the content and allows customers to continue the webinar experience, whether they originally registered or not.
Questline Digital offers on-demand webinars as a standard part of our webinar solution for energy utilities. We can also provide a cleaned-up recording of the webinar, where our video producers switch between full-screen cameras and the presentation to increase engagement.
As an additional benefit of on-demand webinars, Platt recommends capturing customers' names and email addresses when they view the recording. "This is another touchpoint where your utility can continue to build its lists and extend the reach of its communication."
Successful Webinars Begin with Preparation
The most engaging and successful webinars are created through consistent preparation and practice. Between the speakers, host and presentation, there are many moving parts to getting a webinar up and running. The key is to remember how the pieces come together and to begin preparations well in advance.
"Post-COVID audiences expect a different kind of connection and a different kind of communication," Bornstein says. "They're looking for us to connect in real, authentic ways. They're looking for experiences that are interactive. Maybe they're looking to be entertained a little bit, but they're looking for experiences that are real, human, authentic and approachable."
Whether your goal is to educate customers or employees, following these webinar tips and tricks will set your utility up for long-term success.
Download Questline Digital's free checklist and follow our experts' tips and tricks to boost engagement during your utility's next webinar.
Learn how Questline Digital's energy experts can educate your target audience with engaging, interactive and personalized online webinars.