Targeted Communications
Boost utility program participation and customer engagement with targeted communications
Mass emails have historically worked for energy utility communications — but they won't cut it in today's world of hyper-personalization. Customers expect relevant and timely information from their energy provider. That's why it's critical for energy utilities to utilize targeted communications to reach the right customers with the right content.
Why Email Segmentation Matters
Email segmentation is a best-practice solution to maximize the impact of utility program promotions. In fact, 55% of consumers believe targeted communications create a more enjoyable experience while 74% of consumers get frustrated when they receive content that has nothing to do with their interests.
By identifying customer needs, interests and motivations, your energy utility can send targeted communications that resonate with a particular audience.
Questline Digital recommends segmenting the following utility communications:
Welcome Series emails
Residential and business newsletters
Paperless billing campaigns
Energy efficiency program promotions
Outage messages
And more
Questline Digital also utilizes engagement personas, based on quantitative and psychographic data, to segment utility customers. For example, we created multiple emails for an EV rebate campaign to reach customers from different personas. One group was motivated to go electric because of the advanced technology, while another persona connected with an environmental message.
Case Study: Segmentation Drives Up to 84% increase in Customer Engagement
AEP Ohio worked with Questline Digital to increase engagement among business customers. By taking advantage of targeted communications, the utility's general business newsletter was segmented by multiple industries. Each version featured industry-specific tips and energy efficiency resources, resulting in outstanding customer engagement:
84% higher customer engagement for the healthcare segment
54% higher engagement for the education segment
43% higher engagement for the manufacturing segment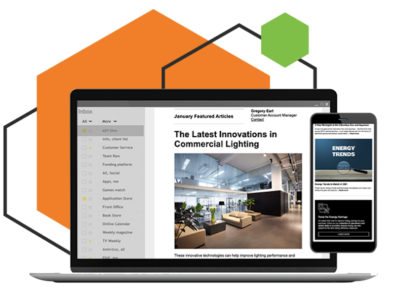 Using Personalization to Connect with Customers
Many utilities are now using behavioral marketing to deliver targeted communications based on customer behavior. Questline Digital can help your energy utility create personalized communications such as:
Abandoned cart emails to encourage energy marketplace purchases
Targeted follow-up emails for a time-sensitive promotions
Behavior-based emails to customers who click into an email but don't take action
Taking a targeted approach not only improves long-term customer satisfaction, but it also boosts program participation and overall engagement.
Partnering with Questline Digital for Targeted Communications
Tackling email segmentation doesn't have to be complicated. Questline Digital's energy marketing experts can help your utility identify opportunities where targeted communications will make the largest impact and take the lead on implementing new strategies.
Questline Digital can help your energy utility with:
Identifying viable audience segments
Segmentation by engagement personas
Building targeted strategies that speak to different customer motivations and behaviors
Creating unique content for each audience
Handling logistics like list management and automated email deployment
Ready to get started with targeted communications?
Submit the form below and Questline Digital will contact you with more information.