A full year of Apple's privacy changes has come and gone, marketing texts are trending, chat boxes continue to pop up and voice search is making itself heard, among many other hot topics for utility marketers. Questline Digital's experts weighed in on the top 10 email marketing trends and best practices for 2023 during a recent Plugged In webinar.
Brian Lindamood, VP of Marketing and Content Strategy, and Nina Cummins, Account Director, shared their insights and interpretations for the year ahead.
Top 10 Email Marketing Trends for 2023
Increased use of interactive content
A focus on key email metrics beyond open rate
Privacy technologies and their impact
The rise of SMS marketing
Strategic push notifications
The use of chatbots
Voice search capabilities
Self-service experiences
Increases in video marketing
Segmentation and personalization expansion
Marketing Manager Maureen Mierke and other special guests from Questline Digital also joined the webinar to offer their advice on interactive content, Apple's Privacy Policy, SMS marketing, push notifications and video marketing.
A Look Back at 2022 Email Marketing Trends
Last November, Questline Digital's webinar on Email Marketing Best Practices for 2022 forecasted trends for this past year. We took a look back at the top 10 trends we saw in 2022:
Creating an improved after-sales experience
Auditing and understanding your data
Making more out of your newsletters
Optimizing for all platforms
Creating more interactive emails
Ensuring your emails are accessible
Showcasing user-generated content
Utilizing preference centers
Hyper-personalizing email campaigns
Changes to open rates and privacy
"Certainly everything on this list was important in some way this year," Lindamood said of the 2022 predictions. "Some of these things are still ramping up and will continue to be factors in the coming year."
Lindamood reviewed the importance of creating an after-sales experience with customer onboarding and developing a personalized experience starting on day one of service. Additionally, he said that optimization "is about making your emails accessible and compatible across all devices." This was an important focus this past year, especially with the growing use of dark mode, and Lindamood suspects it will only get more important as the year goes along.
Cummins shared that many clients she works with have done a lot of deep diving to better understand their data, including reviewing performance metrics for their emails, newsletters and social media. As expected, Apple's Privacy Policy dominated many data analytics conversations in 2022 and Cummins expects this trend to continue into 2023.
A Look Forward to the Email Marketing Trends and Best Practices for 2023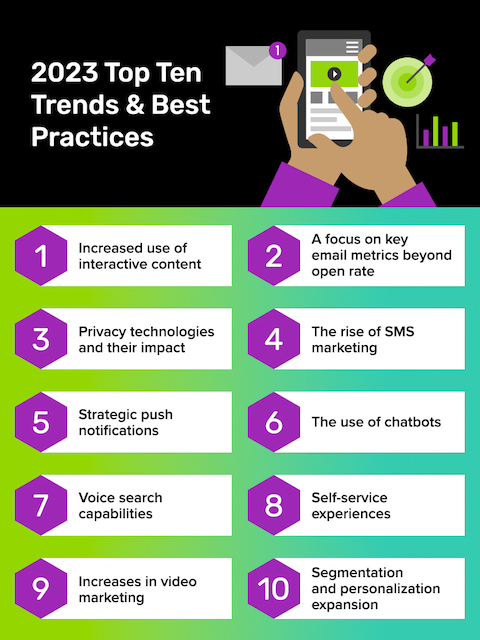 Increased use of interactive content
Lindamood began with a discussion on interactive content. "There's no doubt that interactive content is popular with customers and is an effective way for marketers to share a message," he said.
Interactive content can include games, quizzes, calculators, polls, surveys or a myriad of other content types, he added. "It can be any digital experience where there's some back and forth. The user takes an action or provides some information and the content responds in some way." This type of content, requiring active participation from the user, makes it more fun and engaging for customers to learn about complex energy topics.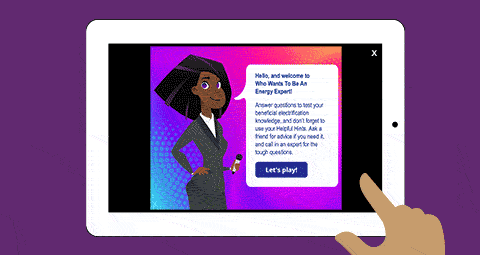 Cummins shared an important reminder that interactive content in emails is all about adding interest and visual movement so that messages stand out.
Joe Pifher, Questline Digital's Creative Director, shared his take on whether utilities should jump on this trend. He said when it comes to interactive emails, "There's not enough support for them. Right now, the email clients are dinosaurs. There are some that can handle it and some that can't. And without having your list broken up for every email client, it's not worth the time to put that in there."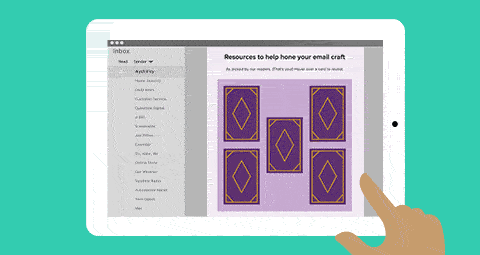 Overall, we see the use of interactive content rising, as research shows it generates five times more views than static content. However, when it comes to interactive emails, we suggest keeping interactivity simpler, including some GIFs or movement. The key is using email as a way to drive clicks and visits to interactive content on your utility's website or other platform.
Metrics beyond open rates
Apple's Privacy Policy changed the way digital marketers see open rates. Where they used to be a strong indicator of engagement, open rates are no longer reliable or useful in analyzing the performance of campaigns.
Jeremy Harning, Questline Digital's Vice President of Technology, explained a little more about the impact from his perspective. Most notably, he shared:
Since September 2021, when Apple introduced its changes to email tracking, Questline Digital has seen an 11% inflation in open rates, from about 25% on average to about 36% overall.
We have also seen about 34% of our opens overall get flagged as "machine read," indicating they are being opened by Apple's proxy servers.
With this information, Questline Digital recommends that utility marketers review other metrics tied more directly to the utility's goals, such as:
Conversion rate
Enrollment numbers
Page clicks
Time on page
"Open rates can inform how we get to an action, but it's not going to determine if your campaign was successful," Lindamood said. "As an industry, we really need to get past open rates. They're not reliable anymore."
The rise of SMS marketing and push notifications
Cummins shared that she sees the rise in mobile communications as an answer to what customers want: multichannel marketing that reaches them in their preferred channels.
"We're on email, we're on social media, so text messaging only makes sense to be next," she said. "It's quick, direct, and research shows that 98% of all text messages are opened, and one in three consumers check their text notifications within one minute of receiving a text."
Additionally, push notifications are another method customers prefer for staying up to date with company happenings.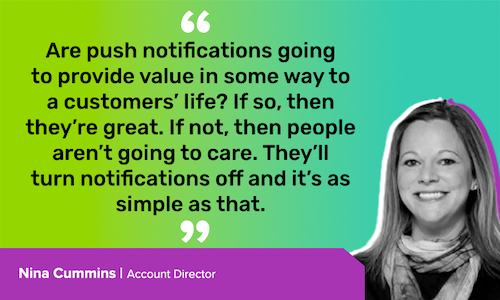 The data speaks for itself: Customers expect these types of messages. The caveat, according to Cummins, is making sure that text messages and push notifications provide value to customers.
"Are push notifications going to provide value in some way to a customer's life?" she asked. "If so, then they're great. If not, then people aren't going to care. They'll turn notifications off and it's as simple as that."
Susan Kownacki, Questline Digital's Vice President of Account Services, shared an additional reminder.
"While most utilities have already been doing transactional text messages around outage and billing alerts, marketing messages are relatively new to our space," Kownacki said. "To make a successful leap to non-transactional SMS, it's absolutely critical to get your customers to opt-in. Because if you don't, fines are steep, as much as $1,500 per offense, which can add up quickly."
Chatbots, voice optimization and self-serve
Chatbots and voice search were hot topics leading into the previous year, and they'll continue to be important marketing trends for 2023. "I don't think a lot of utilities are investing in either of these things at the level that we thought initially," Cummins said, "but I do think they're still very valid and useful options to keep in mind in the near future."
Lindamood said that customer expectations will continue to grow in this area. He shared research from J.D. Power that found that chat is the leading digital contact method for online customers: 42% of customers prefer chat versus only 23% for email and 16% for social media.
"For utilities, any interaction that you're having with customers over the phone could probably be accomplished more efficiently with a chatbot," Lindamood said. "It's certainly more cost-effective for you and most of your customers would prefer it that way."
Additionally, Lindamood noted that there are many opportunities for utilities to enhance educational efforts with chat, such as answering customers' questions about program promotions on your website or providing advice on rate plans.
When it comes to voice search and optimization, Lindamood said that the next generation of utility customers will be more inclined to use voice search, as it's what they've been acclimated to growing up.
We suggest creating FAQ pages or other pages on utility websites that list common energy-related questions along with clear answers. These pages will help customers, and they will be easy for voice-activated search engines to find.
Voice capabilities are also great for making content accessible to all customers. Those who are visually impaired may prefer listening to an article, while many people use audio for convenience's sake, listening to content as they work on other things. Lindamood shared these best practices to help users who prefer to listen to content:
Include alt text that describes any images on the page
Make sure text is text — not a JPEG of a headline — so the computer can read it
Embed audio players within the content itself
Whether customers prefer to chat with customer service representatives instead of call or they prefer to listen to content instead of read it, the modern customer experience demands that options are available and that the end user can ultimately choose their own preference. Don't force them to communicate in one specific way with your utility.
Increases in video marketing
Matt Irving, Questline Digital's Creative Director of Video Content, shared the importance of video marketing, including its ability to capture attention, simplify complex topics and make an idea memorable and entertaining. When creating videos, he reminds utilities to think about the audience.
"Video content can do a lot of things. I like to say it's part of a complete breakfast. It provides a big oomph, it can cover a lot of areas and it can have a really big impact. But it's not the best choice for everything," Irving said. "A video, or any content for that matter, should be relevant. It should be relevant to the consumers, it should be relevant to the space you're talking to the consumers in and it should be relevant to you."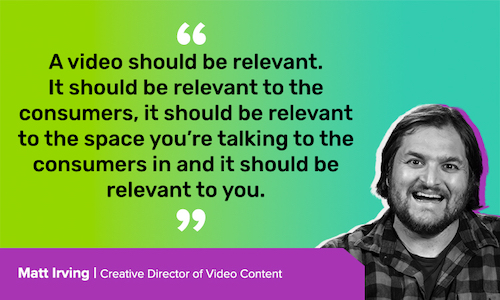 Video is already the most popular and preferred content format for all customers, and it's only going to grow. According to the Content Marketing Institute, video is going to be the "it" content for 2023, given that 78% of marketers plan to invest in video in the new year.
Segmentation and personalization expansion
Segmentation and personalization have been high-profile email marketing trends in 2022, and Lindamood and Cummins agreed that will continue into 2023. "If utilities haven't started looking into segmentation, then they're going to, and if they have then they're going to push the boundaries more and see what they can accomplish," Cummins said. "I think it's really going to be a top priority in 2023."
"Personalization is the thread that ties together a lot of the email marketing trends that we talked about," Lindamood added. "I think it's going to be the longest-lasting trend we've discussed. We're still near the beginning of a big shift toward personalization and it's going to be around for a long time."
Personalized and segmented messages make those types of communications immediate, tangible and accessible to customers. Questline Digital expects to see more of this as we use customer data and preferences to personalize the experience they have with their utility.
New Year, New Opportunities, New Email Marketing Trends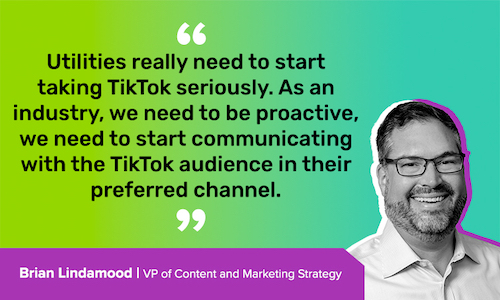 Of all the email marketing trends and best practices discussed, Cummins shared that data is a low-hanging fruit. Utilities should focus on cleaning and using their data in new ways, including segmentation and personalization, to better reach and communicate with customers.
Additionally, Lindamood suggested that TikTok needs to become a priority for utilities in the new year and beyond. "Utilities really need to start taking TikTok seriously," he said. "The thing about TikTok is it's not just popular among certain customers watching videos, they're also using it as a search engine. They are finding answers on TikTok, and as a utility, you need to be there answering their energy questions. As an industry, we need to start communicating with the TikTok audience in their preferred channel."
Stay ahead of the latest email marketing trends with a customer engagement strategy from Questline Digital.