Communicating with customers about products, services and other offerings is vital, and email marketing can be an extremely effective channel for these messages. However, reaching a customer's inbox is much more complicated than drafting a message and hitting send. That's where email deliverability comes in.
What is email deliverability? It's the ability to get emails into customer inboxes — where they belong. But why is email deliverability important? And how is it different from delivery rate?
Delivery rate tells you how many emails weren't bounced or rejected, while deliverability gives you more insight into exactly where the emails landed — in the inbox, spam folder or places like the promotions or social tabs in Gmail.
Basically, deliverability is crucial to ensuring your messages reach customers and it's a strong measurement of email campaign performance.
So, how do you ensure a high deliverability rate? The following email deliverability factors will determine if your messages are delivered to customers, sent to the junk folder or blocked altogether.
4 Factors that Affect Email Deliverability
Spam filters
Invalid email addresses
Junk mail reports
Low engagement
1. Spam filters
Once upon a time, in the early days of email, recipients got anything and everything all at once — and it was mostly things they wanted. Then spammers showed up, competing for inbox space and attention. Email recipients needed help, and internet service providers (ISPs) came to the rescue. Working with other gatekeeper ISPs, mailbox providers and anti-spam solution providers, they devised a system to keep those spam messages out.
But this is no fairytale. Although your energy utility is undoubtedly not a scammer, your messages can still be blocked or sent to junk if they don't get an all-clear from email filtering systems.
Anti-spam filters analyze the entire email — sender to footer — and use a complex scoring system to determine which emails should be classified as spam. All of this happens in real-time, too; your email could be doomed to junk mail before the send is even complete if the filter detects these red flags:
Bulk mail sent all at once or at odd hours
The sender's identity is unauthenticated with ISPs
Poor reputation or inclusion on third-party blacklists
Large email (over 60 KB) with attachments
Frequent use of common spam words, like "act now" and "risk-free"
Inconsistent branding, sending domains and domains in call-to-action links
2. Invalid email addresses
How often your energy utility sends messages to invalid addresses can also affect your deliverability. Addresses can be labeled as "invalid" in two ways:
Emails bounce: Messages will "bounce," or be rejected by a mail server, if there are typos in the address, the server is unavailable or the recipient has a full mailbox.
The address is not currently engaged: If a subscriber hasn't opened an email from your company in a year — or even a month in some cases — their address will be recognized as disengaged.
Continuing to send to these email addresses can hurt your deliverability, even if other recipients are opening and engaging with your messages.
3. Junk mail reports
Possibly the most obvious red flag to an ISP that your email may be spam is when a recipient marks your message as spam. This can happen if a recipient doesn't remember subscribing to your communications, doesn't find the content to be relevant, or wants to unsubscribe from your email list quickly and hassle-free.
Though you can't stop this entirely, sending additional emails to these recipients can negatively affect future deliverability and how ISPs view your messages.
4. Low engagement
ISPs continue to monitor recipients' behavior after an email is delivered. They can analyze how long an email is open, if the recipient scrolls through the message, if links are clicked and more.
If your recipients don't positively engage with your content, ISPs may label you as a sender with low or negative engagement, further harming your reputation and increasing your chances of encountering a spam trap.
How to Improve Email Deliverability Rates
There's no need to fear. You can improve email deliverability and fix any damage caused in the past with these tips: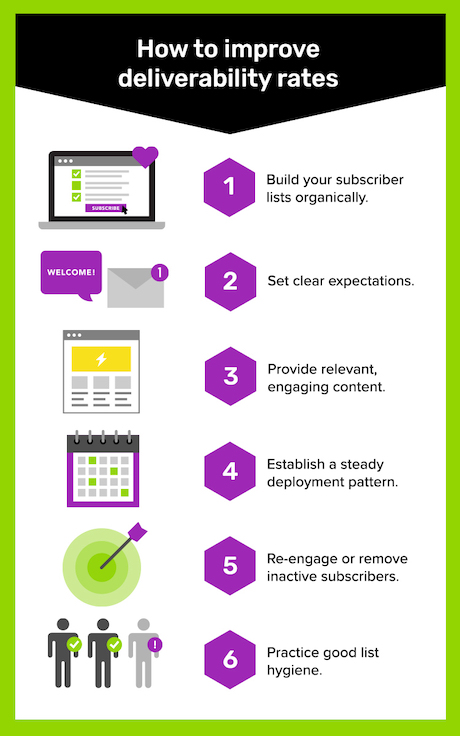 Build your subscriber lists organically. Allow customers to opt-in to emails and select which communications they want to receive and how often they get messages.
Set clear expectations. Start your communications with a welcome message that sets the tone for future emails and familiarizes your customers with your services.
Provide relevant, engaging content. Disengaged recipients spell trouble for customer relationships and spam filters alike. Provide great content your subscribers need and keep subject lines brief, informative and engaging.
Establish a steady deployment pattern. As mentioned above, sending too often or erratically can signal to ISPs that you're up to no good. Setting a regular schedule for email sends establishes consistency with your customers and ISPs.
Re-engage or remove inactive subscribers. A targeted re-engagement campaign can win back disengaged subscribers and clean up your list by removing those who don't participate or choose to unsubscribe.
Practice good list hygiene. In addition to removing inactive addresses, Questline Digital Project Manager Summer Corson says senders should regularly check email lists for broken or misspelled addresses, delete duplicated recipients and remove addresses that show up as bounces or who have unsubscribed. "This can help boost their deliverability and open rates for their emails," she says.
Boost Deliverability with Questline Digital
With our email marketing solutions, reaching your customers' inboxes is easy and stress-free. Questline Digital's email deployment specialists ensure your communications exhibit the positive email deliverability factors ISPs look for and monitor sends from start to finish.
Leverage Questline Digital's email deliverability expertise to reach the right customers with the right messages for your energy utility.