Effective email list management is critical to digital marketing success. By building digital relationships with residential and business customers, and growing lists to reach more customers, utilities can achieve marketing goals, increase program participation and boost customer satisfaction.
However, as customers ebb and flow, so does your email list. Addresses become inconsistent or nonexistent as they move or change email platforms. To reach your utility's customers, it's vital to focus on how to grow your customer database with email list growth hacks.
It's also important to avoid the negative consequences of poor list management. These can range from complaints and reduced satisfaction to potential legal implications of "spamming" customers who don't want to be emailed.
The following email list growth hacks will help your utility boost open rates, reduce opt-out and complaint rates, and improve digital marketing performance by connecting with the right customers.
Email List Size: Bigger Isn't Always Better
Quality over quantity. It's a well-known phrase, but when it comes to email list growth hacks, it's easy to think more along the lines of "bigger is better."
Of course, engaging with more of your customers using relevant content they want to receive is a worthy goal and can result in huge gains in customer satisfaction. But the key here is engagement. Growing a list just for the sake of growth is a big mistake.
Questline Digital has found that without proactive list management, many of our utility partners find up to 80% of their email list has gone inactive and not opened or clicked an email within the past year. Why is that important?
There are several drawbacks to poor email list management:
Keeps your messages out of customers' inboxes. All major ISPs now use subscriber engagement as a primary factor in whether they deliver your messages to the inbox, send it to the junk folder, or block it entirely. Questline Digital monitors something called "inbox placement" to see whether the messages we send for our clients are actually reaching the inbox. We have found that repeatedly sending to subscribers who don't interact with your emails actually lowers sender reputation scores and the rate at which your mail gets placed in the inbox — even for those customers who have engaged in the past.
Skews your metrics (for the worse!). Sending to a large number of inactive subscribers not only lowers deliverability metrics, but it results in lower open rates, click rates and other key performance indicators. It's hard to get a clear picture of your success with all that dead weight.
Damages customer relationships. As much as we'd like them to, not every customer wants to interact with their utility on a regular basis. For some, reliably delivering the energy they need is enough and they just aren't interested in the information you're sending. Email can be a very personal thing for some people. Don't upset them by continuing to send messages they are never going to read.
7 Proven Email List Growth Hacks
To effectively communicate with more of your utility's customers, take advantage of the following email list growth hacks.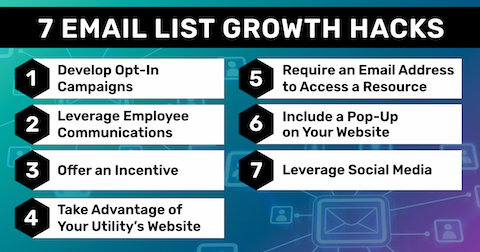 1. Develop opt-in campaigns
Opt-in email campaigns are easy solutions that let customers choose when they hear from your utility. By identifying what customers are interested in, your utility can encourage customers to sign up for emails based on those interests. For example, a customer may be looking to purchase an electric vehicle soon so they would enjoy receiving educational resources from your utility about EVs.
While some customers may choose not to participate, the ones who opt in will be valuable contacts who engage with the content your utility sends them.
Questline Digital recently produced an opt-in campaign for PSEG Long Island. We created banner ads to place on the utility's website to encourage customers to sign up for its email newsletters. The banner ads led directly to a signup form where customers could specify what communications they were interested in – home, small/medium business or large business. Since its installment in November 2019, this creative campaign has led to 12,885 successful new registrations for PSEG Long Island's newsletters.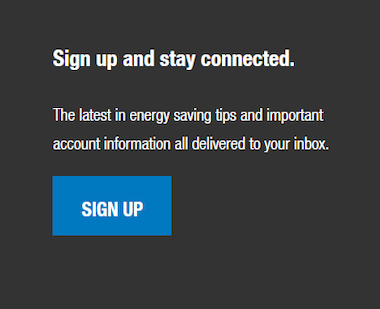 2. Leverage employee touchpoints
For customers who often interact with account managers, like Key Accounts or Commercial & Industrial customers, adding information about opting-in to an email list can be an effective email list growth hack.
The trust that is built between account managers and their customers encourages customers to listen and act when informed about something as simple as signing up for an email list. Ask account managers to encourage their customers to share your utility's emails with others in their business or industry.
For other employees, such as customer experience associates, add intuitive questions to call center scripts that demonstrate the benefits of receiving emails from your energy utility. After all, one of the best ways to acquire a customer's email address is to just ask for it. These questions could include:
"Would you like to be notified of storm alerts and potential outages in your area?"
"What is the best way to reach you via email to share cost-saving energy tips for your home?"
For example, if electric vehicle owners are seeking EV information on your website or via your call center, you can ask them to opt-in to your email to receive program updates.
These questions are especially effective when new or moving customers call to add or change their service and they are open to starting an engaged relationship with their utility.
3. Offer an incentive
Incentives can be the extra push some customers need to sign up for your utility's email communications. When customers receive something in return after signing up, they're more likely to do so.
When Elk River was looking to increase subscriptions to its quarterly newsletter, the utility began a promotion for customers to receive a reusable grocery bag and four LED lightbulbs after signing up.
To make the promotion even more interesting, the utility's Conservation and Key Accounts Manager, Tom Sagstetter, hand-delivered the items to each customer. This promotion increased the utility's email list size exponentially. Sagstetter delivered more than 300 packages and increased readership by just as many.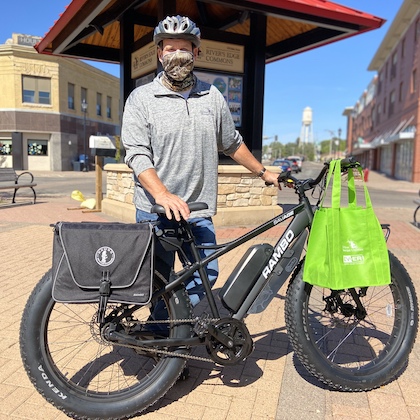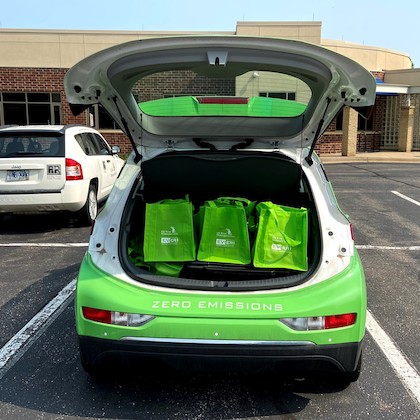 "The newsletter is a great way to have more regular contact with our customers in a way that's less formal than, say, their bill," Sagstetter says. "The promotion we offered not only helped increase newsletter signups, it also helped extend the reach of our conservation message. By delivering the items myself, I was able to talk directly to customers about efficiency and what they were going to get ongoing in the newsletter."
4. Take advantage of your utility's website
Customers are likely already visiting your utility's website to make payments or see past billing statements. Remind customers that you can deliver additional helpful content, like energy education or information about cost-savings programs, directly to their inboxes with this email list growth hack.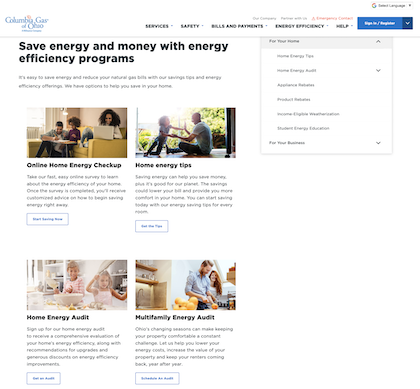 Add simple email signup forms to your website that correspond to the content on each page. For example:
On an energy efficiency program page you could suggest, "Enter your email address to receive energy-saving tips and rebates."
The call-to-action on a safety education page might be, "Sign up to get more home safety and energy efficiency advice."
5. Require an email to access a resource
Consider offering webinars to customers that allow them to learn more about your energy efficiency programs, paperless billing, payment assistance services and more. Or offer consultations for energy-savings education, like an at-home energy assessment.
When providing these resources, require a user to enter their email address to access or sign up for them. Ensure you place an opt-in message so customers know that by signing up, they accept being added to your utility's email list.
This is not only a great email list growth hack, it's also a way to find out what topics customers are interested in.
During the height of the pandemic, National Grid and Eversource partnered on webinars to share payment assistance resources for customers. They were produced with closed captioning and broadcast separately in Spanish and Portuguese and included an American Sign Language (ASL) interpreter. Over 9,770 total customers registered for the webinars — providing numerous new emails for the utilities.
City of Palo Alto provides similar resources to its customers year-round. The utility offers educational resources on topics like solar power technology, alternative water supplies, electric vehicles and more. Each event is promoted on the City of Palo Alto's website and gathers names and email addresses when customers register.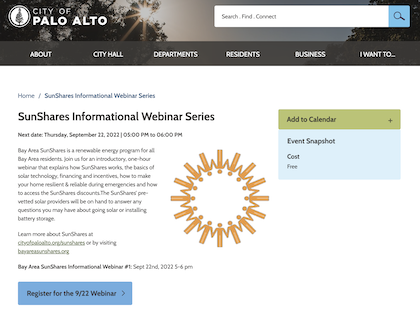 6. Include a pop-up form on your website
Pop-ups serve as a powerful call-to-action for customers. The important thing to remember with this email list growth hack is to ensure it doesn't disrupt the customer's experience on your website. Make the message clear, to the point and easy for them to click out of if they choose not to opt-in to your list.
Typically, pop-ups are displayed when a user intends to leave the website; after a certain percentage of the page has been scrolled through; or after a visitor has been active on the website for 10 seconds. Test which pop-ups work best for your utility to see your email list grow.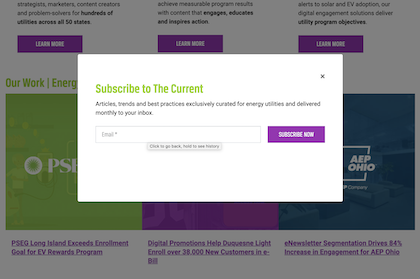 The Forbes Agency Council suggests, "Not every visitor needs to be asked to join your mailing list. Try using pop-ups on specific pages or for specific audiences, such as returning visitors who've already engaged with your brand but aren't in your customer relationship management system."
7. Leverage social media
Your Facebook, Twitter or Instagram followers might be interested in relevant updates delivered via email. When you post on social media sites asking customers if they are interested in receiving updates, make sure you emphasize convenience and interests that appeal to social users.
For example:
"Never miss an update. Get the latest energy-saving tips sent straight to your inbox."
"Sign up to learn more about sustainability and renewable energy."
Set up social media campaigns to advertise your emails either with a sign-up form directly on the post or with a link that directs customers to a sign-up form.
Through social media you can show customers what they can expect from your utility's emails. You can do this by using video or imagery that shows content they might receive.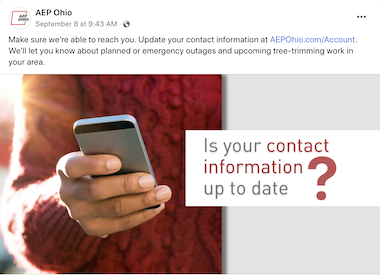 "Social media is a really powerful tool for utilities," says Alexandra Greenberg, Questline Digitals' Content Strategist. "It offers a direct way to reach customers and share helpful tips or interesting energy facts to keep them engaged. But it's also a great way for utilities to promote their services and offerings. People really pay attention to social media, and that makes it an essential platform for utilities to communicate with customers."
Email List Growth Hacks to Avoid
Not all methods of growing an email list are acceptable — either technically or ethically. When planning an email list growth hacks strategy, avoid the following approaches:
Buying email lists: When your primary goal is to grow your list as quickly as possible, there's a good chance you aren't doing it organically. Buying lists, data mining from other departments or similar tactics can be counterproductive to your overall business goals. While it may technically be the fastest way to achieve an increased email list, it's also the number-one mistake marketers could make. There is no way to ensure the purchased emails are legitimate or users who would be interested in your utility's content. Make sure you keep the business goal in mind. Doubling your list has no effect on the end business goal if it results in a 50% reduction in inbox placement.
Adding email addresses without permission: Your utility should only send emails to customers who have expressed direct permission to receive them. Otherwise, adding emails without permission will make not only your customers upset, but it could land your utility in legal trouble as well.
Asking for too much information: If customers are interested in signing up for your utility's emails, don't make them jump through hoops to do so. Ask them for their general contact information, like their name, email address and phone number. Asking too much personal information can come off as spammy and push the customer to distrust your utility.
Offering an incentive that's not valuable: As mentioned above, offering an incentive is an effective email list growth hack to encourage customers to sign up for your emails. However, ensure you are offering an incentive that is of value to customers, such as Elk River's LED lightbulbs promotion. Don't try to offer a rebate that expires tomorrow or a deal that can only be used if you go through X, Y and Z steps.
Sending too many emails: Congratulations — you've grown your email list. Now, ensure your email marketing strategy is consistent and that customers know what to expect. Sending multiple emails in one week could frustrate customers and encourage them to unsubscribe from your utility's list, which would be counterintuitive to your progress.
Follow Opt-Out Rules and Opt-In Best Practices
Marketers often wrongly assume that bigger is always better when it comes to customer email lists. While you want to reach as many customers as you can to maximize the impact of your message, that effort is only effective if you email engaged customers who want to hear from your utility.
Adding unengaged customers to your list, on the other hand, could have a negative impact on email performance.
Open rates and click-through rates will decline when unengaged customers ignore or delete your messages. That makes it harder to analyze metrics and optimize the campaign for customers who do want to receive it.
Unengaged customers may unsubscribe from your list, allow your message to languish in junk folders, or mark it as "spam." This will not only impact your deliverability metrics, it could affect your reputation with email service providers — threatening your ability to deliver future email to engaged customers.
The way you manage customer info on your email list is not just governed by common sense and courtesy, it's regulated by federal law.
The CAN-SPAM act, which is enforced by the Federal Trade Commission, gives consumers the right to have you stop emailing them — with potential penalties of more than $40,000 for each email in violation. While that could be expensive, the longer-term cost would be the loss of customer satisfaction from repeatedly emailing people who don't want to hear from you — and ignoring them when they ask you to stop.
Follow these best practices to properly add and remove customers from your email list:
Ask customers to opt-in to your lists and use active opt-in methods (avoid passive or automatic opt-in tactics such as a pre-checked opt-in box). You want customers to choose to receive messages from you.
Make it clear to customers what they are signing up for. Allow separate opt-ins and opt-outs for different lists and explain the purpose and cadence of each one.
While customers may opt-out of receiving certain types of messages, you must also include an option that allows them to stop all messages from you.
Make signup easy and unsubscribing easier. Every email message must include a conspicuous explanation of how to opt-out that is easy for an ordinary person to recognize and understand.
Connecting with the Right Customers
Your email marketing strategy will not be successful by reaching the most customers, it will succeed by reaching the right customers. With these email list growth hacks to acquire new contacts, grow and maintain email lists, you can reduce complaints from unengaged customers while nurturing long-term relationships with engaged customers.
The email list growth hacks above are some tried-and-true methods to increase list size, but don't be afraid to test different ways of reaching customers. With the right strategy, your utility can see significant growth in your email list and improve open and click rates.
Learn how an engagement strategy from Questline Digital can grow your utility's email lists and build stronger connections with customers.