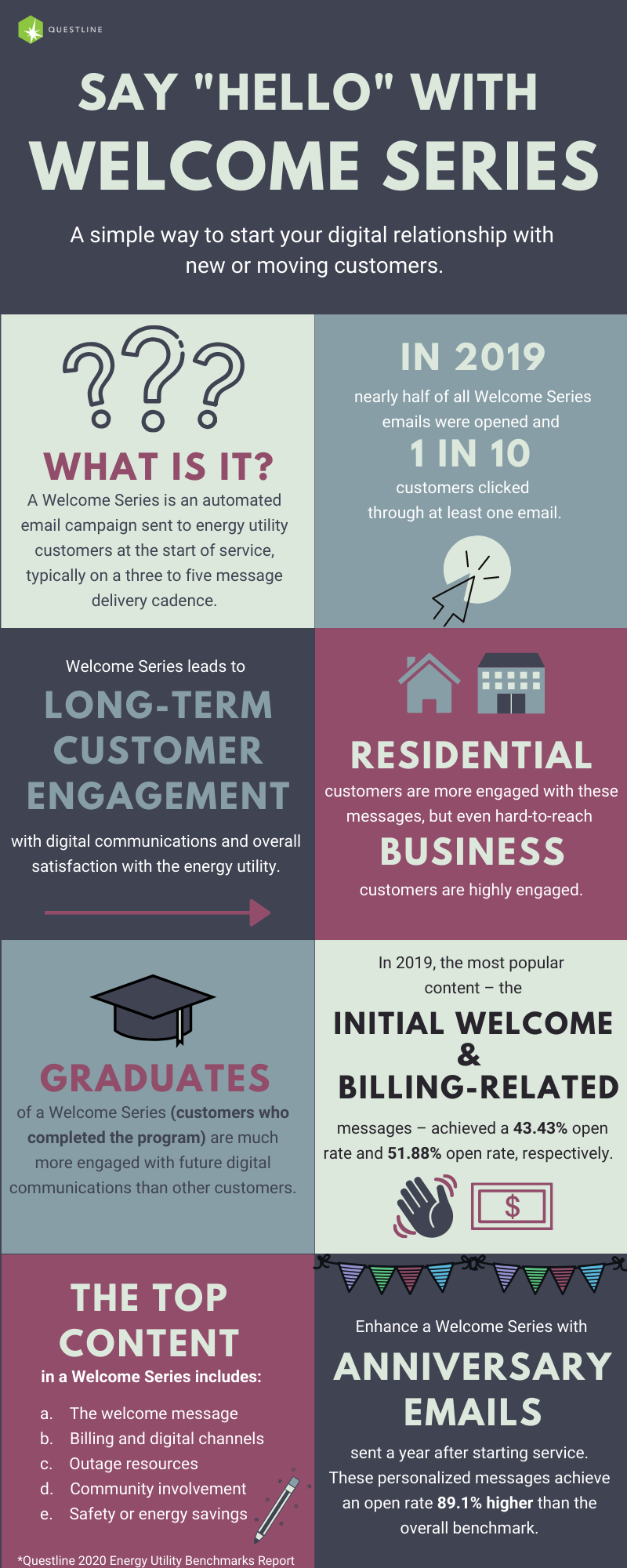 A Welcome Series is an effective campaign to drive traffic to energy utility programs by simply saying "hello" to new or moving customers at the start of service. Through three to five email messages, you can increase customer engagement and drive program promotion conversions.
Over the years, Welcome Series has consistently ranked as Questline's top-performing campaign with high open, click-to-open and click-through rates. In fact, 2019 saw our highest Welcome Series engagement in benchmark history, with a 98.8% delivery rate and 45.0% open rate.
The content that often performs best in a Welcome Series campaign includes:
The welcome message. This is the most important message that receives the highest level of engagement. Keep it succinct and focused on improving customer lives.
Billing and digital channels. The message with the second highest engagement rate. Introduce customers to your utility's billing options and digital channels.
Outage resources. Inform customers of the variety of ways to receive outage updates and invite them to register for text notifications.
Community involvement. Use this message to focus on your energy utility's community efforts and plans.
Safety or energy savings. Engage and educate customers on safety topics through videos, infographics or interactive quizzes. You can also take an energy savings focus in this message and promote energy efficiency rebates and programs.
Graduates of a Welcome Series campaign are much more engaged with program promotions and ancillary messages from their utility than those who did not participate in a Welcome Series. Even more, anniversary emails create a valuable touchpoint with Welcome Series customers after the initial campaign ends. These personalized communications sent one year after a customer begins service exceed benchmarks, with an open rate 89.1% higher than the overall benchmark.
A Welcome Series campaign can lead to long-term engagement with your energy utility. Start this relationship off strong with a warm welcome to your customers.
Learn how to build customer engagement from day one with a Questline Welcome Series.