Marketplace Content
Boost engagement and increase sales with a content strategy for your energy utility marketplace
Marketplace sites are a way for energy utilities to promote the purchase of energy-efficient products and drive non-traditional revenue. But while online shopping is rapidly growing, utilities still face an uphill battle to break through the crowded e-commerce field dominated by major retail and technology titans. Questline's Marketplace Content solution positions your utility as a trusted energy resource, allowing you to educate customers, connect them with rebates and programs, and increase sales.
How to educate marketplace customers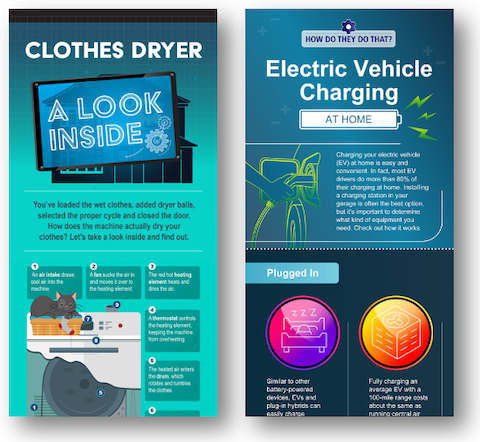 Nearly 20% of all retail shopping is now done online, according to the U.S. Census, a decade-long trend that will only continue to grow. Your customers are looking for appliances and other home products online — your marketplace site should be the best resource to inform their purchases.
And customers want your advice. According to SECC research, 42% of consumers said the endorsement of their utility would influence their adoption of new energy technologies. With a content marketing strategy, you can connect with online customers and demonstrate that your utility is the best source for energy-related products.
With Questline's content you can answer customer questions about your marketplace products. You can guide them to energy-efficient purchases. And you can show them how easy and convenient it is to use smart home devices. Useful content will set your marketplace apart from other e-commerce sites, boosting sales and driving customer satisfaction.
Why our Marketplace Content solution works:
Uses high-quality, relevant content to inform purchase decisions.
Engages customers with memorable, shareable video and multimedia content.
Provides answers, advice and useful information that customers want.
Connects customers with rebates, appliance recycling and other programs.
The benefits of online marketplaces for utilities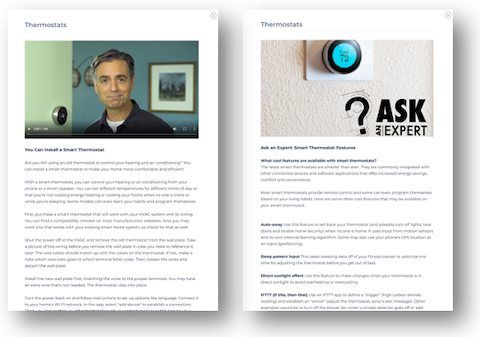 As energy utilities work to build long-term engagement and customer satisfaction, it's important to connect with customers where they are. If you want to educate customers and help inform their energy use, you need to be part of their decision-making process — which is increasingly online.
There are a variety of ways that energy utilities benefit from marketplace sites:
Digital relationships: Build engagement and loyalty as you help customers make purchase and lifestyle decisions.
Program participation: Promote energy efficiency, electrification, appliance recycling, rebates and other programs.
Smart home adoption: Connect demand response programs and time-of-use rate options with the convenience of smart devices.
New revenue streams: Grow non-traditional revenue by building on your utility's reputation as a trusted energy expert.
Help customers make smart energy purchases on your marketplace site
Your marketplace competes for sales with the world's largest e-commerce companies. But these retail giants could never match the unique relationship your customers have with their energy provider. They look to you for energy advice. With the right content marketing strategy, you can grow marketplace sales while also acting as a trusted resource that helps customers make smart energy purchases.
Learn more about Questline's Marketplace Content solutions.
Submit the form below and we will contact you with more information.