From the convenience of our smartphones, we can easily lower the temperature of our home, turn on the lights before entering the front door and better manage our overall energy usage.
For energy utilities, it's imperative to harness the opportunities tied to this growing technology. Running a smart home campaign or weaving smart home promotions throughout your customer communications can help your target audience adopt these devices and better manage their energy use.
Check out the following ideas for promoting smart home devices and encouraging their use for energy efficiency.
Consider Your Customers' Motivations for Smart Home Adoption
Some of your customers will have great familiarity with smart devices while others may be intimidated or unaware. You'll need to promote the right benefit to catch their attention and educate them. Research from E Source shows that the most effective messages for promoting smart devices include:
Convenience
Security
Savings
Ease of use
Control
These customer motivations can be used to build separate smart home campaigns for different target audiences. Try segmenting customers based on interests so you can put high-impact messages in front of them.
Tech-savvy customers will care more about the latest upgrades and taking advantage of the smart devices' advanced features
Green-conscious customers will want to learn how to reduce energy consumption with automated controls
Budget-conscious customers, or those on alternative rate plans, will appreciate tips on how to save money with smart devices
Older customers and homeowners will care about the enhanced security features smart products provide
See how this Midwest utility promoted different benefits through email marketing campaigns. With knowledge about customer motivations, messages like "preserve our planet" were sent to customers who'd shown interaction with previous environmental promotions, while the promise to "save more" was sent to low-income and budget-conscious audiences.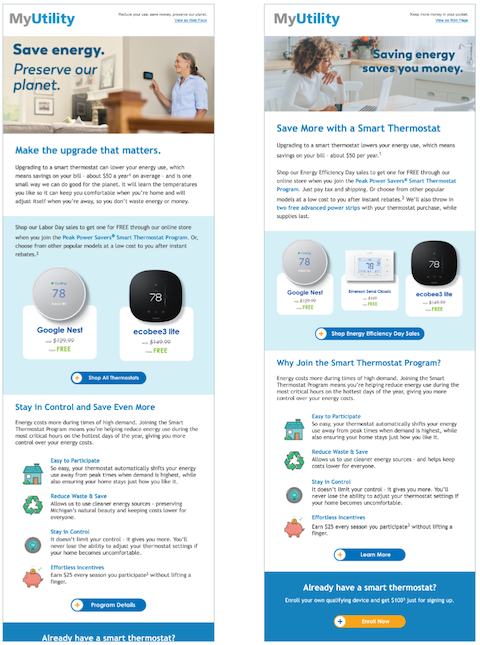 Help Customers Save with Smart Home Incentives
To encourage customers to take the next step and purchase a smart home device, consider offering rebates and incentives. Energy utilities are collaborating with smart thermostat manufacturers like Nest to provide customer incentives. These smart home campaigns and incentive programs are often tied to demand response initiatives.
For example, see how this Midwest utility promotes a $100 smart thermostat rebate alongside enrollment for its Smart Thermostat program.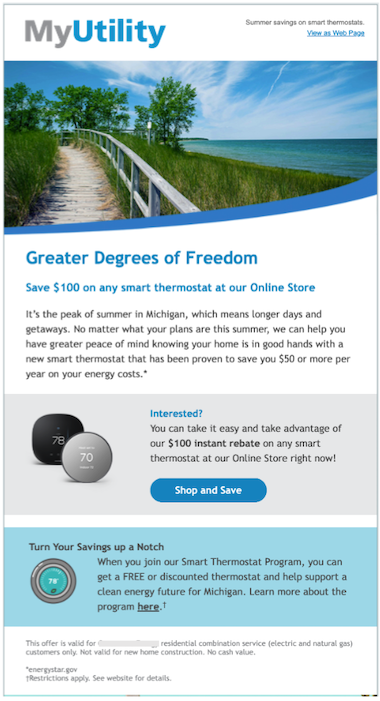 Additionally, check out how Austin Energy promotes smart devices and rebates via its Facebook page.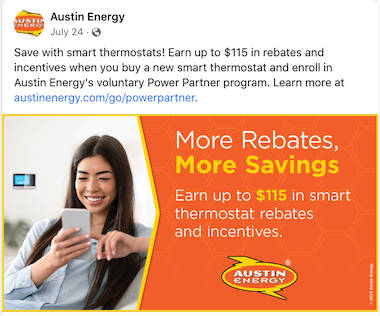 Include Local Partners in Smart Home Campaigns
Smart technology also has opportunities beyond individual sales. Energy utilities are joining forces with local partners to help increase energy efficiency in their communities through smart home technology.
Georgia Power collaborated with Atlanta-based builder PulteGroup, the City of Atlanta and the U.S. Department of Energy to create the city's first Smart Neighborhood. The innovative homes are equipped with a variety of energy-efficient measures including smart home upgrades, rooftop solar and in-home battery storage systems.
Likewise, Alabama Power partnered with Vivint Smart Home and local builders to develop the first Smart Neighborhood in the state. Located in Birmingham, the community is 35% more energy efficient than comparable homes in the area.
Ramp Up Your Marketplace Promotions
Your smart home campaign should make it obvious to customers that they can shop for energy-saving products through your utility. Your marketplace is filled with energy-efficient gadgets at a discounted rate and offers home services, energy-saving program enrollments and accessible financing options. Make sure customers know your marketplace exists and how to find it.
Some ideas for promoting your marketplace include:
Homepage banner on your website
Including your marketplace in the main website navigation
Regular email promotions
Employee email signatures
Social media posts
Digital advertisements
Search engine optimization (SEO)
Search engine marketing (SEM)
Direct mail
FirstEnergy Home sends timely email communications to customers promoting the wide range of smart products in their marketplace. The messaging often ties back to energy efficiency but also promotes benefits like security and convenience.
Share Smart Home Tips for Saving Energy
To truly encourage energy-efficient behaviors, focus on educating customers, not just selling products.
Teach customers how smart homes can be more energy efficient. Showcase articles, infographics, videos and interactive quizzes that demonstrate how smart devices can be employed to curb energy consumption.
Sharing tips and tricks through content on social media, on your website, in your marketplace or with a monthly newsletter can help your utility grow its reputation as a trusted resource.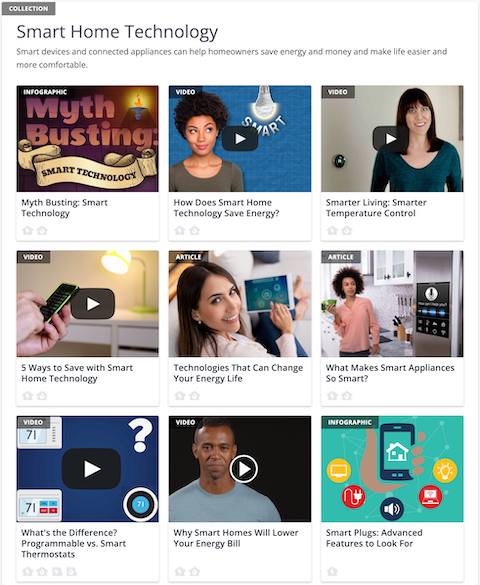 Pro Tip: Don't forget to also point out where smart devices might unintentionally use more energy. Some smart home devices, like smart speakers, can increase the amount of electricity a home uses. In comparison, devices such as smart thermostats and smart power strips are effective ways to reduce electricity usage.
Harnessing the Power of Smart Home Campaigns
Energy utilities across the country are taking advantage of smart technology to improve customer satisfaction, achieve program goals and make a positive difference in the community. The smart home is only getting smarter. How is your energy utility harnessing these technologies to engage and empower customers?
Show customers how to use smart home technology in every room of the house with a campaign strategy from Questline Digital.