As energy providers look to strengthen relationships with their customers, many are launching utility marketplace websites to sell energy-related products and services.
Energy utility marketplaces are appearing in two distinct categories:
Project marketplaces connect customers interested in energy efficiency and home improvement solutions with certified professionals. These marketplaces include installation services for EV charging stations, solar panels and even home security and smart home hubs.
Product marketplaces are e-commerce-style websites where customers can purchase smart thermostats, ENERGY STAR® appliances, LED lighting, advanced power strips and other efficiency-related products directly from their energy utility.
Energy utilities face an uphill battle to break through the crowded field of marketplaces dominated by titans like Amazon and Walmart. This competition, coupled with the fact that the average e-commerce site conversion rate is between 2% and 3%, reinforces how energy utilities are fighting for a slim share of a very crowded market.
How can energy utilities break through the noise?
A Trusted Marketplace For Energy Products
Though challenging, energy utilities actually have a few competitive advantages over established e-commerce players.
If you search on Amazon for LED lightbulbs, you'll find more than 10,000 results. However, there are few recognizable brands to choose from and it's hard to compare the many features and prices.
Your customers are busy and don't have the time or patience to wade through the overwhelming number of options.
In comparison, your utility marketplace offers fewer products that have been vetted by your energy utility, ensuring authenticity and reliability.
Customers want a simple recommendation they can trust, and your energy utility can provide that.
What's Missing From Today's Energy Utility Online Shops?
Currently, most utility online shops aren't built to match the e-commerce shopping experience customers have come to expect. Shoppers are used to having an easy-to-use search tool, personalized recommendations, product reviews, linked tutorials, and more. Without these features, online shoppers are apt to jump over to more user-friendly sites.
Most utility marketplaces also lack search engine optimization (SEO). Product listings are not discoverable to consumers and remain reliant on marketing promotions. Yet, promotions have historically been limited to occasional bill inserts and mass messages to all customers.
In order to be successful in today's crowded smart tech market, energy utilities will need to embrace the advanced marketing tactics used by e-commerce brands.
"Energy marketplaces are really an e-commerce business, and they need to be treated as such," explains Mark Wilkinson, SVP Products at ibex Digital. "Utilities should really embrace the e-commerce philosophy. It comes down to personalized, timely and relevant marketing. Something that direct-to-consumer brands do very well."
Driving repeat and regular traffic to utility online shops is now essential.
How to Market Your Energy Utility Marketplace
In order to fully realize the potential of marketplaces, energy utilities should implement a multifaceted marketing strategy to drive awareness, traffic and conversions.
Here are a few impactful ways to better market your utility marketplace:
Content marketing: Before making a purchase, customers need to learn about the energy efficient or smart home products in your marketplace. Why do they need them? How do they use them? What are the benefits?
Content is great for boosting awareness and developing interest. Use blog posts, videos, social media and infographics to educate customers on utility marketplace products and how they fit in their daily lives. Share content across eNewsletters, social media and on your marketplace itself.
Incorporate links to related products and calls-to-action within your content to create an organic buying experience. For example, include a CTA to your marketplace in an article about smart home technology or an infographic featuring energy-savings tips. Content marketing leads your customers to the next step naturally.
Be relevant and timely: Purchases are also tied to triggers and events, making relevancy and timeliness key for e-commerce marketing. Get in front of customers when they are making buying decisions.
Capitalize on seasonal changes and holidays; put rebates and product promotions in front of customers when they are most likely to make a purchase.
Behavioral emails: Use scheduled email cadences to encourage action and build a positive customer experience. Build timelines that match customer behaviors.
Let's say someone bought a new smart thermostat. Send them an instructional email after their shipment is delivered with tips on how to install. Then send an email three or four days later that helps them learn how to take the next steps with program enrollment. If they don't enroll or open that email, have a reminder sent a few days later. Then in a month, follow up with suggested products that complement their previous purchase.
"We always recommend tackling behavioral promotions in small chunks," explains Wilkinson. "Offer recommendations and cross-promotions (people who bought this also liked…) and follow-up emails related to customer's purchases to really help the experience. It doesn't have to be overly complicated and can lead to immediate results."
Abandoned cart emails: Emailing customers who have abandoned shopping carts is a successful strategy for driving incremental conversions. By sending an automated message, you can offer additional incentives such as a coupon to complete the sale at a lower cost. These easy-to-implement emails achieve success rates between 27% and 30%.
Audience segmentation: Energy utility customers encompass a vast set of demographics. Understanding the wants and needs of different groups is monumental for utility marketplace promotions.
Let's say you identify a segment of empty nesters who also have pets. This audience is primed for streaming cameras or security systems that allow owners to check in on their animals.
"Segmentation can really benefit topic and tone for utility marketplace promotions," explains Wilkinson. "Customers get interested in the same product in very different ways, so understanding the customer personas really helps develop traffic and ultimately sales on a utility marketplace."
Tie in program promotions: The biggest win for utilities may be tying marketplace sales to program enrollments. For example, when customers are checking out for their smart thermostat, utilities can incorporate prompts to sign up for time-of-use (TOU) rate programs.
Program prompts can be built into the marketplace itself, or they can function more like a follow-up email. Today, consumers expect an effortless shopping experience. Take the extra step to make the connections between products and programs.
Examples of Great Utility Marketplace Promotions
The energy utilities finding success with energy marketplaces are those who actively promote and follow e-commerce standards. Check out these examples:
First Energy Home
Experimentation with social media, display ads, content, email promotions and search engine marketing (SEM) has allowed First Energy to build brand recognition for their utility marketplace.
Holiday Promotions
In an effort to be timely and relevant, this Questline Digital client has seen success with promoting its marketplace and product rebates around holidays.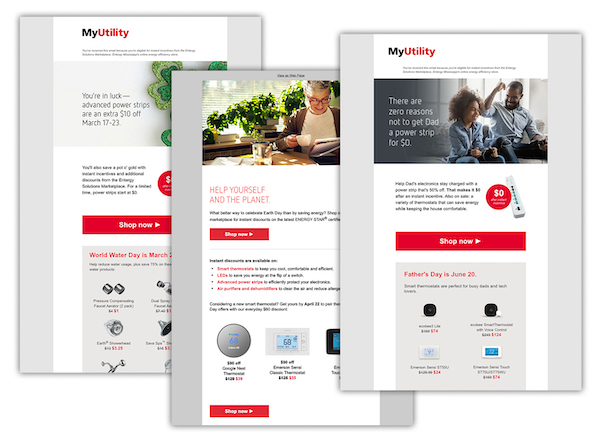 Examples of Great e-Commerce Content
Still not sure how to promote your utility's marketplace? Pull inspiration from brands that have mastered e-commerce.
Williams Sonoma is great at using content to sell. Their emails often include how-to cooking videos with links to products used during tutorials. Plus, emails are sent to customers based on previous shopping and site visitation behaviors.
Were you looking at their bread mixes? Then you might receive an email in a few days that highlights their baking and pastry tools, bakeware and easy-to-prepare croissants. It will likely be paired with a supplementary video that provides a few baking tips or links to fan-favorite bread recipes – all the things you might need next after your initial purchase.
Williams Sonoma understands their customers and their buyer journey. The retailer knows that basic purchases tend to lead toward future specialty products.
Similarly, smart thermostats are often the first smart tech product purchased. After an initial trial period, customers who found value in the product tend to expand their smart tech collection.
Take inspiration from brands like Williams Sonoma and build content strategies that ensure your utility is present when customers are ready for the next step. Offer help and guidance.
Be the Trusted Expert for Energy Products
While it can seem like an uphill battle to compete with colossal retailers, energy utilities should use their industry expertise to their advantage.
Your customers trust your energy utility and the products you recommend — and that's a great place to start when promoting your marketplace.
Complement your competitive advantage with helpful content and timely promotions, and your energy utility will see results.
Learn how to boost engagement and grow sales with an Energy Marketplace Content strategy from Questline Digital.