The benefits of choosing paperless billing may be obvious to you. But your customers may not understand these benefits, or they may not be properly incentivized to give up paper bills and make the switch. Follow these e billing best practices to improve your energy utility's e bill marketing and boost conversion rates.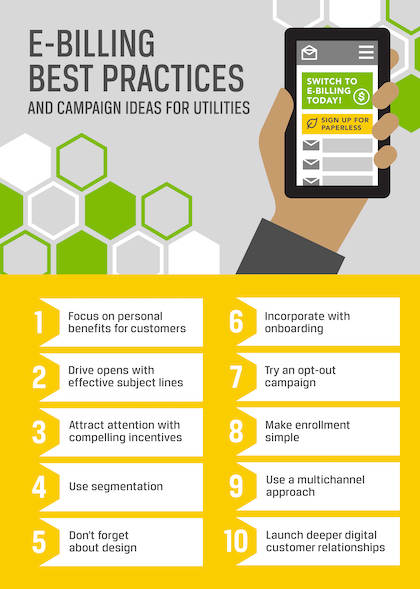 E billing best practice #1: Focus on personal benefits for customers
Your messaging should help customers understand the benefits of paperless billing and overcome potential barriers that might stand in the way of adoption. The most successful messages speak directly to the customer, use personal language ("you") and address the ways that paperless billing makes everyday life easier. Focus on solving problems, not just offering a new payment option.
In Questline Digital's experience creating paperless conversion campaigns for energy utilities, the benefits that most appeal to customers are: 
Simple; easy to manage and pay from anywhere
Affordable; no need to buy stamps or worry about late fees
Convenient; saves time and fits into your on-the-go lifestyle
Eco-friendly; reduce your environmental footprint by using less paper
Reliable; never forget or lose track of a bill again
Secure; safely manage statements and payments online
E billing best practice #2: Drive opens with effective subject lines
The best email subject lines are upbeat, active and strike a personal tone while encouraging the customer to open the message. Short subject lines are best for capturing the attention of residential customers. Questline Digital data shows that subject lines with 40 to 50 characters perform best.
According to metrics from the many paperless billing campaigns Questline Digital has deployed for energy utilities, the top-performing subject line was, "You've got eBill and a $10 gift card." This campaign achieved a 77% open rate, compared to 21% for the average campaign.
E billing best practice #3: Attract attention with compelling incentives
Incentives pay off in paperless billing campaigns, enticing customers with the promise of a contest prize or financial benefit. Not only do incentives boost email open rates, but incentives also increase conversions.
The most successful incentives are small giveaways awarded to everyone who signs up for paperless billing (including LED lightbulbs and $5 gift cards). Contest entries that award a single large prize (such as $1,000 cash or major league sports tickets) have been less successful.
Offering an incentive pays off with higher conversion rates (and by reaching participation goals more quickly). Paperless billing campaigns that award an incentive achieve a 34% conversion rate on average. In comparison, campaigns with no incentive achieve a 23% conversion rate on average.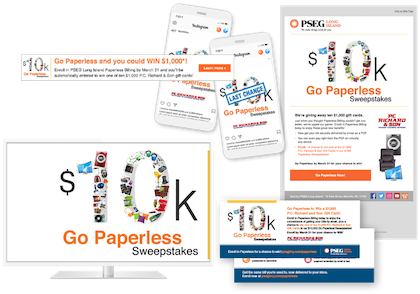 E billing best practice #4: Use segmentation
The same message or incentive is unlikely to work with all customers. Instead, your utility should segment customers into groups and build campaigns that speak to the specific concerns of each audience.
McKinsey's Next in Personalization 2021 Report shares that, "71% of consumers expect companies to deliver personalized interactions. And 76% get frustrated when this doesn't happen." Furthermore, McKinsey shares that companies that excel at personalization generate 40% more revenue from those activities than those who don't.
As this data showcases, personalization is a must-do e billing best practice. Here are several ways you can segment your paperless promotion emails:
People who pay online but still get paper statements
Follow up with those who didn't complete e bill signup
Eco-friendly message to EV customers
Convenience message to busy professionals and parents
Security message to older audiences or customers with smart security systems
Decluttering and convenience message to small business owners
E billing best practice #5: Don't forget about design
You want the imagery in your e bill promotions to be relatable to customers, eye-catching and relevant. Consider your specific audience demographics and build in visual elements that help customers see themselves in your campaigns.
People – age, gender, race, socioeconomic status
Region-specific – weather, transportation, landscape, city landmarks
Customer interests – sports, culture, the environment, value and motivations
For example, Questline Digital worked with the Pittsburgh electric utility Duquesne Light to alter imagery to represent Steelers and Penguins sports team colors. This small alteration made the email campaign more relatable to the group of recipients.
How you display these images also matters. Consider designing around the inverted triangle strategy, grabbing a customers' attention at the top, building anticipation in the headline and first few sentences and then taking them to the call-to-action.
To ensure the email is easy for customers to read, there should be plenty of white space throughout the design, clear line breaks and adequate use of bullets or icons.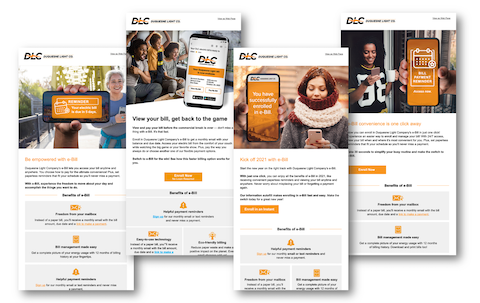 E billing best practice #6: Incorporate with onboarding
It can be difficult to encourage customers to switch their behaviors, even when there are clear benefits or reasons to do so. Humans are creatures of habit and change isn't easy.
Get customers enrolled in e billing on day one. Share electronic payment options at the start of service so you don't have to convince customers to change later. Include prompts in onboarding materials and welcome emails, or run e billing campaigns at the beginning of the customer lifecycle.
E billing best practice #7: Try an opt-out campaign
Rather than asking customers to sign up, automatically enroll them in e bill and give them an opportunity to opt-out. If you take this approach, ensure you have adequate communication that keeps customers informed.
For example, Questline Digital ran an opt-out campaign with a Southeast utility. We targeted customers who received both a paper and e bill, but who had made at least one electronic payment in the past. This audience segment was automatically enrolled in the program but given the chance to opt-out and continue receiving paper bills. The opt-out campaign received positive customer feedback, with 90% of customers remaining enrolled. 
E billing best practice #8: Make enrollment simple
Customers abandon complicated digital processes. In fact, a study by Splitit showed that 87% of online shoppers abandon their carts during the checkout if the process is too long or complicated. Signing up for paperless billing is no different – customers want frictionless digital experiences.
Remove as many steps as possible for your customers. One effective way to do this is by auto filling forms with dynamic coding.
Questline Digital worked with PSE&G to set up one-click enrollment, making the sign-up process as easy as possible. Customers who clicked on the call-to-action within an email campaign were automatically taken to a landing page to confirm their information in a prepopulated form and enroll in paperless billing. The ease of one-click signup encouraged customers to make the switch, enrolling 21,945 customers.
E billing best practice #9: Use a multichannel approach
Unfortunately, you can't rely on email to convert all your customers. To get the best possible results, your utility will need to employ a multichannel approach and spread out the heavy lifting.
Complement your email campaigns with channels like direct mail, social media, outdoor signage and online advertisements. Your customers may need to see your message multiple times before they act. If you can get in front of customers via multiple mediums, they're more likely to convert.
E billing best practice #10: Launch deeper digital customer relationships
Paperless billing conversions create an opportunity for long-term engagement by cementing the customer's digital relationship with their energy provider. Once converted, paperless billing subscribers are more engaged with email communications and less likely to unsubscribe compared to customers who receive paper bills.
Before converting to paperless, energy utility customers have an average email open rate of 25%, according to Questline Digital performance metrics. After converting, paperless billing customers have an average open rate of 33%.
This higher engagement rate is an opportunity to connect with customers beyond their monthly e bill — sharing program promotions, energy efficiency advice and other educational content. By following these e billing best practices and boosting conversion rates, you can reduce operational costs and build long-lasting relationships between your energy utility and its customers.
Convert more customers to paperless billing
Converting customers to e bill doesn't have to be difficult. Employ these e billing best practices and realize the many benefits of going paperless.
Learn how Questline Digital's paperless billing solution and help your energy utility reach your e bill conversion goals.