Paperless billing incentives are a tactical way to increase signups to your energy utility's eBill or paperless billing program. In addition to engaging customers, incentives drive higher click-through rates (CTR) and conversions for eBill campaigns.
What are paperless billing incentives?
Paperless billing incentives can vary, ranging from high-value prizes like tickets to a sports game or smaller giveaways for every customer who signs up for eBilling (for example, LED light bulbs and gift cards).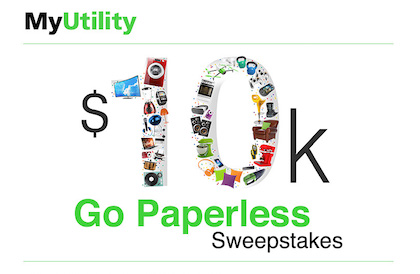 Questline Digital data shows that paperless billing promotional emails with incentives have a 17% higher open rate and 28% higher CTR than messages without incentives. Customers enjoy having the opportunity to earn prizes, especially after learning about the many benefits of paperless billing.
Still, even after identifying the right incentive, it can be daunting to build a campaign strategy that maximizes conversions.
Success starts with a subject line
An incentive-focused paperless billing email begins with an effective subject line that clearly explains the offer. If the giveaway is immediate, let your audience know by using language like "Claim your reward now."
Follow these subject line best practices for paperless billing incentives:
Subject lines that clearly state the incentive reach 13% more of their intended audience compared to subject lines that only imply an offer.
Subject lines with "We'll Pay Your Bill" in the title drive high open rates, but fewer click-throughs.
Conversely, subject lines with the word "free" typically do not perform well. This word is often associated with spam.
High-ticket prizes vs. low-cost giveaways
It's best to test high-ticket and low-cost paperless billing incentives to see what resonates most with your utility's customers. Consider having a mix of promotions included in your campaign strategy to connect with different customers and vary the giveaways.
Keep in mind that bigger paperless billing incentives do not necessarily mean bigger engagement. While large-dollar-amount prizes drive customer interest in opening promotional emails, that enthusiasm can sometimes be diminished through the contest-entry process.
The "cost" for entering into the drawing is an immediate conversion into paperless billing; this can create an unequal transaction where your customers are asked to give up paper bills for a small chance to win a reward.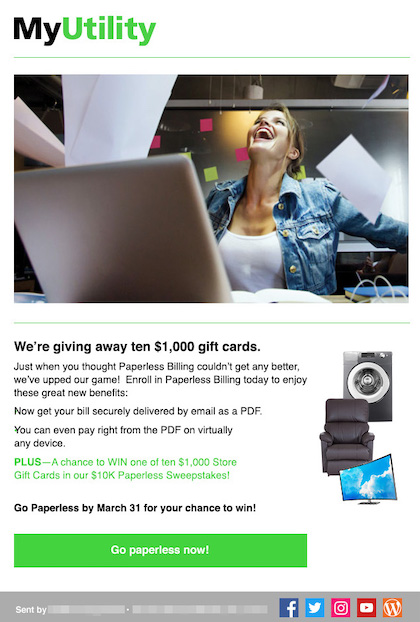 In comparison, we've found small incentives are often more effective because they have an immediate, guaranteed payoff. According to Questline Digital data, compared to a contest to win one big prize, small incentives for every customer have a 13% higher open rate and 82% higher CTR.
Based on an analysis of the paperless billing incentives campaigns deployed by Questline Digital, we have found:
Awarding a $5 gift card to all signups converts better than enter-to-win contests of $1,000 or more.
Products like LED light bulbs rank second among the best drivers of click-throughs.
Thermostats and smart home device giveaways are also top performers.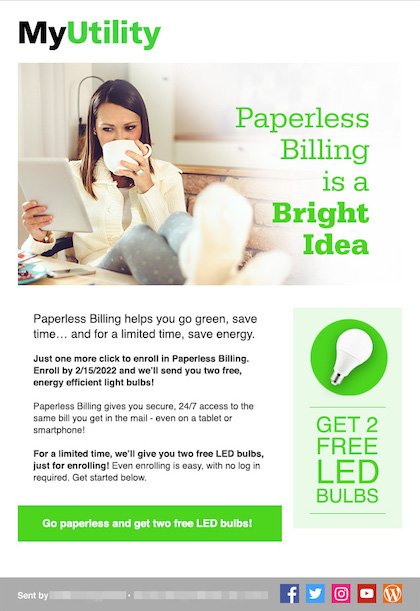 Make incentives easy to earn
Making the process easy to sign up for paperless billing is key to increasing conversions. In fact, one-click opt-ins into paperless billing programs increase conversion rates by 22%.
It should be equally easy to earn paperless billing incentives. Customers will appreciate a simple, one-click process to enroll in paperless billing, but the immediate question following signup is, "When will I get my prize?"
Make sure your utility is prepared to answer this question in detail. Share next steps with customers, including if you need to receive their mailing address for prize delivery, if they need to print a coupon or any other steps needed to redeem their incentive.
Make this process just as simple as enrolling and your customers will wonder why they didn't make the switch sooner.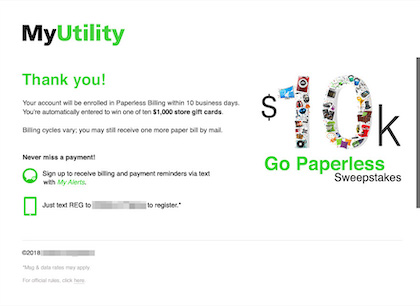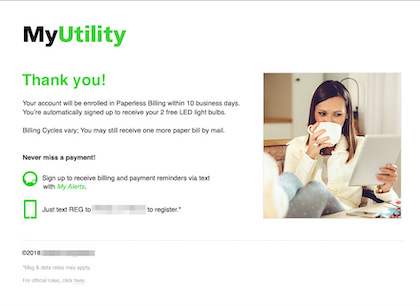 The power of paperless billing incentives
Everyone likes free things. By offering paperless billing incentives to encourage conversions, customers are more likely to embrace the benefits of eBills.
Paperless billing incentive campaigns are also a great way to encourage re-enrollment from customers who may have unenrolled from past eBill programs. Maybe they unenrolled by accident or didn't quite understand the benefits. Either way, an incentive-based campaign can be a perfect re-introduction.
Incentives provide a massive return on investment for energy utilities, saving operational costs every month for every paperless customer. That's what we like to call a win-win.
Drive more paperless billing conversions with a digital engagement strategy from Questline Digital.