For your energy utility, planned power outages are necessary for regular maintenance and reliability improvements. But for your customers, a planned outage — just like any other outage — is a disruption to their daily routine.
That's why your energy utility needs the right communication strategy in place to prepare both residential and business customers for planned outages.
"Compared to unplanned outages, planned outage communications are more informative and less urgent," says Nina Cummins, Account Director at Questline Digital. "These are calmer communications that address why a planned outage is scheduled, who it affects and the estimated time of restoration. This is information you often can't provide amid an extreme weather event."
What to Communicate Before and During a Planned Power Outage
According to Cummins, your utility should be reaching out to customers at least a couple of weeks before a planned outage to give them ample time to prepare. For instance, with enough notice, a coffee shop can inform customers about a change in business hours due to the outage.
Since customers appreciate transparency, your utility's communications should clearly explain the reasons for the planned power outage. It's also important to have an apologetic tone, acknowledging the inconvenience and disruption. For example, "We chose these times for our scheduled maintenance to ensure the least amount of disturbance to our customers."
Your utility's communications should always provide an estimated restoration time. However, you should be on the conservative side in case maintenance takes longer than expected. "When your utility restores power earlier than expected, C-SAT scores go up," Cummins says. "This has a profound impact on customer satisfaction."
Follow these tips when communicating a planned power outage:
Use an apologetic and understanding tone
Reach out to customers weeks in advance
Be transparent about the reason for the outage
Provide an estimated restoration time (be conservative!)
A Southeast energy utility's planned outage communication clearly explains the reason for the maintenance (modernizing equipment in the service area), when customers will experience the outage (between 7 a.m. and 7 p.m. on May 17) and how customers can receive the latest information (by updating their contact information or signing up for text alerts).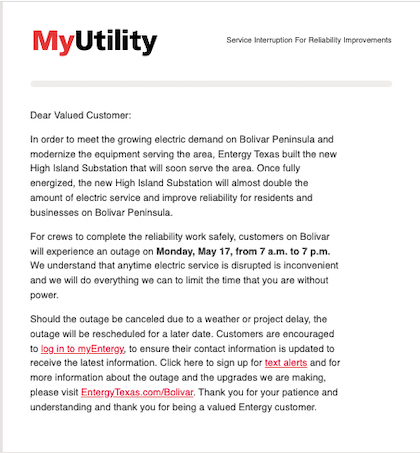 In addition to transparent content, communicating in the right channels is key. Since customers have different communication preferences, a multichannel marketing strategy gives you the best chance to reach affected customers during a planned power outage. These touchpoints include:
Email communications (multiple emails leading up to the planned outage)
Social media posts for Facebook, Twitter, LinkedIn and Instagram
Text alerts for customers who prefer mobile communications
A website page dedicated to planned power outage resources
Tri-County Electric Cooperative in Oklahoma utilizes Twitter to alert customers before the planned outage. The co-op has more than 1,600 followers on the social media platform.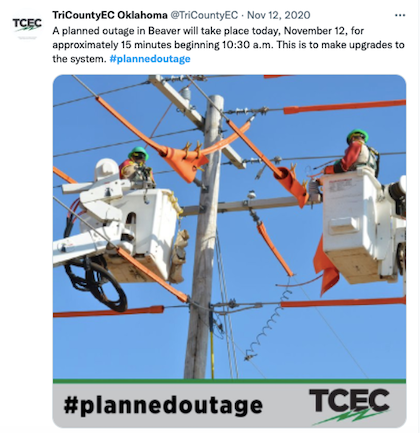 ComEd, an energy utility serving northern Illinois, provides resources on how to prepare for a planned power outage on their website, including:
What to expect during a planned outage
Resources for staying safe and comfortable
Where to find the latest outage updates
Helpful tips for small business customers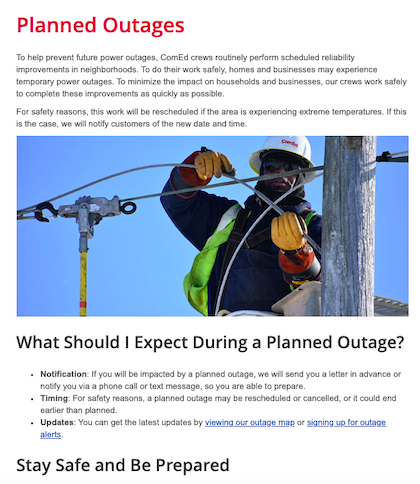 Segmenting Outage Communications
Just like program promotions or eNewsletters, segmentation is a best practice for outage communications. Residential and business customers are affected in different ways and need messaging that reflects their unique situations.
For example, business customers will experience downtime and may need to reduce or stop operations during a planned power outage. Residential customers may need to change plans or take steps beforehand, such as charging their smartphones or unplugging electrical equipment. Through segmentation, your messages can provide audience-specific tips and resources.
"I always recommend segmenting your email communications for business and residential customers because they have completely different needs," Cummins says. "You may even want to go a step further and segment your business customers by industry since each industry has unique challenges during an outage."
For business customers, communicate the following during a planned power outage:
Suggest notifying their customers if they plan to close or change hours
Recommend appliances or equipment to turn off until power is restored
Provide contact information if they have any questions or concerns
Ensuring customer satisfaction stays strong
Despite an energy utility's best efforts, some customers will not receive your outage communications. That's why it's important to provide customer service staff with pertinent information about the planned power outage. This ensures customers who call in will have their questions answered, helping to minimize any impact on customer satisfaction.
Energy utilities should also consider training for the customer service department on gathering contact information when a customer calls in. For example, a script could say, "How would you prefer to be contacted? This ensures that you're not caught off guard for future planned outages."
In addition to customer service scripts, your energy utility can take advantage of email and social media campaigns to obtain customer contact information, like this post from AEP Ohio.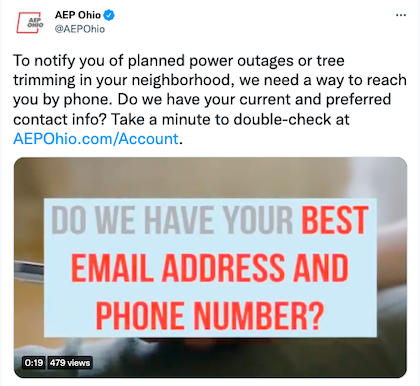 What to Communicate After a Planned Power Outage
Once power has been restored, Cummins recommends sending a "thank you" message to let customers know your utility appreciates their patience and understanding. This "blue sky" messaging should also speak to the importance of planned outages to keep the power running smoothly and avoid any issues in the future.
Your post-outage communications should also encourage customers to sign up for outage text or email alerts. To avoid any surprises, these notifications will prepare customers for future planned power outages.
Regular maintenance is essential for reliable power, but it can negatively impact the customer experience. With proactive communications, your energy utility can ensure a planned power outage doesn't mean a dip in customer satisfaction.
Discover how an Outage Communications strategy from Questline Digital can help your customers prepare for the next planned maintenance event.